Last Updated on 18/11/2023 by Miki
Table of contents
| | | | |
| --- | --- | --- | --- |
| | | | |
| | | | |
| | | | |
| | | | |
I love a cup of good espresso in the morning. Having espresso allows us to purely smell and taste the coffee without any distractions. Espresso is also essential to other milk-based coffee such as latte and cappuccino. Choosing the best espresso beans is significant to making a delicious cup of coffee. The beans should be freshly roasted as well as ground to deliver the best result possible.
No one enjoys tasteless, watery coffee. In this article, you will find the 9 best espresso beans to make flavoursome coffee at home. Those selected beans are easily purchased so that you can start to make tasty coffee without any hassle.
This post may contain affiliate links. If you use these links to purchase something, I may earn a commission without any extra cost to you. I would appreciate it if you do so to keep this blog going!
The 9 Best Espresso Beans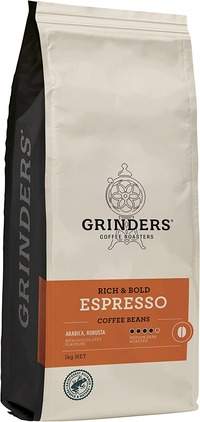 Grinders Coffee Espresso is the best espresso bean for those who want to enjoy a truly rich and well-balanced cup of coffee. These beans are roasted to perfection, delivering a smooth and bold flavour that is sure to please even the most discerning coffee drinker. Whether you enjoy your espresso black or with a splash of milk, the Grinders Coffee Espresso is the perfect way to start your day. Even though it's 100% Arabica beans coffee, the Grinders Coffee Espresso is incredibly great value for money. Highly recommended!
Pros:
well-balanced
100% Arabica beans
great value for money
Cons:
possibly not strong enough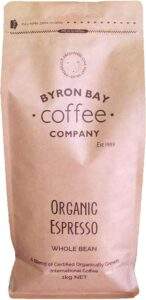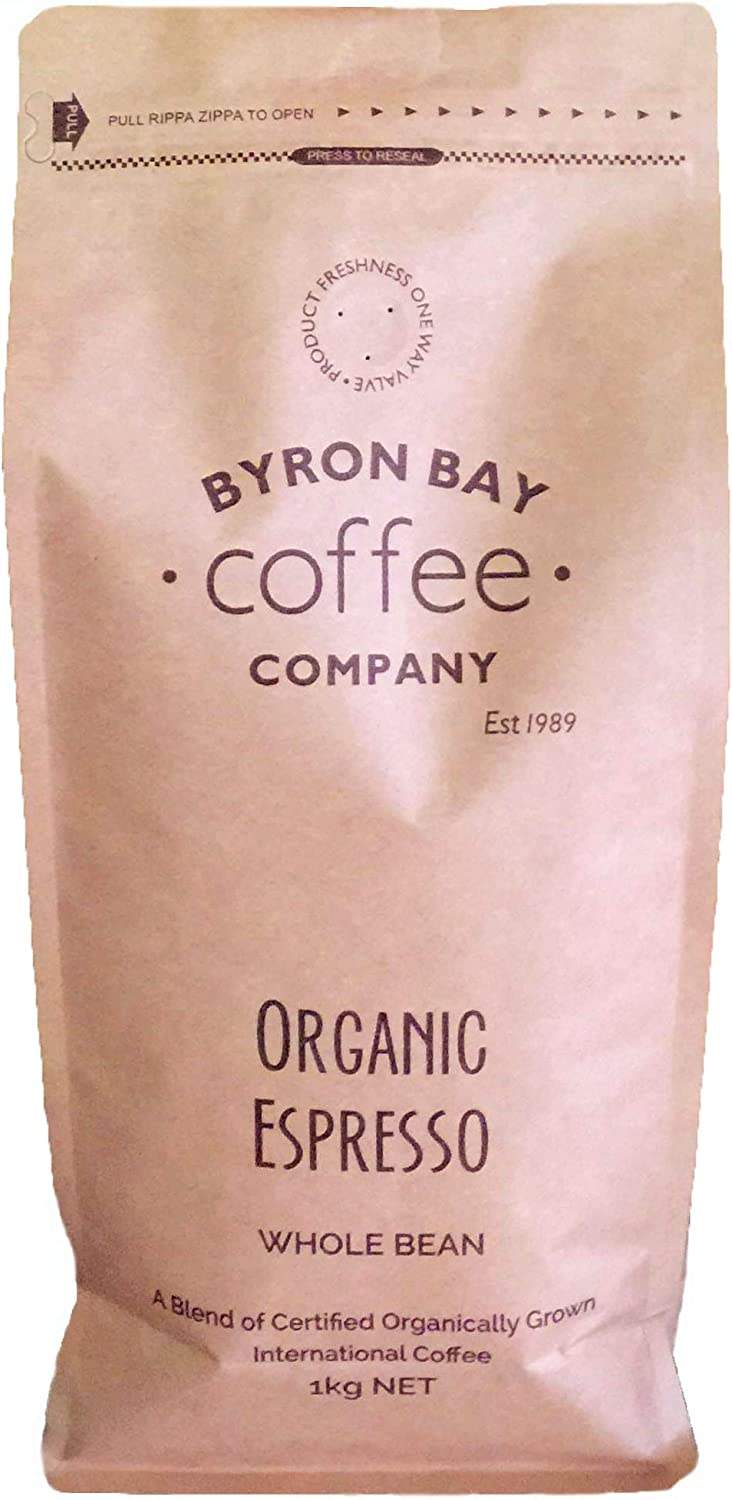 Looking for the perfect coffee to get your day started? Look no further than Byron Bay Coffee Company Organic Espresso. This coffee is perfect for those who want a rich and smooth flavour to start their day. Made with only the finest organic ingredients, you can be sure that you're getting a quality cup of coffee. So start your day off right with Byron Bay Coffee Company Organic Espresso. You'll be surely pleased!
Pros:
organic beans
100% Arabica beans
consistent in flavour
Cons:
possibly hard to get the perfect grind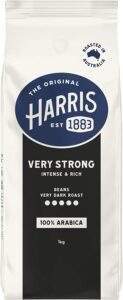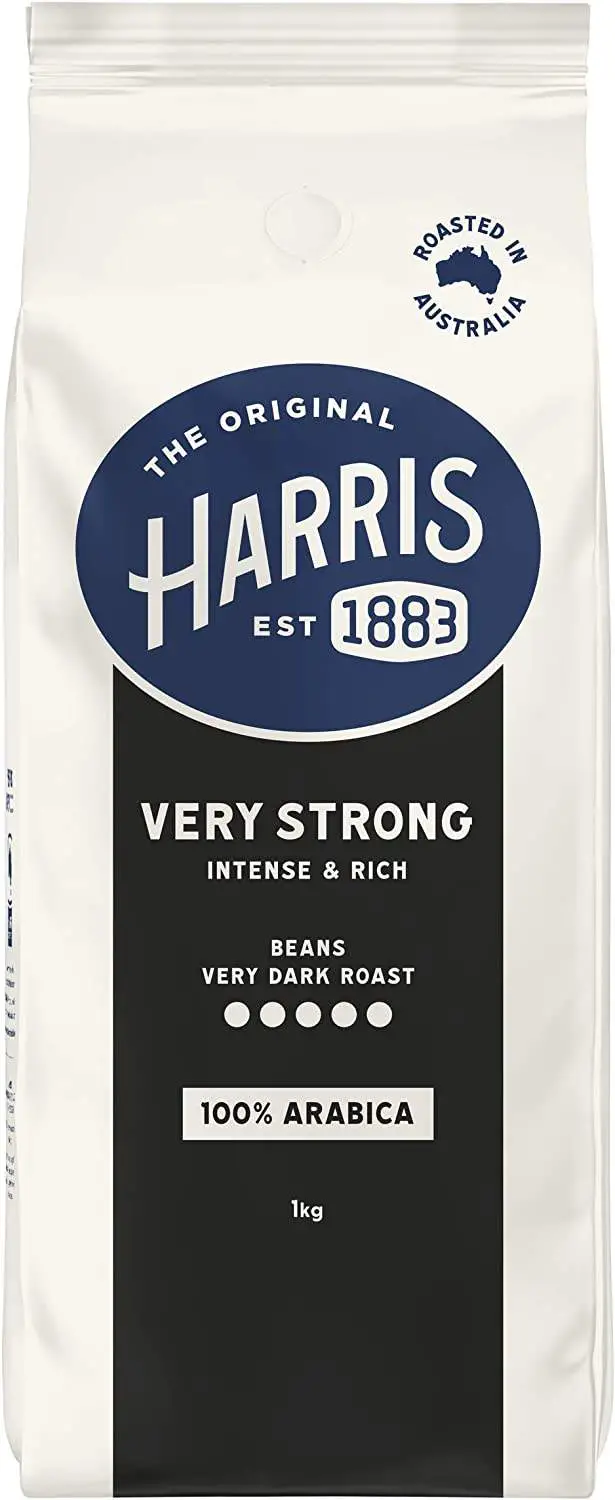 The Harris Very Strong Coffee Bean is perfect for those who want a more robust coffee flavour. These beans are roasted to very dark, giving you a rich and intense taste that is sure to wake you up in the morning. It's 100% Arabica beans with a note of dark chocolate, which is my favourite. The Harris also provides a beautiful aroma that you will enjoy. Furthermore, it's great value for money and even better to buy it online as it'll get delivered to your door.
Pros:
rich and strong flavour
100% Arabica beans
great value for money
Cons: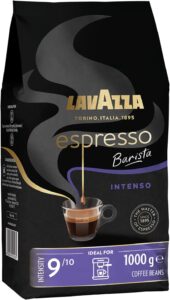 Lavazza Espresso Barista Intenso is intense yet smooth with hints of cocoa and wood. It's a medium roast with a combination of Arabica and Robusta. You may find it a bit too mild if you like a bit of punch in the flavour. Having said that, it creates beautiful crema so that you can perfectly make milk-based coffee with amazing latte art. If you are experimental in latte art, Lavazza Espresso Barista can work wonders.
Pros:
well-balanced
beautiful crema
lingering aftertaste
Cons: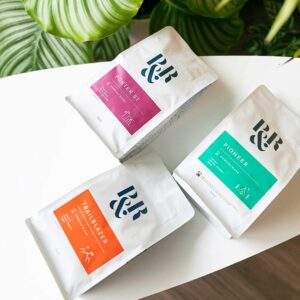 You probably haven't heard of Pablo & Rusty's but it's absolutely worth trying! Pablo & Rusty's Coffee Roasters is B-Corp certified, which means their coffee beans are sourced sustainably and ethically. Freshly roasted in Sydney, you'll have three varieties of blends delivered to your door: Porter Street, Pioneer, and Trailblazer. It also makes a perfect gift for coffee lovers. Moreover, the packages are nitrogen-flushed, so you'll be guaranteed their freshness.
Pros:
B-Corp certified roastery
freshly roasted in Sydney
perfect gift
Cons: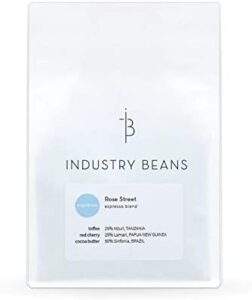 Coffee lovers who are looking for a top-quality espresso blend will not be disappointed with Industry Beans Espresso Blend. This product has been designed specifically for those who appreciate a great-tasting espresso. Made from only the finest beans, this blend is perfect for anyone who loves a strong cup of coffee yet is smooth and sweet at the same time. You'll enjoy the flavour notes of citrus, cherry and cocoa. Like Pablo & Rusty's, your coffee is definitely fresh as the beans are roasted to order in Melbourne daily.
Pros:
premium beans
freshly roasted in Melbourne
flavoursome
Cons:
can be pricy for a daily cup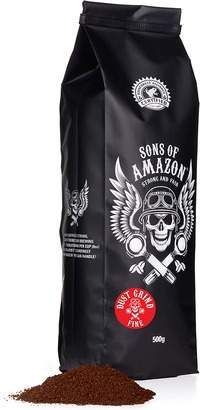 Sons of Amazon Dust Grind is guaranteed to give you the strongest caffeine hit possible. This coffee is not for the faint-hearted and is sure to keep you going all day long. To be exact, it's 200% stronger than your regular cup! The beans are sourced from the Amazon Rainforest where the coffee farmers get a fair trade rate, so the Sons of Amazon is strong and fair. Roasted in the UK, the beans are dark roast and robust, but there's no bitter aftertaste. In addition, they are specifically ground for stovetops and espresso machines. If you're looking for a coffee that will give you an extra boost, Sons of Amazon Dust Grinds is a perfect choice.
Pros:
high caffeine level for your morning kick
Rainforest Alliance certified
no bitterness
Cons:
possible inconsistency in quality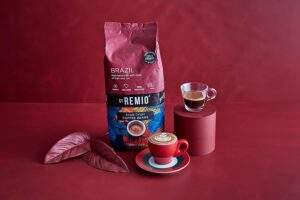 St Remio Coffee Beans Brazil is the best of the best when it comes to single-origin beans. These coffee beans are cultivated in the rich, red soils of Brazil and are sun-dried to perfection. The result is a uniform bean with a deep, rich flavour that is perfect for any coffee lover. It's also well-balanced, fruity and nutty, which can make it a crowd-pleaser. In addition, it's unbelievably great value for money. It's definitely worth trying.
Pros:
100% Arabica, single-origin beans
well-balanced
great value for money
Cons: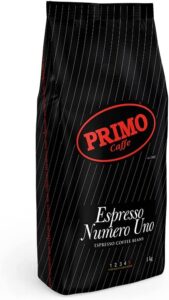 A budget-friendly coffee that doesn't compromise on quality, Primo Caffe Numero Uno coffee beans are perfect for those who want to enjoy a delicious cup of coffee without spending a fortune. They are strong and rich, but not bitter, so you'll enjoy the delightful flavour with good crema. Although you can simply have this coffee black, it'll be enjoyed more for milk-based coffees like a latte and cappuccino. You wouldn't regret trying the Primo Caffe, considering how inexpensive it is.
Pros:
budget-friendly
strong & full-flavoured
good crema
Cons:
Espresso Beans FAQ
Is There A Difference Between Coffee Beans And Espresso Beans?
The short answer is "No." Coffee beans are coffee beans after all. Then, why are they called differently? You may have noticed some bags are labelled as espresso blends whereas others are drip blends. Well, these are indications of which brewing methods the roasters recommend for the beans. Apparently, espresso beans are blended and roasted perfectly for making espresso.
Can Espresso Beans Be Used For Regular Coffee?
You can use espresso beans for regular coffee as long as you grind the beans appropriately and choose the right brewing method.
Can You Use Any Dark Roast For Espresso?
In general, espresso beans are roasted darker than drip coffee. With that being said, you can definitely experiment with a lighter roast to make espresso.
Is Eating Espresso Beans Bad For You?
Espresso beans are safe to eat in moderation. They contain antioxidants and can boost your energy. It's most common to eat espresso beans covered with chocolates.
What Beans Does Starbucks Use For Espresso?
At Starbucks, a blend of beans from Latin America and Asia/Pacific is used for espresso. The roast is usually medium-dark.
Things That You Need To Know
Grind Size
You need to grind your beans to a fine grind to make espresso. A coarse to medium grind simply won't work. You will need to use a burr grinder since a blade grinder cannot consistently produce a fine enough grind for espresso. In general, if you find your coffee sour or watery, it is likely the ground coffee is not fine enough. On the other hand, if your coffee tastes too bitter, the ground beans can be too fine.
Origin
There are some origins that are more suitable for espresso beans. African origin is typically great for espresso since the climate produces stronger and darker flavours in the beans. Another great origin is Indonesia as the volcanic soil offers rich and bold flavours to the beans.
Method
Here is how to make espresso at home:
Fill your water reservoir.
Heat up your espresso machine.
Grind your coffee beans to a fine grind (In general, you will need 18-21g ground coffee into the portafilter.).
Tamp the coffee evenly.
Carefully set the portafilter into the group head and brew a shot of espresso.
Enjoy on its own or with frothed milk.
Final Thoughts
No matter how you like your coffee, it is one of the most important elements to use the best espresso beans for a delicious cup of coffee. The best espresso beans are not only essential to great espresso but also tasty milk-based coffee like a latte and cappuccino. I highly recommend purchasing whole beans and grinding them just before brewing. Having said that, I understand that you prefer ground coffee for convenience because your life is too busy to spend time grinding your beans. If this is the case, you may want to read "best ground coffee."
It will be fun to discover your favourite espresso beans since each of us has different tastes. I hope this article will help you find your favourite and please let me know your new discovery in the comment section below 🙂