Last Updated on 04/10/2023 by Miki
The 1Zpresso X-Pro S is a manual coffee grinder that has gained quite a reputation in the coffee community. With its sleek design and impressive performance, this grinder has caught the attention of coffee enthusiasts and professionals alike. In this blog post, I will provide a complete review of the 1Zpresso X-Pro S, exploring its features, performance, and overall value. Grab a cup of your favourite coffee and read on!
​​This post may contain affiliate links. If you use these links to purchase something, I may earn a commission without any extra cost to you. I would appreciate it if you do so to keep this blog going!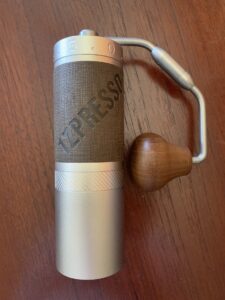 ​
1Zpresso X-Pro S: Design and Build Quality
The 1Zpresso X-Pro S boasts a sturdy and well-built construction, ensuring durability and longevity. The grinder is made primarily of aluminium alloy, which not only provides it with strength but also gives it a sleek and modern look. With its weight of 610g, you can actually feel the solidity of the X-Pro S without being too heavy to handle. The capacity of ground coffee is 25-30g, so it should be enough to make a cup of your preferred coffee. In addition, the ergonomic design of the grinder allows for comfortable handling, making it a joy to use. 
1Zpresso X-Pro S: Grinding Settings and Performance
One of the standout features of the 1Zpresso X-Pro S is its impressive range of grinding settings. With 60 grind settings per rotation, this grinder can easily cater to various brewing methods, from espresso to French press. The grinder utilises a 40mm high-quality stainless steel conical burr, ensuring a consistent grind size and maximising the flavour extraction from your coffee beans. Also, each click moves the burr by 12.5 microns, which makes it possible to grind fine enough for espresso. Moreover, its heptagonal burr can let you grind beans evenly and make well-balanced coffee.
1Zpresso X-Pro S: Ease of Use and Portability
The 1Zpresso X-Pro S is designed with user-friendliness in mind. What I love about this grinder is an innovative external grind size adjustment ring that makes it a breeze to switch between different settings. The grinder also features a simple disassembly and cleaning, which is essential if you would like to use it long-term!
In terms of portability, the 1Zpresso X-Pro S is compact and lightweight, making it an excellent choice for travellers, outdoor enthusiasts, or those who simply want to have their coffee gear on the go. In addition, the grinder comes with a foldable handle, ensuring space saving in your kitchen.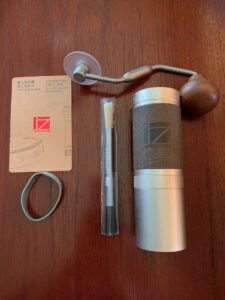 1Zpresso X-Pro S: Value for Money
While the 1Zpresso X-Pro S may be priced slightly higher compared to other manual grinders in the market, it offers exceptional value for money. The quality of the construction and the level of precision in grinding make it worth the investment. Additionally, the grinder comes with a one-year warranty, providing peace of mind to the purchasers.
Considering the ability to produce espresso grinds, I would say the X-Pro S is excellent value for money and it doesn't disappoint you.
How To Calibrate 1Zpresso X-Pro S
According to the 1Zpresso's official website, there are only 3 steps on how to calibrate X-Pro S:
Turn the adjustment dial ring counter-clockwise until you feel the resistance. Check if the indicator aligns with the number 0. 
Remove the ring if not aligned.
Align the indicator with the 0 and put the ring back.
How To Adjust 1Zpresso X-Pro S Grind Settings
To adjust the grind settings on the 1Zpresso X-Pro S, simply follow the steps below:
1. Turn the adjustment dial ring counter-clockwise if you want to make the grind finer. Obviously, turn the ring clockwise to make the grind coarser. 
2. It is recommended to make incremental adjustments and test the grind size with each adjustment to find the perfect setting for your needs. One rotation means 60 clicks and each click turns the burr by 12.5 microns.
As I make my coffee with an espresso machine, I adjust the grind setting for espresso: one full rotation and 5 clicks *I used medium-dark roast in this example. 
 3. Once satisfied with the grind size, start grinding by turning the handle clockwise.
I'm not really an athletic person and it is a bit of muscle work for me to produce fine grind. *It took approximately double the time to grind enough beans to make a cup when I recorded the video here. 
You can also check 1Zpresso official website for grind settings: QR code card is included in the box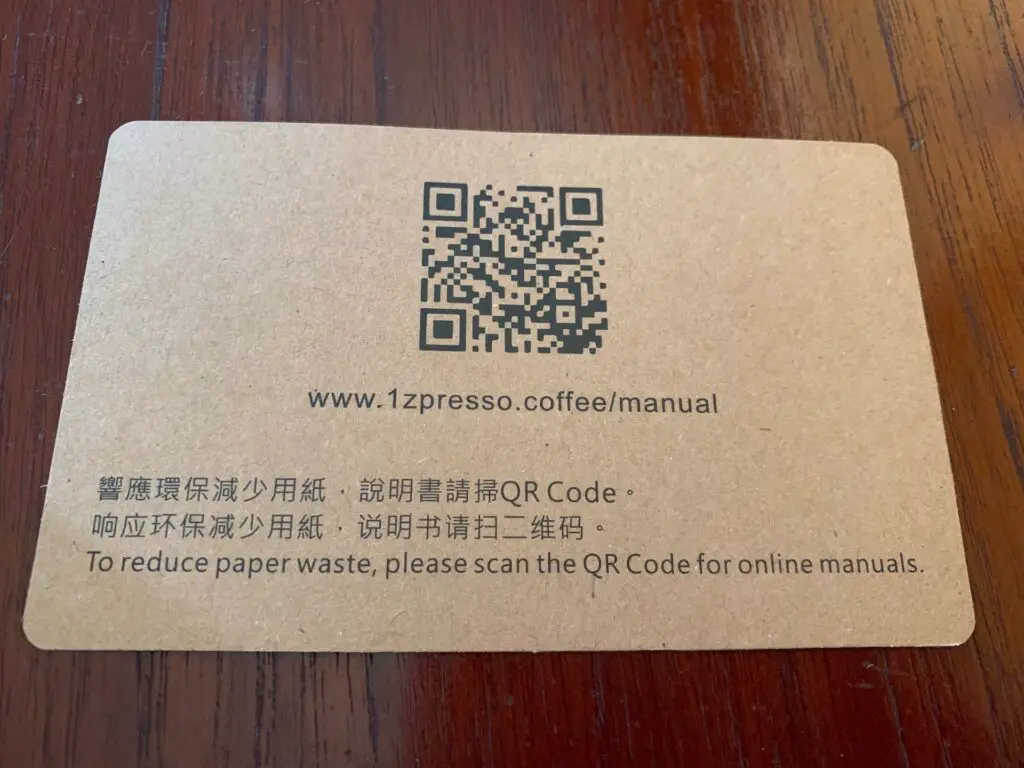 How To Disassemble/Assemble 1Zpresso X-Pro S
Let's start with how to disassemble the X-Pro S since it comes as assembled when you receive your brand-new grinder.
Disassembly
Turn the adjustment dial ring clockwise by two and a half rotations.
Gently push the inner burr from the bottom.
Turn the knurled nut by one angle to align the dot with a straight line on the shaft.
Remove the burr along with the central shaft, spring and lower bearing cap.
Remove the knurled nut.
Turn the burr ring unit forward.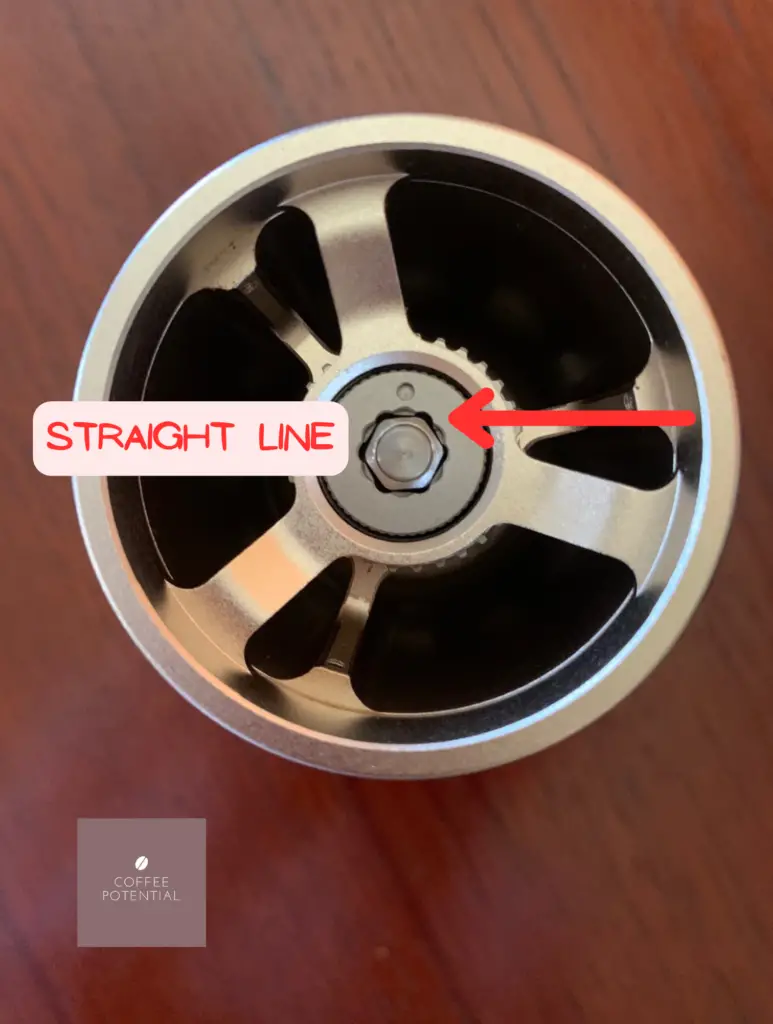 You can clean your X-Pro S with a 1Zpresso cleaning brush easily once it is disassembled.
Assembly
Turn the burr ring unit backward.
Put the cap, spring, burr and central shaft back in order.
Put the knurled nut back.
Gently push the inner burr to the top.
Align the dot on the nut with an angle on the shaft.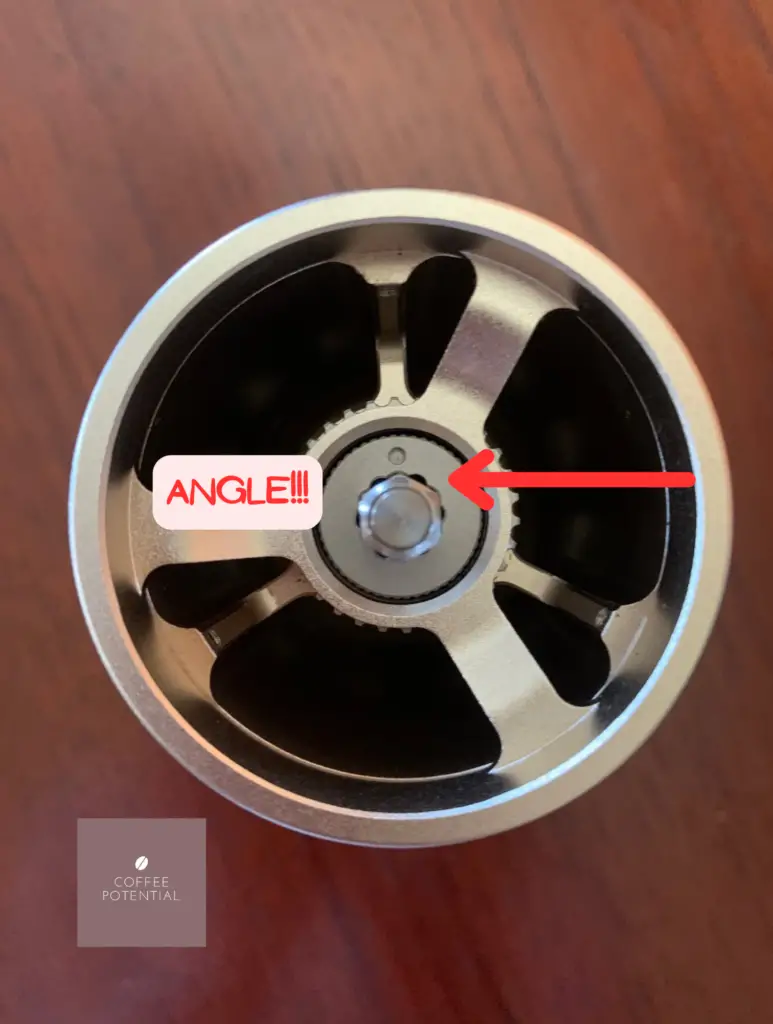 1Zpresso X-Pro S: FAQs
Is 1Zpresso X-Pro S Good for Espresso?
Yes, the 1Zpresso  X-Pro S is indeed good for espresso. The grinder features external 60 grind size setting adjustments, allowing you to fine-tune the grind size to achieve the desired extraction. It also has a sturdy build quality and durable materials, ensuring longevity and consistent performance. Additionally, the heptagonal burr offers excellent grind consistency, which is crucial for obtaining consistent and balanced espresso shots. Although the 1Zpresso X-Pro S is recommended for pour-over coffees, it is also suitable for espresso enthusiasts looking to enhance their home brewing experience. Loot at the crema it makes 🙂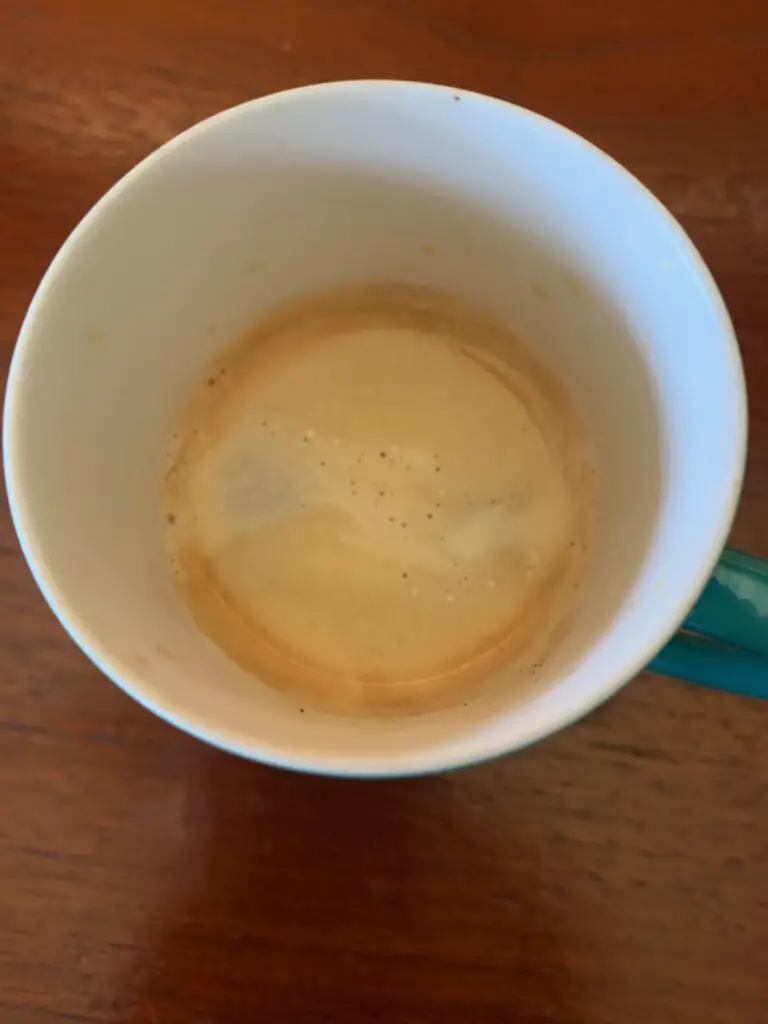 Which is Better for Espresso, X-Pro or J-Max?
Although both grinders can produce excellent cups of coffee, the J-Max is highly regarded for its performance in espresso brewing. It features a larger burr size of 48mm, which can result in faster grinding speed and potentially improved grind consistency. The J-Max is often favoured by those who prioritize speed and efficiency, as it can grind coffee beans more quickly than some other models. Furthermore, the J-Max has finer grind adjustments by 8.8 microns per click, which makes it perfect for espresso. However, if you are after a more affordable option, the X-Pro might be the better option for you. On the other hand, if speed and efficiency are your priorities, the J-Max could be the more suitable choice.
What is the Difference between X-Pro and X-Pro S?
The answer is quite simple: The X-Pro S features a foldable handle that makes the grinder more compact and portable. I LOVE the handle!
Final Thoughts
Overall, the 1Zpresso X-Pro S is a top-notch manual coffee grinder that delivers exceptional performance and quality. Whether you are a coffee aficionado looking for a precise and reliable grinder for your daily brews or a professional barista in need of a portable and efficient tool, the X-Pro S will undoubtedly surpass your expectations. With its impressive range of settings, ergonomic design, and durability, this grinder is a must-have for any coffee lover.
If you are not too sure which 1Zpresso coffee grinder to choose, you may want to read my article on "Which 1Zpresso Grinder To Choose" next.