Last Updated on 25/11/2023 by Miki
Table of contents
Are you on the hunt for the perfect coffee grinder that will take your morning brew to the next level? Look no further, because today we will be diving into the world of 1Zpresso grinders and helping you navigate through their impressive range of options. Whether you're a seasoned coffee enthusiast or just beginning your coffee journey, choosing the right grinder can make all the difference in extracting the best flavours from your coffee beans. Join us as we explore the features, performance, and unique qualities of each 1Zpresso grinder, helping you make an informed decision on which one suits your brewing style and preferences. So grab your favourite cup of joe and let's dive into the world of 1Zpresso grinders together!
​​This post may contain affiliate links. If you use these links to purchase something, I may earn a commission without any extra cost to you. I would appreciate it if you do so to keep this blog going!
1Zpresso Grinder Overview
Regular traveller

JX

Classic pour-over lover

JX-Pro

Experimental coffee lover

Complete espresso lover

​

X-Pro S

​

Versatility seeker

K-Max

Heavy coffee drinker

Serious coffee lover

ZP6 Special

Ultimate pour-over lover
1Zpresso Grinder Comparison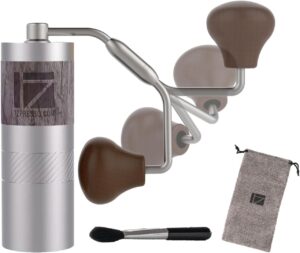 The 1Zpresso Q2 is a compact and portable coffee grinder that packs a punch in terms of performance. Designed with a sleek and minimalist aesthetic, the Q2 is perfect for those who are always on the go. Despite its small size, the Q2 features 10 numbers/30 clicks per round, the same as JX, to find the perfect grind for your preferred flavour. Having said that, it's not recommended for espresso as it doesn't grind fine enough. On the other hand, if you use pour-over or AeroPress, Q2 is definitely a good choice. Moreover, it can fit in the AeroPress! The Q2 also has a sturdy and ergonomic handle, making grinding effortless and comfortable. Although some coffee lovers find it inconvenient to have the internal adjustment and little capacity of 15-20gm of beans, the 1Zpresso Q2 is an excellent choice for those who value portability without compromising taste.
Pros:
lightweight and portable
fordable handle
affordable
Cons:
not suitable for espresso
little capacity
1Zpresso JX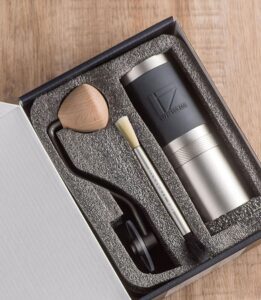 If you are a pour-over lover, the 1Zpresso JX would be your perfect pick. The JX offers consistent and uniform grinding with its 48mm conical burrs, resulting in a well-extracted and flavourful cup of coffee. In addition, the capacity of 30-35g of beans enables you to enjoy more cups of coffee with ease. The JX has a classic internal adjustment, which means you will have to disassemble it to change the grind setting, the same as the Q2. It could be an inconvenience for those who regularly make coffee with limited time, like busy mornings. Moreover, the handle is not fordable, so it may not be the best choice if you travel a lot and need a portable coffee grinder.
Pros:
a large conical stainless steel burr
consistent grinding
affordable
Cons:
internal grinding adjustment
unfordable handle
1Zpresso JX-Pro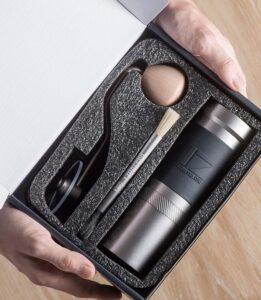 The 1Zpresso JX-Pro offers a wide range of grind size settings with its top adjustment, giving users full control over their coffee grounds for different brewing methods including espresso. The grinder also boasts a large-capacity hopper, allowing for longer grinding sessions without the need for constant refills. Furthermore, the JX-Pro is known for its precise and uniform grinding, resulting in a rich and flavourful cup of coffee. On the downside, some users find the JX-Pro to be slightly bulky and heavy, which might make it less portable compared to other models like the Q2. Additionally, the JX-Pro comes with a higher price point, compared to the Q2 and JX. However, what the JX-Pro offers is definitely worth paying a bit more, especially if you are an espresso lover. You can check out my article on the JX vs JX-Pro in more detail.
Pros:
a large conical stainless steel burr
top grinding adjustment
suitable for espresso
Cons:
slightly bulky
unfordable handle
The 1Zpresso J-Max is a powerful and versatile manual coffee grinder that offers several advantages for coffee enthusiasts. One of the main pros of the J-Max is its exceptional grind size range. With 8.8 microns for each click, you can achieve the perfect grind for any brewing method from espresso to French press. Another advantage of the J-Max is its large capacity hopper, which can hold up to 35-40gm of coffee beans, making it ideal for those who want to grind a larger batch of coffee at one time.  Additionally, the J-Max is known for its fast grinding speed with its 48mm coated burr, allowing users to quickly grind coffee beans without compromising on consistency and quality. On the downside, the J-Max falls on the higher end of the price spectrum, which might be a drawback for budget-conscious individuals. However,  for coffee lovers who value precision, versatility. and power in their coffee grinder, the 1Zpresso J-Max is a top-notch choice.
Pros:
exceptional grind size range
large capacity hopper
fordable handle
fast grinding speed
Cons:
not the most budget-friendly option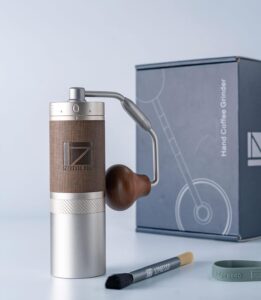 Are you after an all-around coffee grinder? Then, the 1Zpresso X-Pro S would be your perfect fit. The X-Pro S is an upgrade of Q2 with the same stainless steel burr but a finer grinding adjustment. This allows the X-Pro S suitable for espresso. In addition, its burr is heptagonal which enables you to grind beans quicker and to produce more uniform grinds. Furthermore, it features external adjustment for your convenience. With a capacity of 25-30gm and a price point, the X-Pro S could be something between Q2 and JX-Pro. Highly recommended.
Pros:
a heptagonal stainless steel burr
external adjustment
fordable handle
suitable for espresso
Cons:
nothing from my point of view
1Zpresso K-Max
If you want to invest in a quality manual coffee grinder, the K series would be on top of your list. Those grinders feature external adjustment and the specialised 48mm stainless steel heptagonal conical "K burr" to perform well with various brewing methods. The K-Max comes with a magnetic catch cup, so you can easily detach it without any hassle for your ground coffee. Moreover, it has a large capacity of 35-40gm just like J-Max, which you may find efficient. However, if your budget is tight, it may not be your first choice. I would say the K series might be for more serious coffee lovers.
Pros:
a heptagonal stainless steel burr
external adjustment
a magnetic catch cup
accessories included
Cons:
unfordable handle
can be heavy and expensive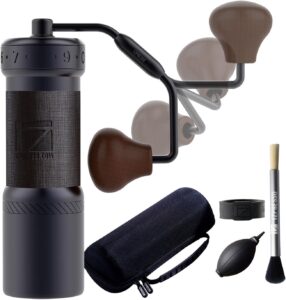 The K-Ultra is an upgrade of the K-Max and offers finer grinding settings and also the K burr which is fixed with the shaft for enhanced stability. Furthermore, it comes with a fordable handle, which can save you some space on the kitchen benchtop. Although it's even more expensive than K-Max, you may find it worth spending a bit more to enjoy all the features that the K-Ultra has.
Pros:
a heptagonal stainless steel burr
external adjustment
fordable handle
a magnetic catch cup
accessories included
Cons:
1Zpresso ZP6 Special
Do you love pour-over? The ZP6 Special is the one you would want to have. It's one of the newest arrivals among 1Zpresso coffee grinders and you'll be pleased that it has become available. You'll experience a difference in the taste of your coffee! It's because the ZP6 Special produces fewer coffee fines and a higher extraction yield. To make it even better, it's great value for money. Although it cannot grind fine enough for espresso, it won't disappoint you if your brewing method is primarily pour-over.
Pros:
external adjustment
high extraction yield
great value for money
Cons:
not suitable for espresso
Final Thoughts
In conclusion, selecting the right coffee grinder can significantly elevate your coffee brewing experience, and 1Zpresso offers a range of exceptional options to suit different preferences. Whether you prioritise portability, convenience, or precision in your grinding process, there is a 1Zpresso grinder that meets your needs. With their commitment to craftsmanship, durability, and outstanding performance, each 1Zpreso grinder ensures a consistent grind size and enhanced extraction for a truly exceptional cup of coffee. So, take your time to consider your specific requirements and make an informed choice that will undoubtedly enhance the quality of your daily brews. Invest in a 1Zpresso coffee grinder today and embark on a journey towards the perfect cup of coffee, each and every time.