Last Updated on 11/10/2023 by Miki
Summary of The 7 Best Ground Coffee
Ground coffee beans are quick and convenient to make a delicious cup of your preferred coffee on busy mornings. You don't need to own a grinder, which makes you save some money as well as time to clean it up. It is undeniable that freshly-ground coffee beans taste much better with full of flavours, but the pre-ground will still satisfy your coffee cravings. You need to consider grind sizes according to the coffee maker you own. Medium-grinds (the default for pre-ground coffee beans) will suit mainly drip machines. A French press will require coarser grinds whereas finer grinds will be needed for espresso machines. Here are the 7 best ground coffee to make your perfect cup at home.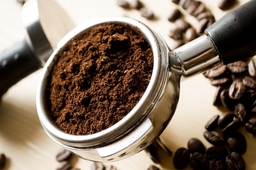 This post may contain affiliate links. If you use these links to purchase something, I may earn a commission without any extra cost to you. I would appreciate it if you do so to keep this blog going!
The 7 Best Ground Coffee
Best Organic & Dark Roast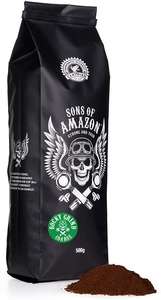 Sons of Amazon Rocky Grind is not only ethically sourced from the Amazon rainforest but also Australia's strongest coffee! It's actually 200% stronger than a regular cup of coffee, so this is definitely not for everyone. One cup can contain enough caffeine for a whole day already. Surprisingly, it's smooth and silky without bitterness which you may expect from strong dark roast coffee. The Rocky Grind is perfect for drip coffee and French press as it's coarsely ground. Furthermore, the coffee beans are organic and have a unique blend of Arabica and Robusta. It's a great choice for someone who wants to try something different. It's strong but mild in flavour. Would you be interested?
Best Local & Low Acid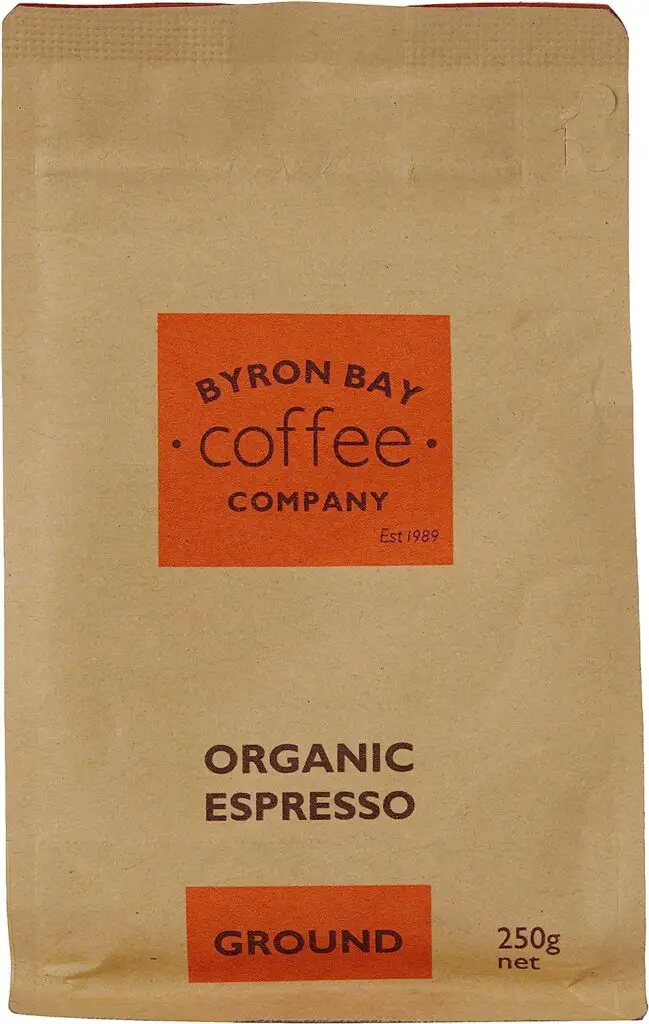 Byron Bay Coffee Company is a great choice for any coffee lovers who prefer organic and locally made coffee. The beans are 100% Arabica and ethically sourced from premier regions in the world. In terms of flavour, it's smooth and full-bodied without being too acidic. In addition, it delivers Gluten-fee and GM-free coffee beans, which will make them safe to consume for those who are cautions about. The packaging of this coffee is also worth mentioning. The bag is resealable, which enables the coffee to stay fresh for longer. To make it even better, it's also made from eco-friendly materials, adding to the coffee's overall sustainability. What else could make these coffee beans better?
Best Medium Roast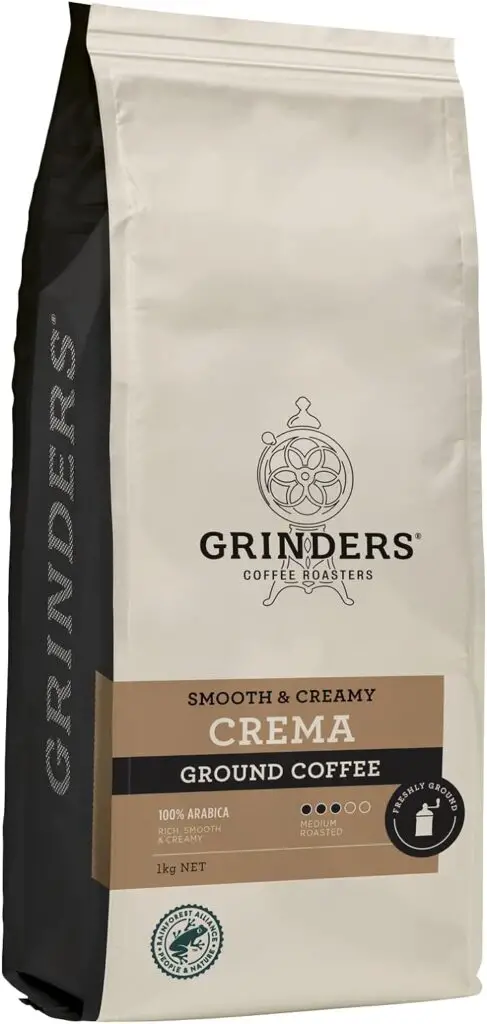 Grinders coffee was born in 1962 in Melbourne, the centre of our Australian coffee culture. The Crema Ground is fair trade and 100% Arabica beans, which shows the high quality of this product. Its flavour is described as cocoa, malt and honey, so you can easily imagine how delicious it can be. This medium-dark roast is rich and smooth and you may find it perfect for breakfast. In addition, the fruity and nutty aroma will make your morning pleasant. To make it even better, you have a choice of subscription through Amazon and can get a 10% discount. This way, you won't need to worry about missing your morning coffee and you can also save some money.
Best Bold & Intense Blend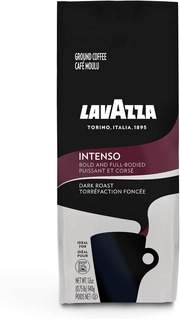 Without a doubt, Lavazza is one of the most well-known coffee companies in the world. It has been providing us with high-quality coffee beans since 1895. It is true Italian craftsmanship. This dark roast is a blend of Southeast Asian, Brazilian and Indian Arabica and Robusta beans, which produces a bold flavour with a smokey and caramelised aroma. It's a great combination of intensity and balanced aroma, which is perfect for those who love profound coffee flavours. It's ideal for a drip coffee machine, French press, or pour-over. Moreover, it consistently delivers delicious cups of coffee. It's definitely worth trying!
Best Packaging & Finely Ground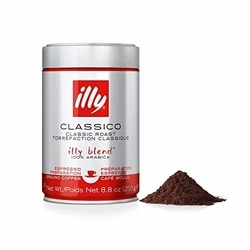 What stands out about these ground coffee beans is the packaging. It's packed in an air-free, pressurised can that preserves all the natural aroma and oil. You will enjoy the freshest taste whenever you make a cuppa. This ground coffee is composed of nine of the finest Arabica coffee beans sourced worldwide. It's expertly blended before roasting and cooling, which will result in perfectly balanced coffee beans with notes of caramel and chocolate. Then, it's finely ground to provide optimal extraction during brewing with espresso machines. If you are looking for the best ground coffee for your espresso machine, this is the one I would recommend. You'll be satisfied with its smooth and rich taste every time.
Best Decaf & Organic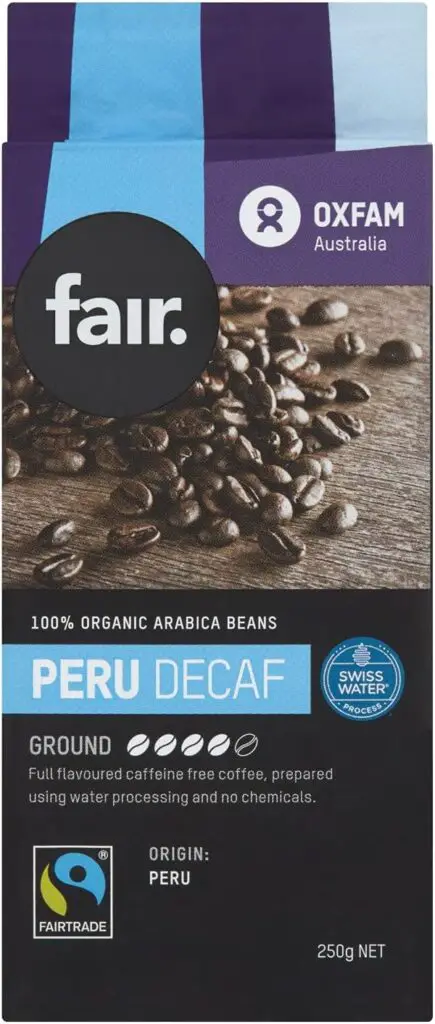 As the name implies, Oxfam fair Decaffeinated Peru Fairtrade Organic Ground Coffee is perfect for those who are after both organic and decaf beans. I would recommend the Oxfam fair Decaffeinated Coffee to anyone who needs a morning boost without caffeine overload. This ground coffee is 100% Arabica organic beans with Swiss water process . You will enjoy the taste so much that you may want to drink one cup after another. No worries, it's decaf coffee 🙂 Furthermore, it's rich and well-balanced, so you'll still enjoy the coffee just like the caffeinated one. The best part is that you can have your daily coffee without affecting something bad on your body.
Best Flavour & Sustainable
Bulletproof ground coffee is rainforest alliance certified, tested for toxins, and thus one of the cleanest coffee beans on the market. The coffee beans grow on high-altitude estates in Guatemala and Colombia, which then are sustainably washed and mechanically dried. Bulletproof has a direct partnership with farms to ensure sustainable operations. This original medium roast offers the taste of cinnamon, orange, nectarine and chocolate opening with distinct notes of sweet plum and cocoa hazelnut finish. It sounds pretty flavoursome, doesn't it? Each coffee bean is expertly handpicked and sorted for the highest quality beans, which proves purity and quality standards are met for coffee connoisseurs. It can be a bit pricey, but you pay for the quality.
How To Choose The Best Ground Coffee
When it comes to choosing ground coffee, there are a few things you should keep in mind. First, be sure to select a coffee that is freshly roasted. Coffee that has been sitting on the shelf for a while will not taste as fresh and may be bitter. Second, take into consideration the type of coffee maker you'll be using. If you have a drip coffee maker, you'll want to choose a medium grind. If you're using a French press, opt for a coarse grind. Keep in mind that the grind size will affect the brewing time, so adjust accordingly. Lastly, think about the strength of the coffee you would like to make. If you want a stronger cup of coffee, then you will want to choose a darker roast. If you prefer a lighter cup of coffee, then you will want to choose a lighter roast.
Best Way To Store Ground Coffee
When it comes to storing ground coffee, there are a few things you need to keep in mind. First, you want to make sure that the coffee is stored in an airtight container. This will help to keep the coffee fresh for longer. Second, you want to make sure that the container is stored in a cool, dry place. Coffee that is stored in a warm or humid environment will start to go bad quickly. Finally, you want to make sure that you use the coffee within a few weeks of opening the container. Ground coffee that is older than a few weeks is likely to be stale and not taste very good. If you store it in a fridge or freezer, be sure to use an airtight container to prevent the coffee from picking up unwanted flavours from other food.
Final Thoughts
There are good varieties of ground coffee available as you have seen. I'm sure that you've got a clear idea of the best ground coffee on the market. Though freshly grinding your own coffee beans before brewing at home will bring more flavour and beautiful taste, using ground coffee can totally satisfy your coffee needs by making a decent cup of coffee quickly and easily. Imagine how much time and money you will be able to save by making coffee at home instead of buying one from cafes. You just need to choose which ground coffee would suit you most according to your taste and your coffee maker. It will be fun to explore different types of delicious coffee beans. If you would like to know about espresso beans, please feel free to read this article.