Last Updated on 08/10/2023 by Miki
As a coffee enthusiast, it is important to know where to start when it comes to the best budget coffee machines at home. There is a lot of information out there that is making the process confusing and complicated. It's easy to get overwhelmed and not know which way to turn.
You might be wondering if it is even worth buying your own coffee machine and making a cup of coffee at home especially when you have your favourite local cafe and your barista knows what you like even before you actually order. In the long term, it is definitely worth buying one for yourself in regards to both cost-wise and time-wise. You will save money by making coffee at home as well as saving time by not going out to get a cup of coffee. If you choose to buy a budget coffee machine, then your initial investment wouldn't hurt your wallet. With that being said, you might not know where to start. That's where this article comes in. There are three price ranges: under $50, $100 and $200 (all in AUD).
This post may contain affiliate links. If you use these links to purchase something, I may earn a commission without any extra cost to you. I would appreciate it if you do so to keep this blog going!
Best Budget Coffee Makers Under $50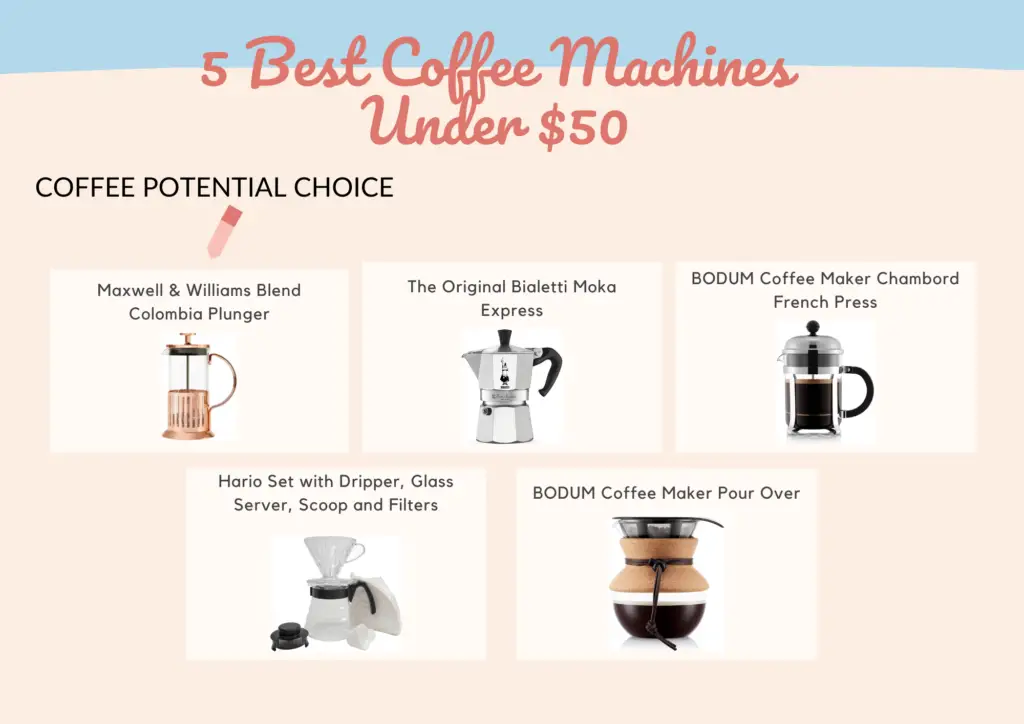 To my surprise, there are some practical coffee makers available for under $50. If we think about how much we pay for a cup of coffee from a cafe, it will be easy to save money for a budget coffee machine instead of paying for 10 cups of takeaway coffee. My picks of best budget coffee makers under $50 will do the job. Before we jump in, I will have to admit that most of those under $50 are manual coffee makers. Having said that, it doesn't necessarily mean the quality is inferior.
Here are my reviews of each coffee maker: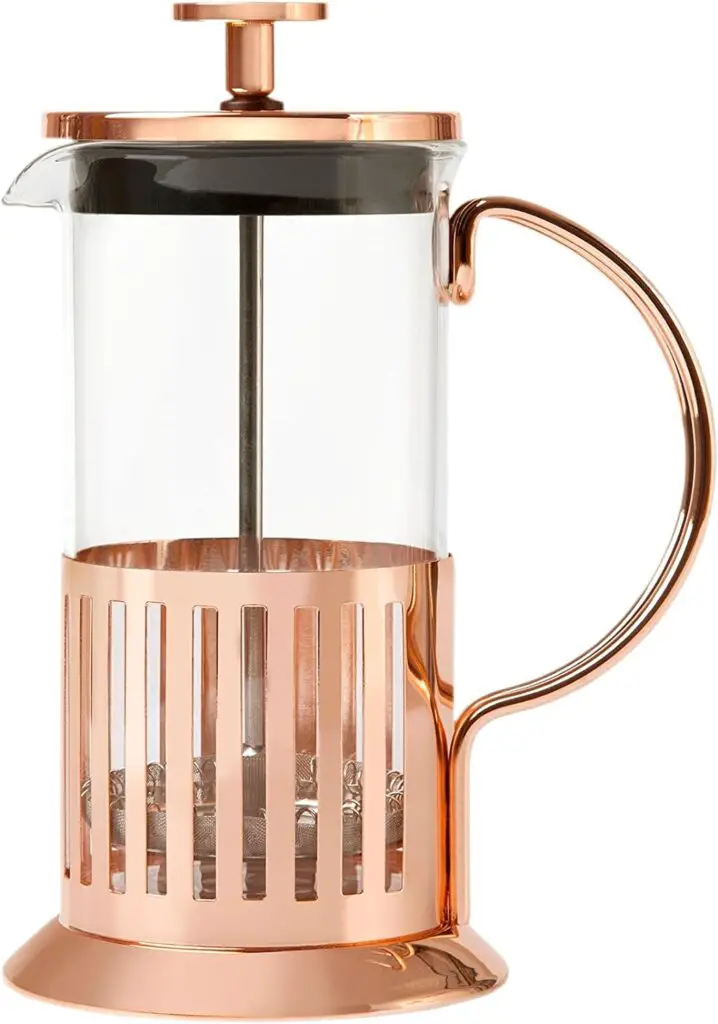 Best quality budget coffee maker under $50: 4.9/5
Who doesn't know the brand, Maxwell & Williams? As a globally well-known homeware company, their coffee maker surely doesn't disappoint us. One of the standout features of this plunger is its sleek and modern design. The brushed stainless steel finish gives it a high-quality and sophisticated look that complements any kitchen decor. It comes with a gift box, so it's a perfect gift for your coffee lover family and friends. Furthermore, it doesn't only look beautiful but also it functions very well. With its borosilicate glass, the coffee maker is sturdy and durable. Overall, I highly recommend the Maxwell & Williams Blend Colombia Plunger. It's a stylish and functional addition to any coffee lover's kitchen. To make it even better, the quality of the coffee it produces is top-notch,
Pros
High quality materials
Made by a globally recognised brand

Sturdy & durable
Cons
Might not be the most comfortable handle to grip
Not for more than one cup use
Best budget stovetop coffee maker under $50: 4.6/5
Made in Italy, the Original Bialetti Moka Express is one of the most popular stovetop coffee makers on the market. What stands out is that it comes with a quality safety valve and ergonomic anti-scald handle. Fewer worries to make a cup of coffee! In addition, the Original Bialetti Moka Express is very easy to use – you simply fill the boiler with fresh water as well as the filter with freshly ground coffee, then place the coffee maker on the stovetop and let the coffee extract slowly. The tips here for making delicious coffee are to use high-quality coffee beans and to allow the beans to extract not too quickly. Being a Bialetti fan myself, it's no wonder why the company has been in the kitchen all over the world since 1933. If you are after a sturdy, yet affordable coffee maker, the Bialetti would be your perfect choice.
Pros
Made in Italy by a reputable company
Compact design for saving room in the kitchen

Comes with

an Italian safety valve for a long-lasting product
Cons
The capacity could be too small
Not dishwasher-safe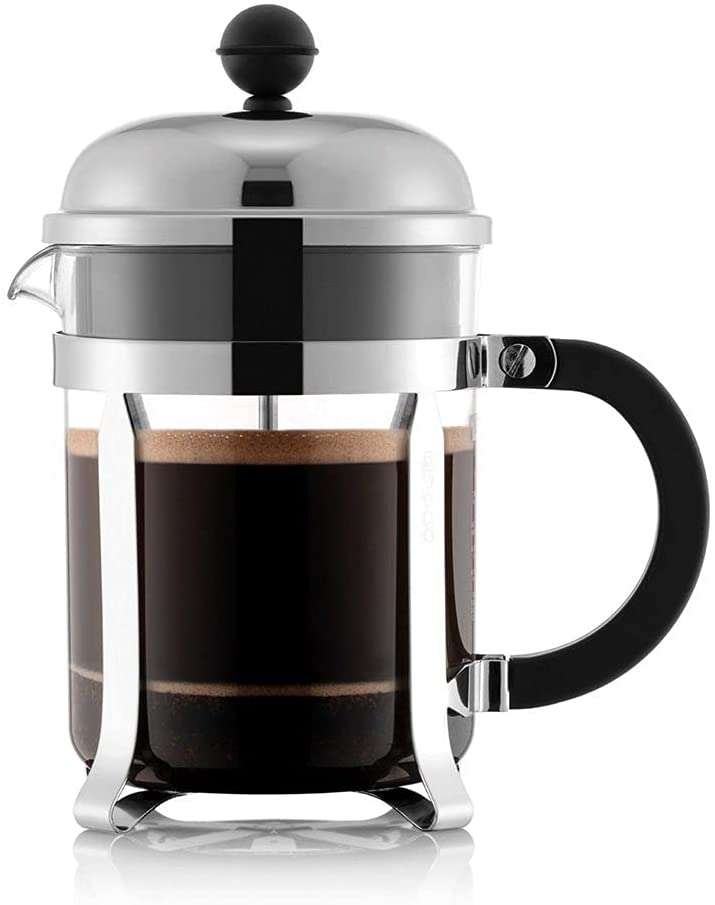 Best bargain coffee maker from a well-known brand: 4.7/5
BODUM is an iconic brand for the French press and this coffee maker stands out in its simple, yet elegant design. You can make enough coffee for 3 to 12 cups in under 5 minutes with the BODUM coffee maker. There are currently four sizes available: 350ml, 500ml, 1L and 1.5L. The BODUM French press features a sturdy glass carafe, with its stainless steel plunger and frame to fit into any modern kitchen. Simply keep in mind to use coarsely ground coffee beans and water just below a boil. Although there are some plastic parts, it's a great budget coffee maker without compromising the overall quality.
Pros
Sturdy glass carafe with stainless-steel plunger and frame
Classic design by an iconic brand
Dishwasher safe
Cons
Plastic top and handle

Fewer availability in colours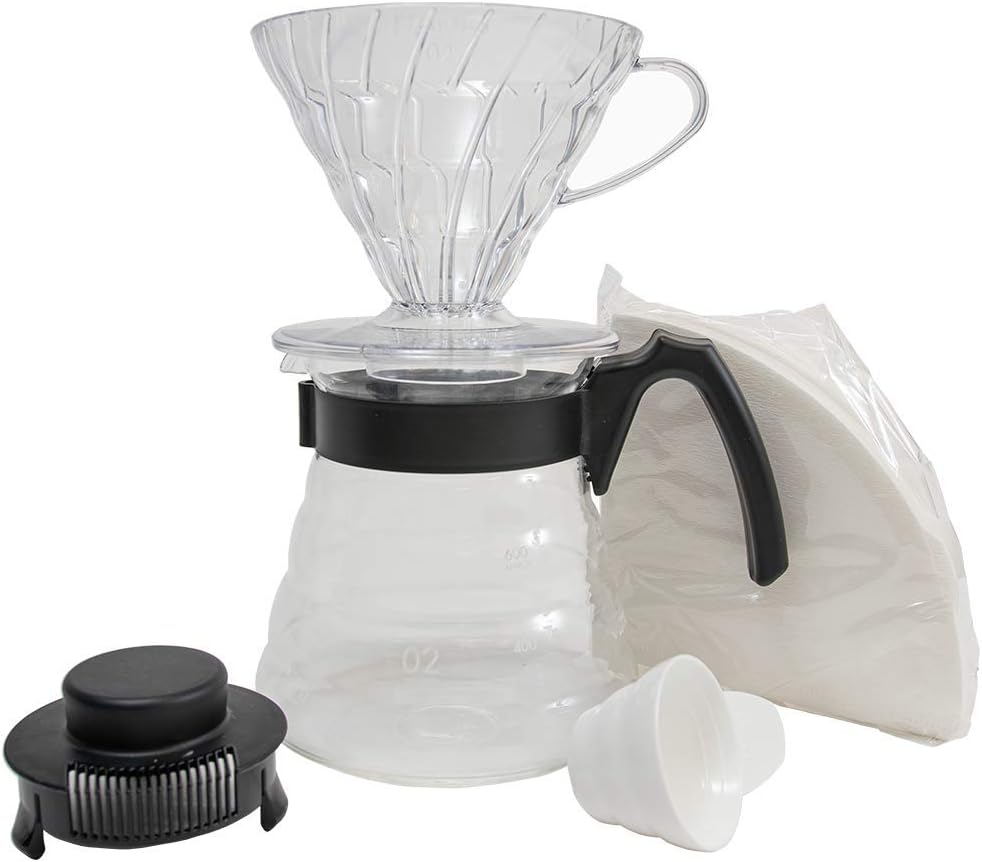 Best budget coffee maker for pour-over lovers: 4.7/5
Founded in 1921, Hario has been a leading brand in heatproof glass. There is no wonder why the glass server included in this set is a true gem. Crafted from heat-resistant borosilicate glass, you're reassured its durability, the taste and quality of coffee. In addition, the spout is designed for precise pouring, ensuring that there are no messy spills. Also, the server is spacious enough to hold several cups of coffee, making it ideal for hosting gatherings or simply enjoying a leisurely morning brew. Moreover, the set can be a great gift for pour-over beginners since a coffee scoop and filters are included. How convenient it is!
Pros
Borosilicate glass server
All inclusive
Suitable as a gift
Cons
Plastic coffee dripper & handle
Might not be durable enough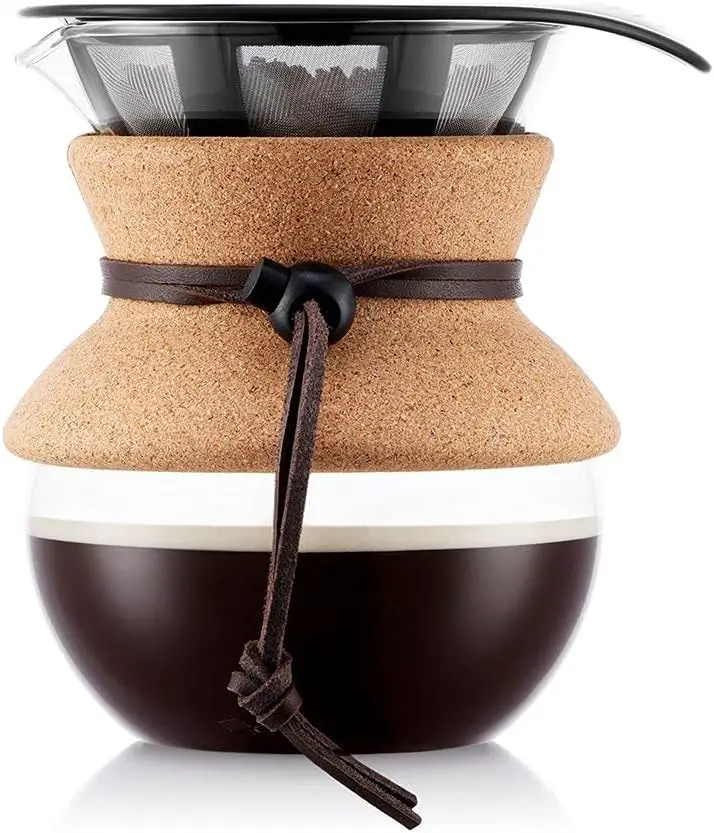 Best eco-friendly budget coffee maker: 4.6/5
First and foremost, the design of this BODUM coffee maker is simple and pretty. The combination of the clear borosilicate glass and the natural cork band gives it a unique and warm look that stands out on your kitchen countertop. The glass is durable and heat-resistant, ensuring that it can withstand high temperatures without any concerns. In addition, the cork handle not only adds a touch of warmth but also provides a comfortable and secure grip while pouring. Another notable aspect of this coffee maker is its ease of use and maintenance. The simple setup and minimal parts make it hassle-free to brew a cup of coffee. Cleaning is a breeze, as the glass and stainless steel filter can be easily rinsed or placed in the dishwasher for convenience. The filter can be used permanently, so it's a great choice for anyone who is concerned about the environment.
Pros
Borosilicate glass server
Permanent stainless steel filter
Dishwasher-safe
Cons
Some coffee grounds can be left on the bottom.

Coffee

can get cold quickly.
Best Budget Coffee Machines Under $100
Breville Aroma Style Electronic Coffee Maker -> Coffee Potential Choice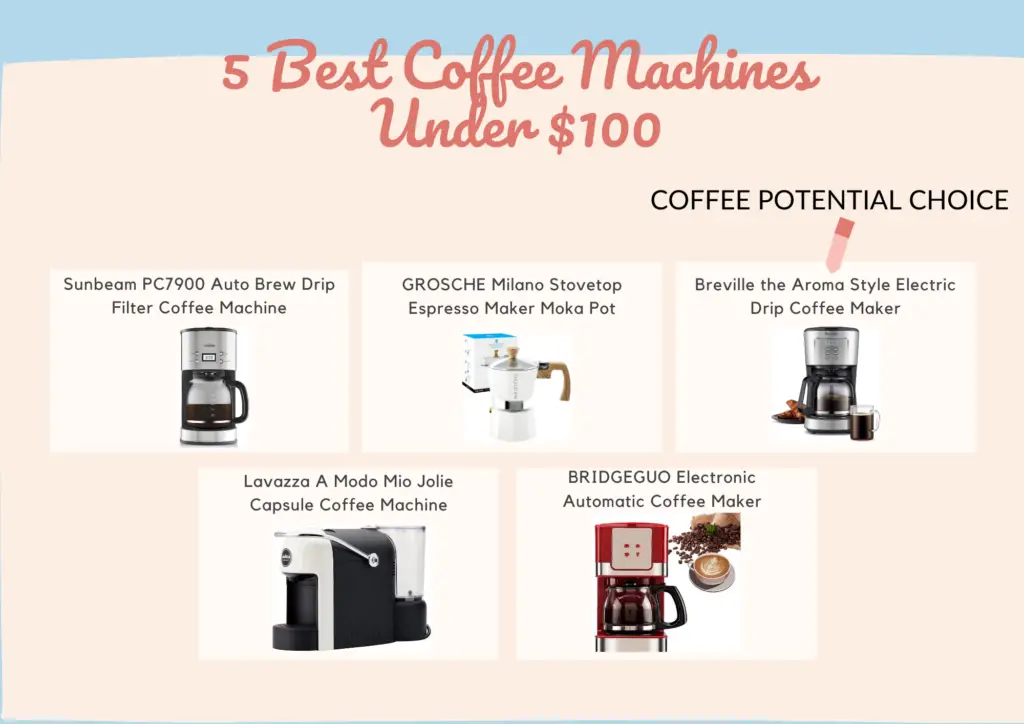 If your budget can go over $50 but below $100, you will find solid budget coffee machines that will make a delicious cup of coffee with a nice crema on top. You just need to be able to tell which ones are worth the money and which ones are not. I hope my following coffee machine research will help you choose only the best ones (the ones that are worth your money).
Now, let's have a look at the pros and cons of each budget coffee machine: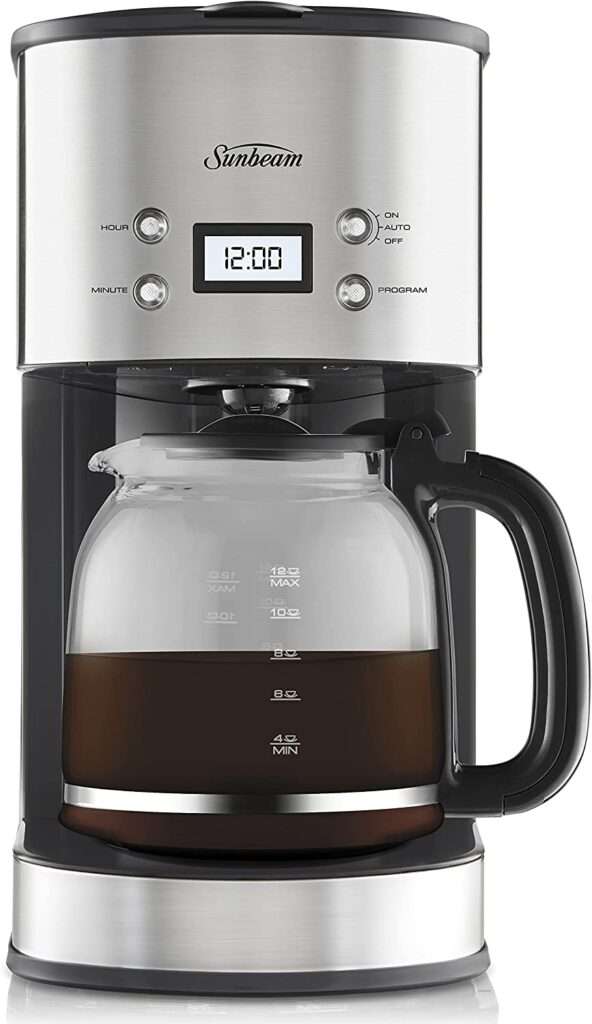 Best 12-cup coffee machine for fast brewing: 4.4/5
The Sunbeam PC7900 coffee machine is a wonderful coffee brewer designed for making your morning routine easier. The programmable feature enables you to set the brewing start time for your convenience. In addition, there is a keep-warm plate to ensure your coffee will stay warm for up to 2 hours after brewing. To make it even better, the mesh filter basket can help you use the drip filter without any paper filters, which means there will be less money to spend as well as less waste to produce. Even if you have found some issues, there's a 12-month replacement guarantee, so you'll be reassured.
Pros
Programmable for your convenience
Fast brewing for a 12-cup coffee maker
12-month replacement guarantee
Cons
The overflowing issue
Not enough extraction resulting in a lack of flavour
Best budget coffee maker with a wide selection of capacity & colour: 4.5/5
The cute little brewer, the GROSCHE Milano Stovetop Espresso Maker Moka Pot is fun and super easy to use. The best part is that you get to choose the capacity between 3,6,9 cups as well as the colour of black, blue, red, silver or white. Whether you like a regular cup or a large mug, the GROSCHE Milano Moka Pot has you covered. This coffee maker is not only cute but also affordable. Available in a variety of colours as mentioned, the white comes as the least expensive, less than $40 for 3 cups. If you calculate a cup of coffee from a cafe, then it's obvious how much money you can save by investing in this budget coffee maker. It's also easy to clean which is perfect for all those java lovers.
Pros
Comes with

an Italian safety valve for a long-lasting product
Burn guard handle to reduce heat transmission and protect you from burning

Easy to use and clean
Cons
Made with food-grade aluminium to reduce cost
Not dishwasher-safe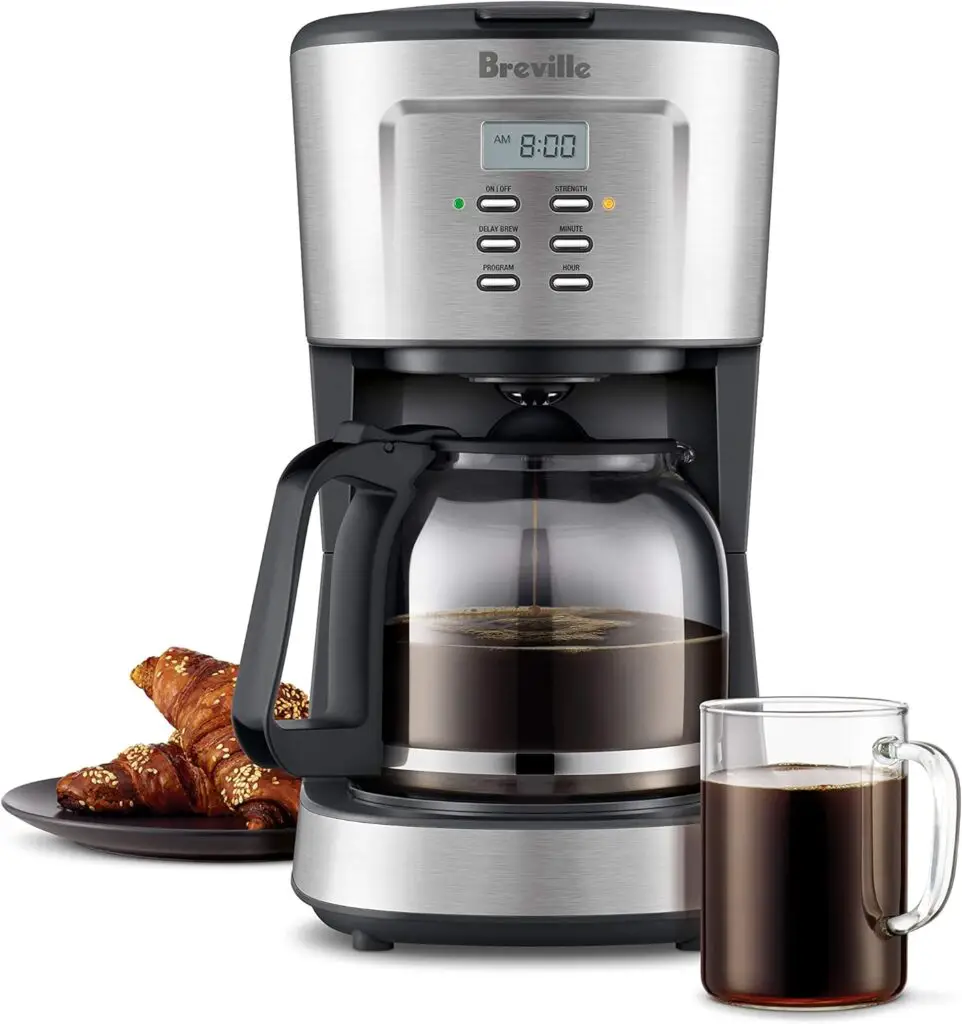 Best programmable coffee maker: 4.4/5
The Breville Aroma Style electric coffee maker is a sleek and durable coffee maker that will be sure to please even the pickiest of coffee lovers. There is a programmable feature so that you can wake up and have a cup of coffee straight away. It brews up to 12 cups, which would be perfect for all of your family members or a consistent supply throughout the day. Imagine you are waking up with the beautiful aroma of coffee! What's more, the stainless steel exterior will provide plenty of protection against spills and other mishaps. Add to that the fact that it's quiet and easy to clean, and it's a fantastic deal for anyone looking for a coffee maker.
Pros
Programmable for your convenience
Keep-warm function for up to 2 hours

Easy to clean
Cons
Potential missing of two rubber feet
The keep-warm function might not be long enough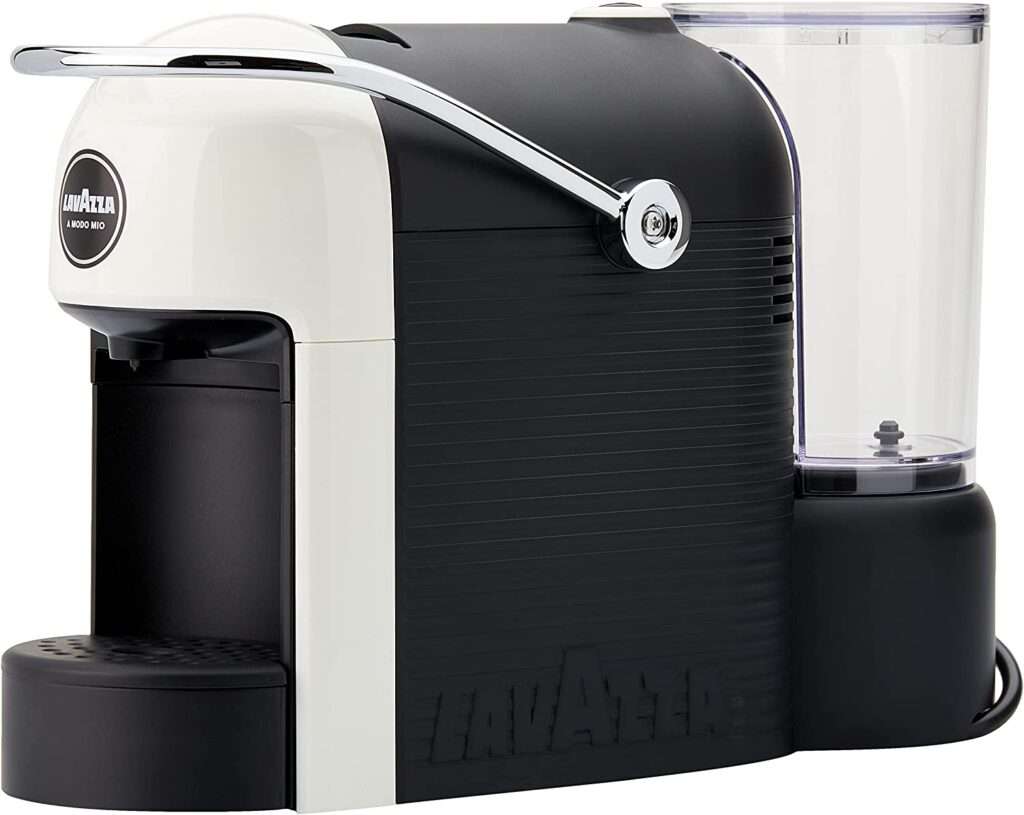 Best compact coffee machine with coffee pods: 4.7/5
The Lavazza A Modo Mio Jolie is a small, elegant Italian coffee maker that offers the convenience of brewing a cup of delicious coffee with minimal effort. It's compatible with Lavazza A Modo Mio capsules and it comes with nine complimentary pods. You'll be assured that your coffee tastes great. In addition, the Lavazza Jolie features a removable cup rest that helps you make either espresso or lungo without a hassle. No more frustration of using a tall mug when it doesn't really fit underneath the spout! Furthermore, all the removable components can be dishwasher-safe, which would make your life even easier.
Pros
Compact and quiet with an elegant Italian design

Comes with nice complimentary coffee pods

Dishwasher-safe removable components
Cons
Compatible with Lavazza A Mondo Mio capsules only
More expensive than ground coffee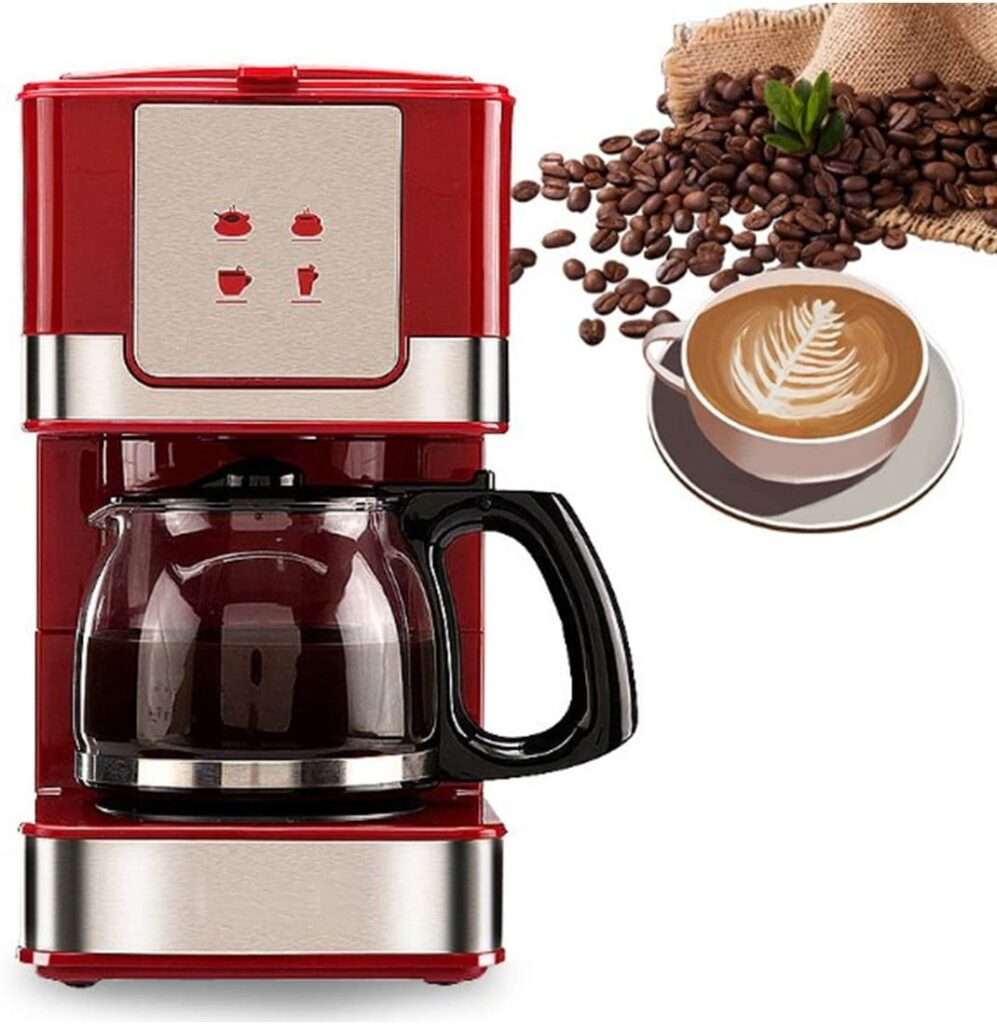 Best automatic multi-function coffee maker: 4.1/5
The BRIDGEGUO electric coffee maker is fully automatic and it will allow you to brew your favourite cup of coffee in five minutes. It makes up to 6 cups, which means it would be perfect for anyone who is after a small coffee maker. What I love about this coffee maker is its environmentally friendly feature. You won't need paper coffee filters anymore! You may ask why? Well, it's because its reusable mesh filter basket is high-density, so the drip filter doesn't require paper filters. The BRIDGEGUO coffee maker can also keep your coffee warm so that you can enjoy it longer. Moreover, you can make not only coffee but also tea with this coffee maker. It comes with a spoon to scoop your ground coffee or tea leaves into the filter. If these are still not enough to convince you, then how about a 100% money-back guarantee? It's definitely worth trying this coffee maker, isn't it?
Pros
Fully automatic and fast brewing
Environmentally friendly

Can make tea as well as coffee
Cons
Can be too small

Not programmable
Best Budget Coffee Machines Under $200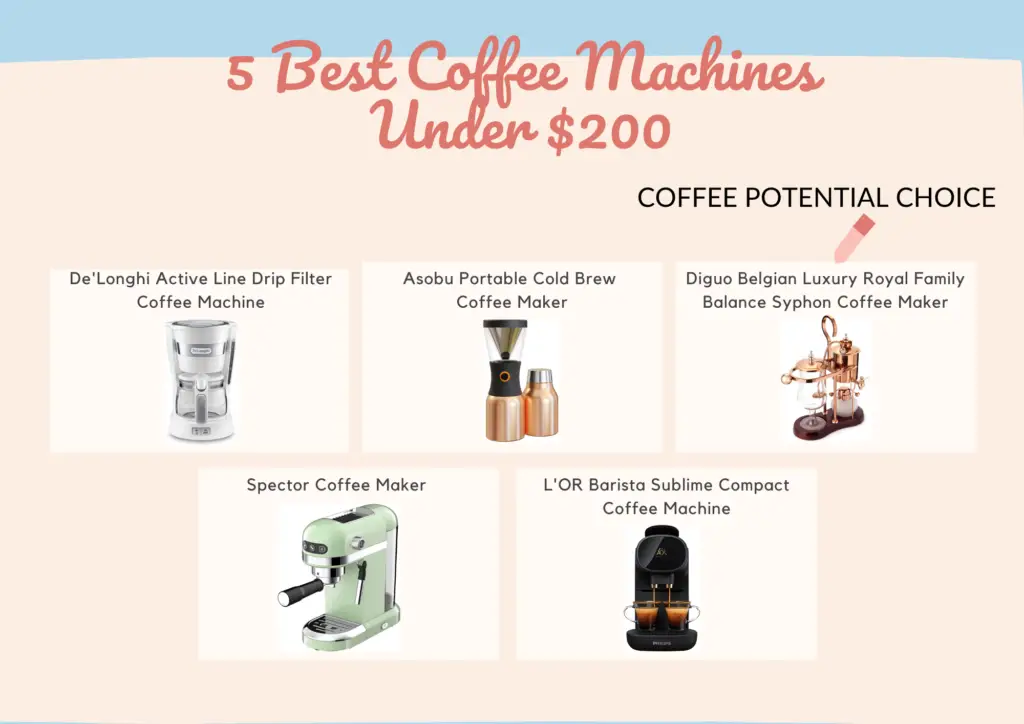 The $200 price range is a good spot for quality coffee machines with enough features to satisfy your coffee cravings. This is the perfect budget for people who are just starting out for homemade coffee without investing too much beyond their comfort.
Here are my top picks for budget coffee machines under $200: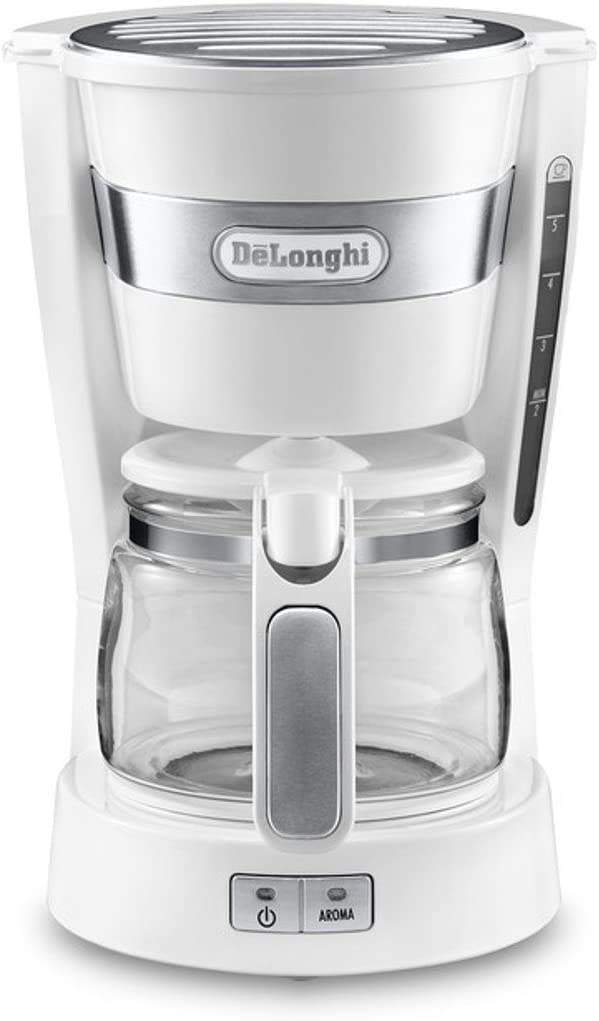 Best design and simple function coffee machine: 4.3/5
If you want to add a clean white coffee machine to your kitchen, the De'Longhi Active Line drip filter coffee machine won't disappoint you. What stands out in this coffee machine is certainly its design! I love its colours and simplicity- you can choose a colour, either black or white, but I recommend having white. It not only looks great but also has useful functions. It will automatically switch off after two hours. Perfect for your busy mornings when you cannot remember doing every single thing! It can make hot coffee up to 5 cups of and also keep your coffee warm with its plate. Furthermore, there are two brewing speed regulations that you can experiment with according to your selected coffee beans. In addition, you'll be happy with the anti-drip function, which means no more mess when you remove the carafe. If you live in Australia, please keep in mind that it comes from the UK, so you will need an adaptor. Overall, this coffee machine is a great choice for coffee lovers.
Pros
Attractive design

Automatic switch off

Anti-drip function
Cons
Potential plastic smell
Requires an adaptor for Australian users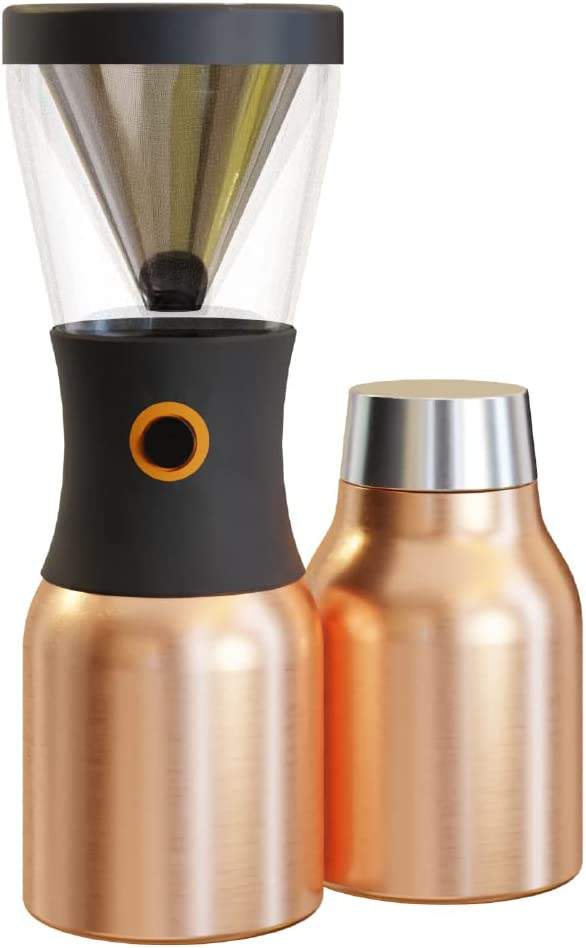 Best cold brew coffee maker: 4.5/5
The Asobu cold brew coffee maker can be your best friend if you love cold brew. You simply need high-quality ground coffee and cold water to steep it. You can easily make a coffee concentrate that is smooth and rich, so all you need to do now is to add some water, milk or ice to enjoy. It's completely your choice! To make it even better, the storage carafe is actually a spill-free mug and comes with a stainless steel lid, so it's perfectly portable. Also, you have a choice of colours: black, copper, white and brown. You may have to be aware, though, that you can possibly face an issue with leakage, so it's highly recommended that you test it out before brewing.
Pros
Super easy to use

Makes smooth and rich cold brew easily

Portable
Cons
Difficult to clean
Leakage issue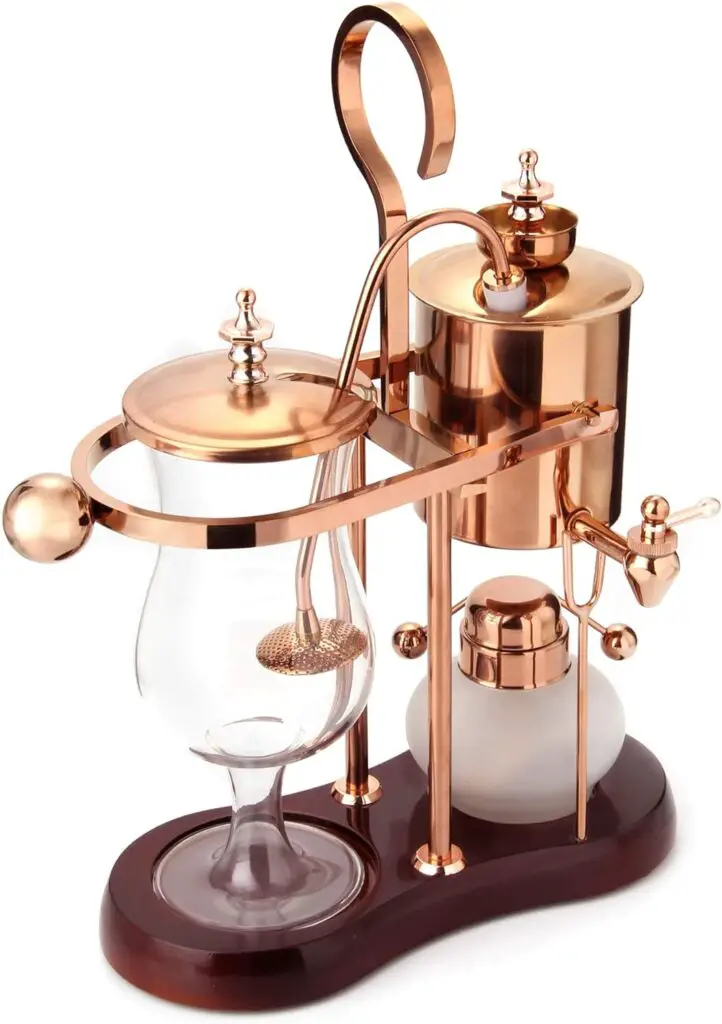 Best entertaining budget coffee maker: 4.6/5
What stands out in this coffee maker is the breathtaking design. With its combination of stainless steel, glass, and wooden accents, it offers a sense of luxury and sophistication. Can you imagine how your family and friends will react when they see this coffee maker? It's absolutely gorgeous! To make it even better, the quality of the coffee produced by this Syphon coffee maker is exceptional. The brew is smooth, clear, and well-balanced. In terms of capacity, this coffee maker can brew up to 500ml of coffee, making it suitable for both individual use and small gatherings. It's the perfect choice for those who appreciate the art and science behind coffee brewing and enjoy the process as much as the end result. No worries, the process is not difficult at all. Overall, I highly recommend the Diguo Balance Syphon Coffee Maker to any coffee lovers!
Pros
Sophisticated design

Brews smooth and clear coffee

Bolosilicate glass

flask
Cons
Can be slow to brew

Requires learning curve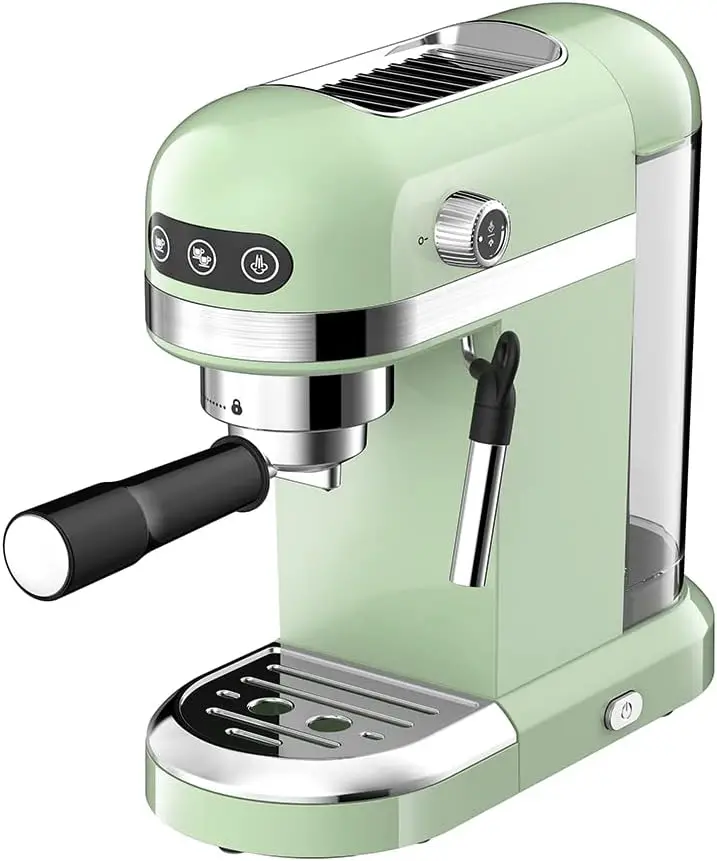 Best budget espresso machine: 4.4/5
You mightn't have heard of Spector, but it's a great espresso machine that can brew delicious java without breaking the bank. If you like milk-based coffee, then this can be your perfect choice. You can easily pull a shot of espresso, froth your preferred milk, and pour it over the coffee. Moreover, you can operate this coffee machine with the touchscreen, so it couldn't be any easier. What I like most about the Spector espresso machine is the mug warmer on top. It's definitely a bonus! Additionally, the green colour is quite unique and cute. There is milk white version and it's pretty nice as well. With the Spector coffee machine, you can easily brew cafe-quality coffee at home.
Pros
Mug warmer on top

Unique colour & compact design

East to use with touchscreen
Cons
Unknown brand

Too heavy to be portable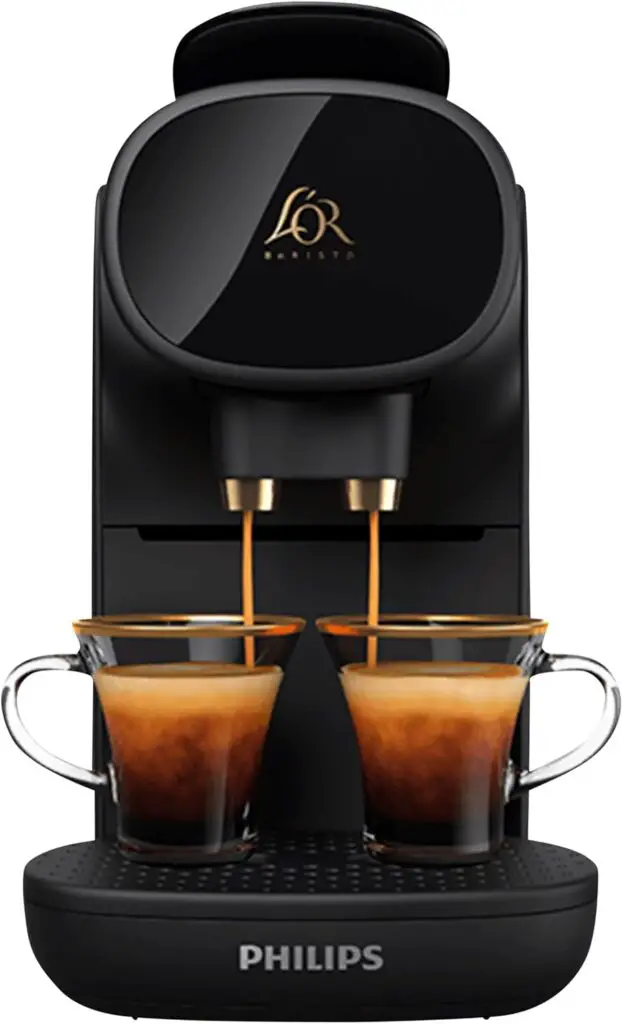 Best budget capsule coffee machine: 4.5/5
One of the standout features of the L'OR Barista Sublime Compact Coffee Machine is its versatility. It's compatible with L'OR Espresso and L'OR Barista double shot capsules, allowing you to enjoy a wide variety of coffee flavours and intensities. Another great feature is the high-pressure system to extract maximum flavour from the coffee pods, resulting in a rich and full-bodied cup of coffee. In addition, the adjustable drip tray allows you to use both small espresso cups and larger mugs, catering to your varying coffee needs throughout the day. Lastly, it's compatible with Nespresso capsules as well, so you'll enjoy the variety of coffees with ease.
Pros
Compatible with L'OR & Nespresso capsules

Can produce double shot of espresso simultaneously

Adjustable drip tray
Cons
Might not be compact enough

Cannot froth milk
Final Thoughts
As you can see, it is actually possible to purchase budget coffee machines for yourself. The important thing is that you should avoid the ones that are not worthy to spend money on. I have made my 3 top picks according to the price range of under $50, $100 and $200. My favourites are the ones under $200 because most of them have the basic features to make a delicious cup of coffee, both a simple cup of espresso and a nicely-frothed milk-based cup of coffee such as a latte and a cappuccino. Of course, you can buy a coffee machine and a milk frother separately if you would like, but why not all in one? I understand that some steaming wands are not really functional and can be just a waste. Well, if we look at the positive side, it can be simply a matter of time to get used to it. There is a saying "Practice makes perfect" and I cannot agree more. If you just started to make your coffee at home, I highly recommend buying one of the budget coffee machines here in this post. Ultimately, it depends on individual needs and preferences regarding what type of coffee machines to buy. I would be happy if I could have helped you even a little bit to choose the best one for you 🙂