Last Updated on 14/10/2023 by Miki
| | | |
| --- | --- | --- |
| | | |
| | | |
| | | |
| | | |
Coffee is a beverage that is enjoyed every day by many people, and coffee beans have a large impact on the flavour of the drink. If you are a coffee lover, you may already know that grinding whole coffee beans just before brewing coffee will bring the best flavour and aroma into your cup. This is why having a coffee grinder at home is highly recommended. There are some coffee machines with a built-in grinder, but what if you don't have one or you want to switch from pre-ground beans to grinding whole beans yourself? I may be biased, but manual coffee grinders are the best!
Did you know manual grinders produce a higher quality coffee than electric grinders? Manual grinders allow you to grind your beans to the desired coarseness, which means they can produce the best possible taste and consistency. The key is to make sure you're not grinding too fast so that you don't overheat the grounds. Plus, manual grinders are so much more affordable! You might not have to worry about recharging your batteries or anything. It is also perfect for people who travel or go camping because it is portable. In this article, you will find the 7 best manual coffee grinders. There are some factors to consider when you choose a manual coffee grinder and the details will be explained here.
How To Choose A Manual Coffee Grinder
You would like to choose the right coffee grinder as you will use it daily and preferably for the long term. It is very important to know what to look for in a manual coffee grinder according to your needs.
Size & Capacity
Manual coffee grinders come in all different sizes. If you travel a lot, then you may want to consider something smaller and more portable. This also means that its capacity is smaller and you will have to grind more than once if you need to make coffee for other people as well.
Material
The burrs are the most important part of a grinder and there are 2 materials, ceramic and steel. Steel burrs are more consistent and durable, but they can be more expensive. Steel would be better, but if you don't have much budget, go for ceramic.
Grind Setting
You need to adjust your grind setting according to your coffee machine and your preference for coffee. It is important to make sure that there are some grind settings in a coffee grinder and that you can change the setting between them easily.
Handle Length
There are different lengths of coffee grinder handles available. The shorter it is, the more energy you need to grind coffee beans. If you don't need extra exercise on the arm, then choose the right length for you.
This post may contain affiliate links. If you use these links to purchase something, I may earn a commission without any extra cost to you. I would appreciate it if you do so to keep this blog going!
The 7 Best Manual Coffee Grinders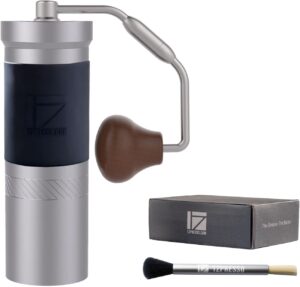 This coffee grinder has big 48 mm stainless steel conical burrs, which can make you grind coffee beans much faster than the other grinders and more consistently too. There are wide ranges of grind adjustments from French press to even espresso with 100% accuracy control. It is easy to disassemble and clean as regular cleaning is necessary to make a coffee grinder last longer.
The 1Zpresso JX-Pro S can be a bit pricy for people who want something more budget-friendly. However, no other manual coffee grinder could beat this in regard to quality for the price. The other downside is the instructions can be complicated for a beginner. 
1Zpresso JX vs 1Zpresso JX-Pro
Both grinders are great and I would highly recommend them. Now, you might be wondering what the differences were or which one would be the best for you. Well,  to put it simply, 1Zpresso JX-Pro is better for espresso lovers as it is more precise in grinding adjustment which is essential to fine grounds for espresso. Having said that, 1Zpresso JX is perfect for pour-over coffee and it's less expensive that the Pro.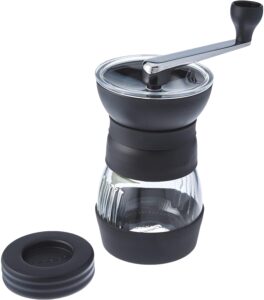 The Japanese brand, Hario Skerton Pro is perfect if you are tight on budget. This Pro version is an upgrade from its classic model. New features of the grind setting and the handle have made this model more efficient in grinding with ceramic conical burrs. The Hario Skerton Pro works well if you would like to make 3-4 cups of coffee at once as its capacity is quite large.
The downside is that it's not the best for travel or camping due to the fact that the base is made out of glass although it has silicone protection on the bottom. Its design makes this grinder bulkier than some of the others, which also makes it less portable. You may also find it a bit too difficult to make a coarser grind with this grinder.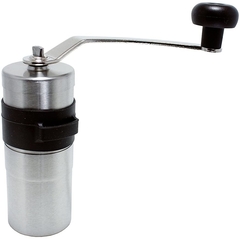 Made in Osaka, Japan, Porlex Mini has been popular among travellers because it is one of the smallest coffee grinders available on the market and it fits into an Aeropress perfectly, which makes it efficient in packing. It is also lightweight. However, the handle can be unstable while grinding.
Due to its small size, the Porlex Mini has small ceramic burrs along with its small capacity. It will take longer to grind coffee beans compared to bigger counterparts and it won't be quick to produce finer grinds such as for espresso. However, it is made of stainless steel, which means it is virtually indestructible.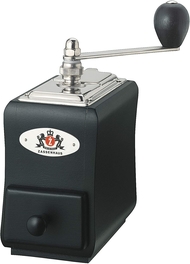 This German brand coffee grinder is one of the most traditional and finest models on the market. It has conical burrs with a beautiful mahogany finish. It is made with quality materials, which explains why it comes with a 25-year guarantee on the grinding mechanism. Absolutely impressive! The thing you should be aware of is that it may take a while to get used to grinding beans with this grinder. 
As a manual coffee grinder, the Zassenhaus Santiago is on the larger and heavier side, so it is not the best for travel or camping. However, it can produce finer grinds for even espresso and Turkish coffee with its wide range of grind settings.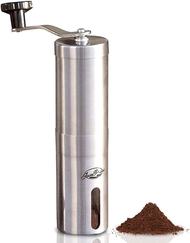 There are good reasons why Javapresse is the best seller in manual coffee grinders on Amazon. It is small and lightweight, which makes it perfectly portable. The Javapresse is made of durable stainless steel with ceramic conical burrs and a removable hand crank. It is also affordable and functional though it may take some time to get used to its click system to adjust your grind settings. It can be inconsistent in the grind too. 
Having said that, the Javapresse is simple, yet you can grind for pretty much everything from French press to espresso and Turkish.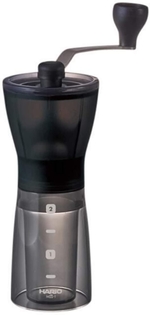 Hario Mini Slim is a new and improved version with better consistency in grinding. It is made of a durable plastic body with ceramic burrs. This coffee grinder is small, lightweight, and slim (as its name suggests!), which makes it good for travel and camping. It can make up to 2 cups. However, it may not last long for your daily use.
The Hario Mini Slim is a good choice considering the quality compared to the price and can be perfect for your portable coffee grinder.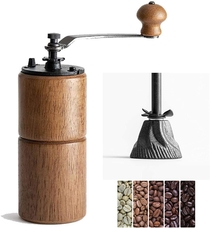 What stands out in Akirakoki is its wood design. It is made of quality wood with premium cast iron burrs, which means it doesn't produce as much heat as other materials to ensure good coffee. This grinder is compact and portable as well as budget-friendly. However, it may take some time to get used to grinding your perfect grinds as you need to control the fineness with the screw under the grinder base. 
Manual Coffee Grinder FAQ
Are manual coffee grinders better than electric?
Some people say that it's better to grind your beans manually as opposed to using an electric coffee grinder. Other coffee drinkers have the opposite opinion, of course, but which is actually better? It ultimately comes down to personal preference. A manual coffee grinder takes a lot more work, and you can't really refill it like a mason jar or something. But, it does allow for a lot more control over the grind size. You can also store the beans in the grinder for a while, which might be better than anything you can do with the coffee. In addition, if you travel frequently, a manual coffee grinder can be your best friend.
Moreover, the cost of electric grinders is a lot more expensive than manual grinders which can be a big cost when it comes to brewing coffee. Manual grinders are easier to clean because there are no complicated pieces and they're also not at risk for electrical malfunctions. With manual grinders, you can choose how finely you want your coffee ground which can help with the extraction process which is why manual grinders are better than electric ones.
How long does it take to grind coffee with a manual burr grinder?
It really depends on the size that you want your grounds to be. Let's say you are going to make a cup for yourself. If you want a coarse ground (which is not recommended for espresso), then that will take about 45-60 seconds. If you want a medium-coarse ground, then it will take about 1 minute. And for a fine grind, it will take about 2 minutes. The other point to mention is grinding coffee with a manual burr grinder can take about 10 minutes to do depending on how much you want to grind. So, keep this in mind for your busy morning.
How long does a manual coffee grinder last?
It's very difficult to know how long a manual coffee grinder will last. Grinders come in different varieties, sizes, and qualities. Not only that, but some types of grinders can last a lifetime while others can last only a few years. That said, manual coffee grinders generally last for years. This is because manual grinders are typically used once a day at most, meaning that the grinder usually doesn't break down. It is considered that the average lifespan for a manual coffee grinder is 10-15 years.
Is coffee better if you grind your own beans?
Coffee is always better when you grind the beans yourself. When you grind your own beans, you don't have to worry about the coffee going stale or taking on the flavour of something else in your pantry. You can also control the strength of the coffee better by grinding lighter or a little coarser if you're using a French Press or drip coffee method. Just remember that if you're not used to grinding your own beans, it might take a while to get the hang of it and make a great cup of coffee. So, if you decide to grind your own beans, make sure you have a little extra time for it!
Final Thoughts
We love the smell of fresh beans, roasted to perfection and ground just before brewing. I know some people think that grinding your own beans is kind of a waste of time, but I think it's worth the extra time and it's actually quite fun. In the end, it's up to you what you prefer. It's worth trying both ways and deciding for yourself. Personally,  I would say that it is definitely worth having a manual coffee grinder. It is affordable, durable, and portable. To make it even better, a manual grinder develops less heat than electric grinders, which means it makes better coffee in flavour and aroma. You might be thinking that it could involve too much effort to grind coffee beans with a manual coffee grinder, but there would be no hassle if you choose the right one. That's why I decided to write this article and I hope it will help you get the best one for you 🙂
Please feel free to share your own experience or ask questions in the comment below! I would be happy to hear from you.
Related posts