Last Updated on 15/10/2023 by Miki
| | | | |
| --- | --- | --- | --- |
| | | | |
| | | | |
| | | | |
| | | | |
As a coffee lover, you may want to brew your coffee at home from scratch, but unfortunately, this is not always the best option. You may not have enough time in the morning or you are always busy and you just want to make coffee asap. If that is the case, making coffee by using pods can be convenient for you. Here come Nespresso capsules!
How to Choose the Best Nespresso Pods & Compatible Pods
Nespresso coffee is the best coffee for people who want a quick and easy way to get their morning coffee fixed. The coffee pods themselves are so easy to use and clean and they don't leave a mess to deal with after you're done using them. The Nespresso pods are also available in a huge range of delicious flavours, so there's always something tempting to try that you've never had before. There are so many different flavours of Nespresso pods to choose from, that you'll never get bored with your morning coffee routine. Nespresso machines are undoubtedly one of the most popular coffee machines worldwide. There are 2 types of Nespresso machines available: Original Line and Vertuo Line. What are the differences?
To put it simply, Original Line is literally the original Nespresso machine whereas Vertuo Line is newer on the market. If your daily cup is only espresso or lungo, Original Line will be a better choice. On the other hand, Vertuo Line is more versatile and therefore, it will be perfect if you like some varieties in your coffee.
Nespresso has produced a wide range of coffee pods and it will become a bit of work to find your favourite one. You could experiment and discover by yourself, but this article is a shortcut for your perfect cup 🙂
This post may contain affiliate links. If you use these links to purchase something, I may earn a commission without any extra cost to you. I would appreciate it if you do so to keep this blog going!
The 7 Best Nespresso Pods & Compatible Pods in 2024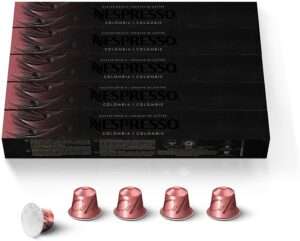 Nespresso Capsules Original Line Colombia Master Origin is medium roast coffee from Colombian Arabica beans. It's smooth and well-balanced. The intensity is rated 6 and it's flavourful without being bitter or too strong. What it means is that you can share these pods with your family and friends at home as well as with your colleagues at work. Overall, this is perfect for many coffee lovers and definitely worth trying.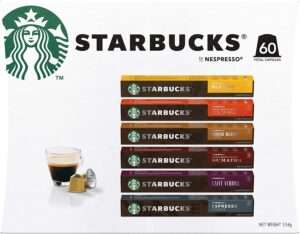 This variety pack contains 6 signature flavours from Starbucks blends and single-origins: Blonde Espresso Roast, Single-Origin Colombia, House Blend, Single-Origin Sumatra, Caffe Verona, and Espresso Roast. 
Blonde Espresso Roast – [Intensity: 6] smooth, sweet & mellow 
Single-Origin Colombia – [Intensity: 7] balanced and nutty
House Blend – [Intensity: 8] rich and toffee-like
Single-Origin Sumatra – [Intensity: 10] earthy, herbal & bold
Caffe Verona – [Intensity: 10] roasty & dark chocolaty
Espresso Roast – [Intensity: 11] rich & caramelly
It has a great variety and something for everyone. This will be perfect for any coffee lover as well as for your own. These pods are compatible with Nespresso Original Line only.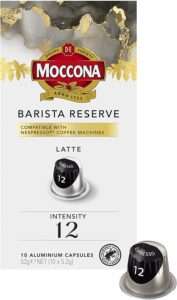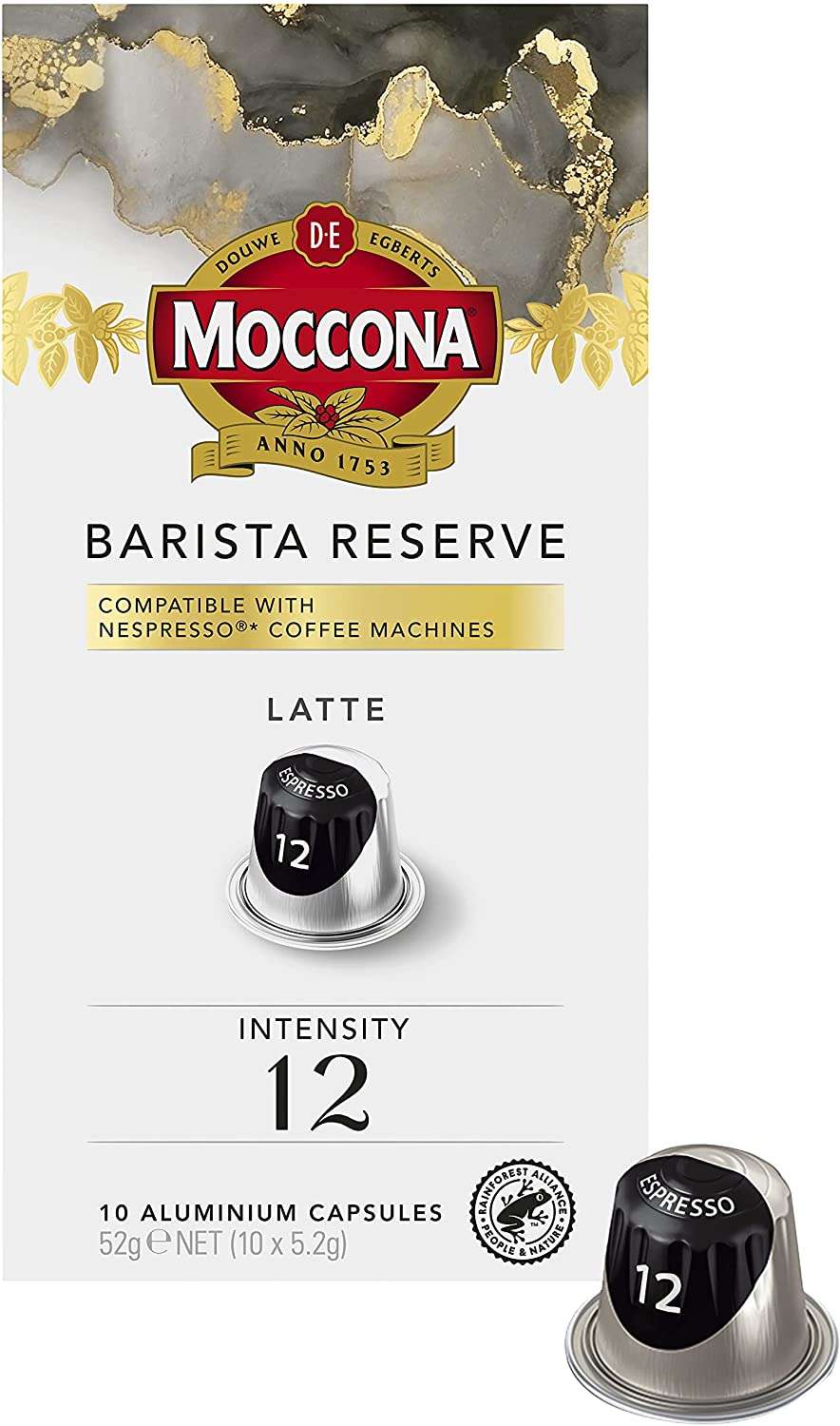 Personally, Moccona is one of my favourite coffee brands and these pods certainly don't disappoint me. Moccona Barista Reserve Latte Ristretto is a blend of spicy notes of Robusta and fruity notes of Arabica. It's strong and intense, so perfectly suitable to make ristretto or espresso. Furthermore, it's also great for any milk-based coffee. To make it even better, you'll get a 10% discount on your subscription. In this way, you don't have to worry about running out of your coffee pods as they are automatically delivered to you.
Podista

Nespresso Compatible Hot Chocolate [Best Chocolaty]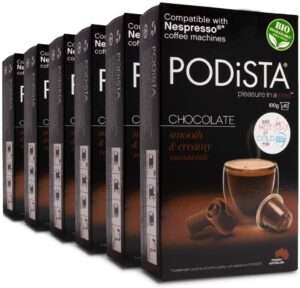 Podista Nespresso Compatible Hot Chocolate is for anyone who has a sweet tooth. It delivers the smooth and creamy texture that you expect from milk chocolates. You can enjoy this drink hot in winter and cold in summer. What stands out in these pods is the fact that they are bio-degradable and recyclable. The Podista Hot Chocolate is not only delicious but also environmentally friendly. It's also caffeine-free, so you may want to enjoy it as an after-dinner drink. Lastly, it's compatible with Nespresso Original Line only.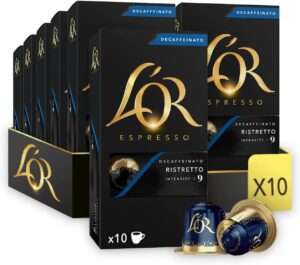 I love the L'OR packaging design! It looks simple yet luxurious. In addition, I love the fact that L'OR is dedicated to its recycling program. L'OR Espresso Coffee Ristretto Decaffeinato is one of the best-tasting decaffeinated pods on the market. The intensity is 9 with a woody and nutty flavour. Yes, it's intense but not bitter. The only drawback can be that you may find your coffee a bit too weak when you make milk-based coffee with these pods. With that said, it can be hard to tell that it's decaf due to its great taste!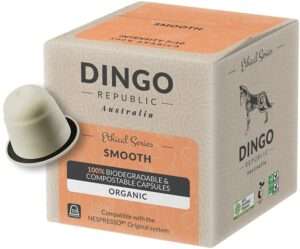 Dingo Smooth Organic Pods for Nespresso is made from 100% Arabica coffee beans. The origins of these high-quality beans are Honduras, Uganda, and PNG. You'll enjoy this medium roast with honey, caramel and nutty flavours. Moreover, the intensity of the pods is 7 and they are deliciously smooth. Last but not the least, they are not only certified organic but also certified compostable and bio-degradable. Keep in mind that they are compatible with Nespresso Original Line only.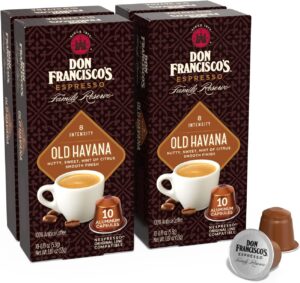 Personally, I like the background of this coffee – family crafted since 1870. They must be doing something great! The coffee has rich, sweet and nutty flavour with a hint of lingering aftertaste of citrus. Don Francisco's Espresso Capsules are bold and aromatic with a Cuban style. The intensity is 8, so these pods will satisfy people who love rich yet smooth flavour. With that being said, there would be a chance you might find it a bit weak or might not enjoy the citrusy flavour . Well, to be honest, I'm not really a fan of it myself. Lastly, these pods are compatible with Nespresso Original Line only.
Nespresso Pods & Compatible Pods FAQ
What Are The Best Nespresso Pods For Latte?
Ristretto pods are the best for a smooth and neutral-flavoured latte as well as a cappuccino. If you like stronger coffee, you may want to try Moccona Barista Reserve Latte mentioned in the list.
Can Nespresso Pods Be Used Twice?
You could press a button to make coffee and try it again though it would not be recommended for the taste. The second cup will be much weaker and can taste bad. The other method you might want to try is to empty the pod, refill it with fresh ground coffee, and put the aluminium foil tightly on the pod. It will become your learning experience to get it right. However, keep in mind that this method will make the Nespresso warranty void, so try it at your own risk.
How Much Caffeine Is In A Nespresso Pod?
It depends on what type of pods and here is a quick guide for you.
Nespresso Original Line
Espresso: 55-65 mg
Lungo: 77-85 mg
Kazaar: 125 mg
Nespresso Vertuo Line
Espresso: 60-150 mg
Double Espresso: up to 200 mg
Gran Lungo: 120-200 mg
Coffee&Alto: 130-200 mg
Half Caffeinato: 90 mg
Decaffeinated: no more than 12 mg
Note: The Lungo blends contain 20% more coffee per pod, which makes them have higher caffeine content.
Do Nespresso Pods Have Calories?
Nespresso pods are all low in calories with less than 2 calories per cup. They do not contain BPA or preservatives. Flavoured coffee pods use extracts from natural sources.
How Do You Store Nespresso Pods?
In fact, there are many ways to store your Nespresso pods. Each coffee lover has their own preferences like the number of pods and the storage space in the kitchen. If you like simple and neat-looking storage, check this one for Original Like pods and the other one for Vertuo Line pods.
Are Nespresso Pods Recyclable?
Nespresso pods are made from aluminium that protects the freshness and quality of the coffee beans as well as being recyclable. Furthermore, Nespresso has its own nationwide recycling programme and offers a recycling toolkit to make it simple and convenient for coffee lovers to recycle their used pods. The recycling toolkit is complimentary and you can order it online. This recycling programme is applicable to both commercial and domestic use. You can check more details here. (Note: I'm based in Australia, so this link is for Australian residents. If you are based in the US, please check this link.)
Final Thoughts
There you have "The 7 Best Nespresso Pods & Compatible Pods." It ultimately depends on your preferences like the type of roast (light, medium, or dark) and intensity.
One last thing is to check the type of your Nespresso machine. As you may have already leant here, there are 2 types: Original Line and Vertuo Line. In fact, it is really important to check before you purchase Nespresso pods as they are not interchangeable between Original Line and Vertuo Line. You need its own pod that suits your machine type.