Last Updated on 18/10/2023 by Miki
| | | | |
| --- | --- | --- | --- |
| | | | |
| | | | |
| | | | |
| | | | |
Imagine the smell of warm coffee in the morning…a delightful way to wake up. This is why it is important to find a great coffee maker. Drip coffee makers are one of the most popular coffee makers on the market today. There are a lot of different varieties of makers on the market and it can be quite overwhelming to choose the best one for anyone. Obviously, we all have our own preferences and it is important to know your needs in coffee makers before purchasing. Here in this article, you will get the basic guide to choosing the best drip coffee maker for yourself and my top picks for drip coffee makers for home according to your needs. I've compiled a list of the best drip coffee makers that are available today and how they rank. Let's start with "How to choose a drip coffee maker".
How To Choose A Drip Coffee Maker
You don't want to make the wrong choice of a coffee maker as it's likely that you will use it daily and possibly multiple times a day. That's why the following 7 tips for choosing the right coffee maker for you are worth keeping in mind.
1. Coffee Maker Size
In general, we have limited space for storing a coffee maker either on the counter or in a cabinet unless your kitchen is huge. You should definitely consider the size of a coffee maker as it is not ideal if your coffee maker takes up the entire space on the counter.
2. Coffee Pot/Carafe Capacity
The next question to ask yourself is how much coffee you need to make at one time. Do you need a single cup for yourself only or do you make multiple cups for others? The best choice of your coffee maker totally depends on your answer. If you need a single serving only, then a small drip coffee maker will do. The capacity will generally range from 4, 10, 12, 14 and 16 with 12 being the most popular.
3. Programming Features
Most drip coffee makers have programming features that enable the machines to turn on and off whenever you would like and to remain hot for a certain period of your desired time before shutting off.  You may find these features convenient if you don't have much time in the morning or you simply want your coffee ready after waking up. Just remember that some drip coffee makers don't have programming features as they can make coffee quickly enough.
4. Ability To Pause Brewing Before Completing
You may want to consider this factor, especially for drip coffee makers with a larger coffee pot capacity. It's very handy if you can pause brewing and enjoy the first cup right away without waiting for the brew to finish. It won't make a big difference if you choose to have a smaller machine.
5. Glass Or Thermal Coffee Pot
There are 2 types of coffee pots: a glass or a thermal
A glass coffee pot is more common and less expensive. Since the hot plate keeps heating the brewed coffee, it over-extracts the oils and can make it taste bitter. This option is less energy-efficient due to its continuous operation to stay warm.
A thermal coffee pot is a preferable choice for coffee lovers as it can keep the coffee temperature at 195-205 degrees for a couple of hours. This will lead to a better flavour as well as saving energy usage. The drawback is that a thermal pot tends to be more expensive.
6. With Or Without A Coffee Grinder
As a coffee lover, it's natural that you prefer freshly ground coffee. If this is the case, you may want to consider a drip coffee maker with a built-in grinder or buy a machine and a grinder separately. A drip coffee maker with a grinder is generally more expensive than a machine without a grinder. However, you might still save some money compared to the choice of buying a grinder separately. Furthermore, you can save space for storage in the kitchen. What I would recommend is to buy a coffee grinder separately because you can use it for different brewing methods. A separate grinder also does a better job of grinding since it's the main function.
7. A Water Filter
In fact, the water you use to make coffee influences the flavour of brewed coffee. If you have a water filter installed in your kitchen sink, you don't need to consider this factor. In case you don't have a water filter, there are some coffee markers with built-in water filters available on the market. This will make your coffee taste better. Just remember that this involves extra expense and effort of replacing the filter when the time comes. It depends on if you mind those or not.
This post may contain affiliate links. If you use these links to purchase something, I may earn a commission without any extra cost to you. I would appreciate it if you do so to keep this blog going!
The 7 Best Drip Coffee Makers Australia | Reviews 2024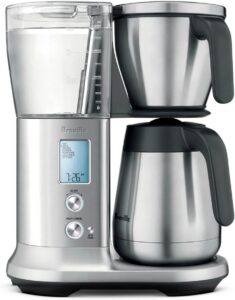 If you are going to make your coffee precisely the way you want, Breville Precision Brewer Thermal BDC455BSS is your perfect choice. You can easily customise your coffee with the pre-set modes. This includes gold (water temperature and brew time from Speciality Coffee Association), fast, strong, iced, and cold brew. To be honest, it's quite hard to find any downsides to this drip coffee maker. I love the fact that it's beautifully designed and it makes your brewing process easy. Another benefit is its thermal carafe which keeps your coffee hot longer. It's definitely worth investing in this high-quality drip coffee maker.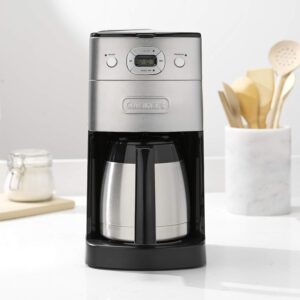 Cuisinart Grind and Brew Automatic is a must for coffee lovers who want to use freshly ground coffee each time. This drip coffee maker has a built-in blade grinder to ensure it delivers high-quality coffee. To make it even better, it's fully programmable for your convenience. In fact, it doesn't end here and there are more advantages to the Cuisinart Grind and Brew. The thermal carafe wouldn't disappoint you at all and will keep your coffee hot for hours after brewing. In addition, you can choose the strength of your coffee from mild, medium or strong. All these features are quite impressive already, but there is one more. It comes with a 3-year warranty. How awesome it sounds! However, you wouldn't be able to adjust the grind settings.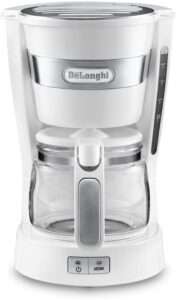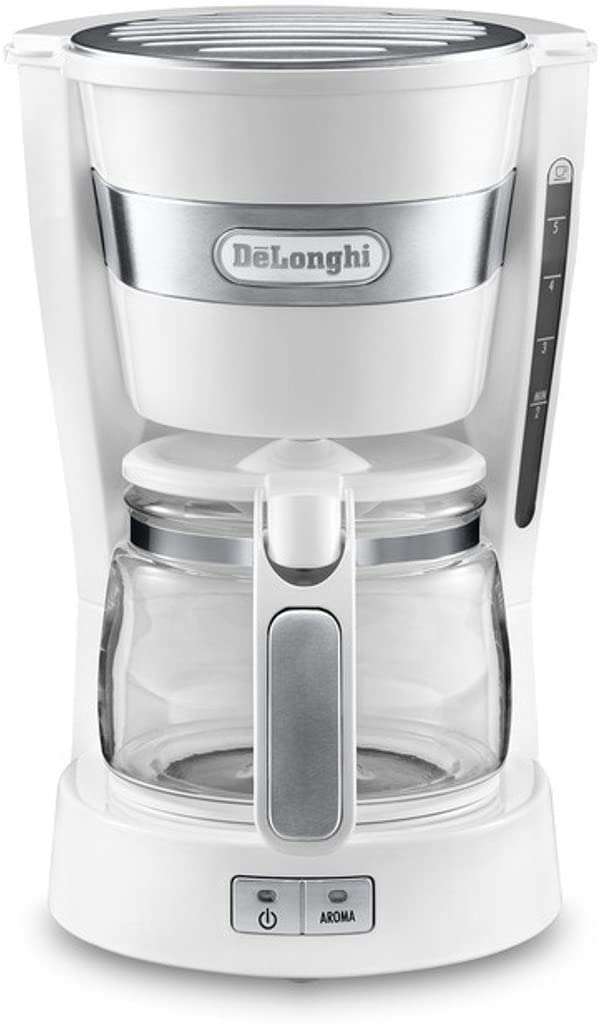 De'Longhi Active Line Drip Filter Coffee Machine can be perfect if you don't need to make a lot of coffee at once as the glass carafe is up to 5 cups of capacity. In addition, it's lightweight at 1.2kg only, so you can take this drip coffee maker with you for camping for example. Compared to over 3kg for most of the other drip coffee makers in this list, this is a winner for portability. Moreover, it doesn't take up much space on the benchtop. Instead, it gives a clean feel from its beautiful white colour. Another benefit is a function to change the brewing speed. You can make it slower brewing and have more flavourful coffee if you would like. On the other hand, the disadvantage could be that your product from the UK would have a different plug, so you would need a converter just like the Cuisinart Grind and Brew Plus.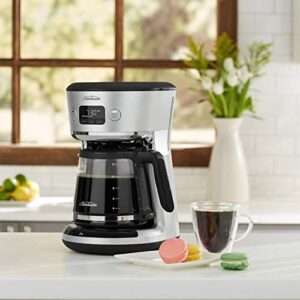 Sunbeam Specialty Brew Drip Filter Coffee Machine is another lightweight option as it weighs 1.41kg. What makes this drip coffee maker outstanding is the easy measuring system coded with colour so that it can deliver consistently delicious coffee. What this means is that you can easily measure the right amount of coffee with the scoop and water for the reservoir every single time. How useful! Furthermore, the hot plate can keep your coffee hot for up to 2 hours. Another benefit of the Sunbeam Specialty Brew.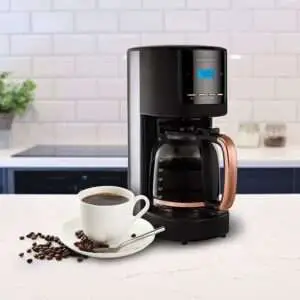 What I love about Morphy Richards Filter Coffee Machine is its simplicity. It looks elegant with its rose gold handle and control buttons with a black body. As for its functions, you can set a timer for freshly brewed coffee in the morning. However, you may want to be aware that the keep-warm function would last for only 30 minutes. In addition, it automatically shut off after 30 minutes. Overall, the Morphy Richards Filter Coffee Machine can be perfect for some people, but you will certainly need to think about its pros and cons.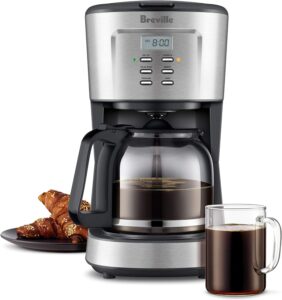 I love Breville kitchen products for their high quality, so there is no wonder why the second Breville drip coffee maker has joined my top list! The Breville Aroma Style Electronic Coffee Maker can make tasty coffee in no time. It actually brews your coffee in 10 minutes! As it's programmable, you can also set a timer and have hot coffee whenever you would like. It wouldn't keep your coffee hot as long as a thermal carafe does, but it could do it for up to 2 hours. Moreover, the non-drip valve system will certainly help you remain mess-free.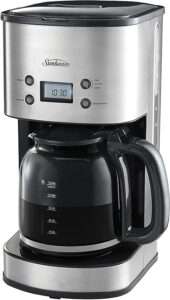 Last but not least, Sunbeam PC7900 Auto Brew Drip Filter Coffee Machine is selected among my 7 best drip coffee makers. The main reason is it's easy to use with its programmable feature. What it means is that you can set the time you want to have your fresh coffee. Moreover, what stands out is its price. It's under AU$65 only with all those features like brew-time setting and auto shut-off. Well, if I have to point out the downside, it would be the fact that the glass carafe won't keep your coffee hot as long as thermal ones. Having said that, the Sunbeam PC7900 would be perfect for any budget-conscious coffee lover.
Drip Coffee Maker FAQ
What is the best small drip coffee maker?
The De'Longhi Coffee Maker is a great choice for a small drip coffee maker. Although this coffee pot isn't thermal, it has great features such as a choice of brewing speed. Moreover, it's lightweight, so it can be perfect for anyone who is after a drip coffee maker that is easy to move around. 
Is drip coffee better than Keurig?
The Keurig company produces coffee makers which are convenient and easy to use. They also have a variety of types of coffee for you to choose from. Drip coffee makers are another option for people who want to brew their coffee from the comfort of their own homes. There are tons of recipes that people can use in a drip coffee maker and it's more economical than a Keurig. One of the disadvantages of Keurig is that you don't have as much control over your coffee-making experience. In general, drip coffee is a better option. This is largely due to the fact that the water level of the pot on a drip coffee maker is adjustable, which means you can brew more watery or stronger coffee. The same cannot be said for Keurig as there is only one adjustable setting.
Why does my drip coffee taste bad?
While it often seems that the world is overflowing with coffee lovers, there, unfortunately, are also many of us who have been cursed with the nasty taste of a bad cup. There are many reasons why your coffee might taste bad, so I'd like to help you find a solution. The possible reasons are:
Your coffee might be too strong or too watered down.
You might be using too much coffee or not enough.
Perhaps your pot is dirty or you've allowed it to sit too long.
If you follow proper brewing techniques and have a nice brew at home, then there isn't a chance that the coffee will taste bad.
Which coffee maker makes the best-tasting coffee?
There are many drip coffee makers on the market and some of them make excellent-tasting coffee. One of my favourites is Sunbeam Specialty Brew Drip Filter Coffee Machine. It's a fact that we all have different tastes in coffee. Some like it hot and black, some like it iced and sweet, and some like it strong and bitter. If you're looking for the best-tasting drip coffee makers, you'll want to try the Sunbeam Specialty Brew as it's easy to measure the right amount of coffee and water, which can lead to consistently tasty coffee.
Final Thoughts
Drip coffee makers may not be the first choice for everyone, but it's definitely convenient to have one either at home or at work. It makes decent coffee without too much hassle. If you would like to enjoy extra sleep in the morning, programmable coffee makers will help you with it. Some people may find a drip coffee maker to make a bit weaker coffee than other coffee makers such as a French press and pour-over. However, there are certainly some drip coffee makers that can produce strong coffee. It all depends on searching and finding the best one for you. With my buying guide and reviews here, I truly hope that you will find the best one for yourself 🙂 If you have any questions, please leave a comment below.