Last Updated on 17/10/2023 by Miki
| | | | |
| --- | --- | --- | --- |
| | | | |
| | | | |
| | | | |
| | | | |
When combining the Cuisinart coffee maker with a grinder, it's easy to control just how much coffee the device makes. This is handy for those mornings when you can't decide if you want a tall or a short cup! Admit it, it's happened to all of us. The Cuisinart Grind & Brew coffee maker ensures you'll never run out of coffee. You can make a rich, flavourful cup just the way you like it. While this machine is great as a stand-alone, for those who like to take their coffee on the go, the Cuisinart coffee maker with a grinder can also come in handy. Not only does it have a grinder, but it also has a timer, a water reservoir, a cup warmer, an automatic shut-off, and the capacity to brew up to 12 cups. What are you waiting for? The best part is that you will save space and money if you choose a two-for-one machine. Keep reading to check out my reviews 🙂
This post may contain affiliate links. If you use these links to purchase something, I may earn a commission without any extra cost to you. I would appreciate it if you do so to keep this blog going!
Best Cuisinart Coffee Makers With A Grinder Australia in 2023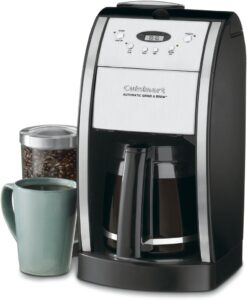 Cuisinart DGB-550BKP1 Grind & Brew Automatic Coffee Maker is perfect if you want an elegant and compact coffee maker. It has a lot of attractive features: 24-hour programmability, brew-pause function, auto-shutoff for up to 4 hours, choice of 1 cup to 4 cups or more than 5 cups, a gold-tone reusable filter and a charcoal water filter. What is good about this Cuisinart coffee maker is that the grinding chamber is separately assembled. Therefore, you can easily add coffee beans and remove used beans. This also means that it is easy to clean up. Furthermore, the "grind-off" control feature can conveniently turn off the grinder when you use pre-ground coffee. You can adjust your grinding setting according to your preference for the strength of coffee. Another notable feature is a two-step system as mentioned before: a gold-tone commercial filter and a charcoal water filter. The system removes impurities, so you don't need to have a water filter installed in your kitchen sink.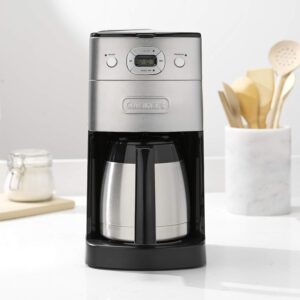 A thermal coffee pot is a preferable choice as I mentioned briefly in my article here. The only drawback is the price being more expensive than a glass coffee pot. Cuisinart DGB650BCU Grind & Brew Plus is not for a tight budget, but it's a great quality machine with a built-in blade grinder. What stands out about this coffee maker is the fact that your coffee will be fresh and warm for hours after brewing. In addition,  it comes with a permanent filter to optimise the flavour of your coffee. How good it is! Actually, most of the other features are similar to the Cuisinart DGB-550BKP1 Grind & Brew Automatic Coffeemaker mentioned previously.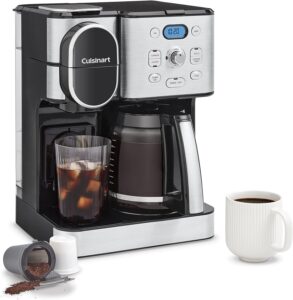 The Cuisinart SS-16 has a glass carafe with a stainless steel handle. Although it's not thermal, the glass carafe can keep your coffee hot for a long time. Moreover, it comes with Cuisinart's Home Barista Reusable Filter Cup, which means that you have a choice of using your own coffee or a compatible K-Cup. In addition, you can choose the single-serve serving sizes between 4, 6, 8, 10 and 12oz. If you would like to have stronger coffee, then you can simply press "Bold" on the brew-strength control button. The drawbacks are that the single-serve brewing part can make a mess unless you use a taller cup and it can get loud when making coffee. With that being said, overall, this Cuisinart coffee maker does a reliable job to make a decent cup of coffee.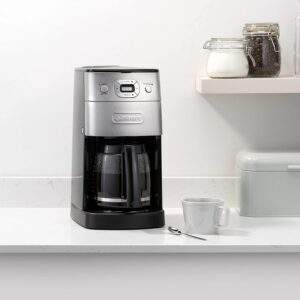 Last but not least, the Cuisinart Grind & Brew Bean to Cup Filter Coffee Maker is simple and easy to use. It's basic but it includes efficient features: 24-hour programmability, automatic grind & brew, and keep-warm plate. Moreover, it's great value for money considering all the features as well as 3-year guarantee. In addition, I love the fact that the "1-4 cup" button allows you to optimise extraction and flavour when brewing less than 4 cups. Also, this 12-cup Cuisinart DGB625BCU is perfect for those who want to try Bean to Cup coffee maker without spending a fortune. The downside is that the plate may not be the best to keep your coffee hot for long compared to other coffee makers. Having said that, the pros definitely outweigh the cons!
How To Clean A Cuisinart Grind & Brew Coffee Maker?
A Cuisinart Grind & Brew coffee maker makes delicious cups of fresh coffee every day as well as grinding whole coffee beans just before brewing. If you want to make the machine last longer, then it is necessary to maintain and clean it regularly. Actually, it does not require a lot of effort. Here is what you should do.
Ensure the machine is turned off and unplugged from the wall.
Take all the removable parts out of the machine including the grinder basket, the filter basket holder, the basket and the cover.
Wash the removed parts with warm soapy water or with a dishwasher. Dry them completely with a dishtowel.
Wipe the machine with a dishcloth. Do not splash water into the grinder motor. You can clean it with a damp dishcloth.
Remove the coffee pot from the machine and wash it by hand or with a dishwasher. Dry it thoroughly.
Wipe the area where the coffee pot sits on the machine with a dishcloth.
To descale, pour a mixture of one part white vinegar and two parts water into the water reservoir. Turn the machine on and let it run through. 
Discard the mixture and rinse it out. Then, follow up with a cycle of plain water.
You should repeat this process when you notice something different in the taste of your coffee.
Cuisinart Coffee Makers With A Grinder FAQ
What is the best Cuisinart Grind and Brew Coffee Maker?
Although it is not the cheapest option, Cuisinart Grind & Brew Plus Bean to Cup Filter Coffee Maker DGB650BCU is the best for quality and features. It may require an initial investment, but you won't regret buying this Cuisinart coffee maker in the long run. What's great about Cuisinart coffee makers is that there's a 3-year warranty for your peace of mind.
Are coffee makers with grinders good?
What's a better way to start your morning than by brewing coffee in the comfort of your own home on your own coffee maker? If you're looking for convenience, a coffee maker with a built-in grinder is the way to go. Simply set it up the night before, load the tank with water, add a filter, add your coffee beans, and turn it on. In the morning, when you come downstairs, all you have to do is wait for it to finish brewing, grab your cup of joe, and head out the door. It makes your life easier, doesn't it?
Can I use my Cuisinart coffee maker without the charcoal filter?
Coffee filters are a must to keep your coffee machine clean and your coffee taste fresh. Your coffee machine is going to pick up the different flavours of the coffee beans you use and if you're using a regular coffee filter it will also pick up the taste of the filter and coffee ground from previous use. The charcoal filter is used for reducing the chlorine taste and bad odour in the water. To sum it up, the answer to the question is yes, if you use bottled or filtered water.
Final Thoughts
Cuisinart coffee makers with a grinder are a great choice for coffee lovers. You may still not be convinced if buying one of their machines will be a good investment for you. Mind you that there can be both pros and cons for any coffee machine and brand. You may have to replace the entire machine if either the coffee machine or the grinder breaks. Having said that, if you want to have a reliable coffee machine with a built-in grinder, a Cuisinart Grind & Brew coffee maker is worth considering. It will not only save space and money, but it will also save time to make coffee.