Last Updated on 18/10/2023 by Miki
| | | | |
| --- | --- | --- | --- |
| | | | |
| | | | |
| | | | |
| | | | |
Turkish coffee is quite unique as the brewing method is very different from typical coffee. It's mainly enjoyed all over the Middle East. The Turkish coffee pot is called a cezve or ibrik with a long handle and it is made from copper or brass. You need to use very finely ground coffee to make Turkish coffee. A brass grinder is traditionally used, which makes a powder consistency as fine as caster sugar. It's served in a small cup and you can enjoy the brew once the powder has settled at the bottom completely. In this article, you'll discover a buying guide, the best Turkish coffee pots and how to make Turkish coffee at home. If you are ready for something new and different, keep reading!
How To Choose A Turkish Coffee Pot
When you choose a perfect Turkish coffee pot for yourself, there are mainly three aspects to consider: the coffee pot material, the pot size, and the handle material.
We will take a look at each aspect here.
1. The Coffee Pot Material
There are mainly three materials for Turkish coffee pots available on the market: brass, copper, and stainless steel. Just like other types of coffee makers, there are both pros and cons to each material. However, you will have a delicious cup of Turkish coffee with any of these.
Copper – This metal doesn't rust though it can corrode over decades of use. It looks stylish and can be a great addition to your kitchen. You will find that most copper pots are lined with a tin on the inside for an extended lifespan.
Brass – The pros of brass are that it doesn't rust and in general it can corrode slower than copper does. The appearance will give you an antique feel.
Stainless Steel – The stainless steel pots are modern and easy to clean. They are even dishwasher-safe. Though it doesn't give you that "exotic" feel, it lasts longer than the other two.
Keep in mind that you need to check if your stovetop is compatible with the material of your choice. You should be able to use most of the pots on standard stovetops like ceramic, electric, and gas.
2. The Coffee Pot Size
The Turkish coffee pot sizes range from 2 serving to 12 servings. It's necessary to figure out your needs in serving size. Remember that Turkish coffee is served in a small cup of 2-3 oz. Unless you make coffee for yourself only, you may want to consider a larger size.
One last thing to remember is that a 1-serving pot can be so small that you might burn your hand by being too close to the stove. It can be a good idea to choose a 2-serving pot to reduce the chance of burning your hand.
3. The Handle Material
It's important to choose a handle that is comfortable to hold as you will need to remove the pot from heat quickly at least twice when brewing Turkish coffee. Stainless steel pots are typically equipped with a stainless steel or plastic handle. It's advisable to avoid anything with plastic though, as you are going to place the pot directly on the stove.
On the other hand, copper and brass pots usually come with a wooden or brass handle. They are both long-lasting. If you choose to get a small pot, you may want to buy one with a wooden handle since a metal handle will get hot and can burn your hand.
This post may contain affiliate links. If you use these links to purchase something, I may earn a commission without any extra cost to you. I would appreciate it if you do so to keep this blog going!
The 5 Best Turkish Coffee Pots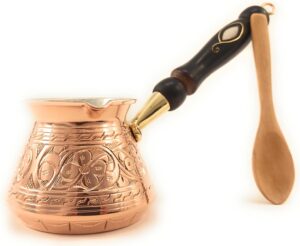 This handmade copper Turkish pot is made out of a single copper sheet by experienced craftsmen in Turkey. It's solid engraved and elegant. It's conveniently available in four different sizes to meet your requirement. The body of this copper pot is solid hammered and there is a food-safe grade tin lining on the inside. The ACI series pot is made from the thickest copper available, which makes it durable. However, some parts such as a handle can be less sturdy and may cause an issue. Having said that, it comes with not only a beautiful wooden handle but also a wooden spoon to prevent any scratches.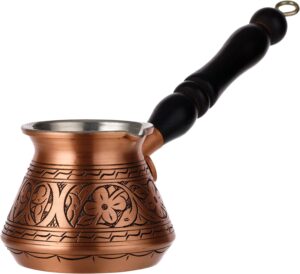 The DEMMEX 2mm thick Turkish coffee pot is made with famous Turkish copper in the Gaziantep City of Turkey by experienced craftsmen. This coffee pot is available in three colours: antique copper, copper, and matte copper. Its capacity is 270ml (9 oz) for 3 people. It's not lacquered, which will lead to naturally developing a patina on the outside over a long period. For your assurance, the pot is lined with food-safe, lead-free tin. What stands out for this pot is that the copper quality is guaranteed by the authenticity test. Just like the Silk Road Trade Turkish coffee pot, it's made out of the thickest copper available and it comes with a wooden handle along with a wooden spoon. The drawbacks are the quality issue with the copper and the fact that it may not be big enough for some people.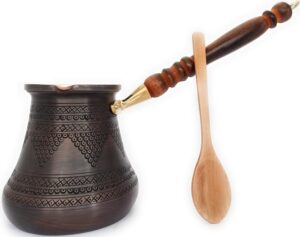 What is notable about the DEDE Copper-2020-PCZ Series Turkish Coffee Pot is its capacity of 830ml (28 oz). If you are looking for a larger pot, then this will be the perfect option. Its design is a combination of retro and modern, which will give a nice addition to any style of kitchen. It has all the amazing features like being handmade by experienced craftsmen and the use of the thickest copper. I love the beautiful grape bunches pattern. To make this pot even better, the wooden handle can be easily detachable. No wonder it has a very high rating on Amazon.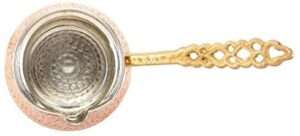 The DESTALYA Copper Turkish Coffee Pot is the smallest among all the others on my list here. The capacity is 200ml (6.76 oz) only, so you want to be aware of it if you need to make a larger amount of coffee. Having said that, the DESTALYA Turkish pot can be a perfect choice for anyone who wants portability. It would be great for camping and travelling. The pot comes with a copper body with a brass handle and is made in Turkey. The downside is the material of the pot, which can be too thin. On the other hand, the benefits are that it can warm up water quickly and is the most budget-friendly option among the five pots here.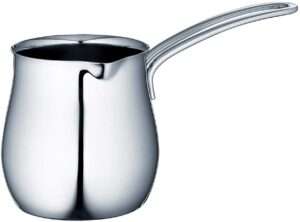 This high-quality stainless steel Turkish coffee pot will last long as it doesn't rust. Furthermore, you can use this pot as a milk warmer or you can melt butter, make hot chocolate or brew tea and so much more! You'll love the versatility of this Turkish pot. In addition, its capacity is 710ml (24 oz), not too small or too big. However, there are some drawbacks. First, it doesn't work on an induction stove. Next, it doesn't give you that "exotic" feel either. Lastly, the handle could be a bit longer to avoid the heat on a gas stovetop. On the other hand, some of the benefits are the ergonomic handle never gets hot and the pouring spout has a non-drip feature. It's easy to clean and even dishwasher safe.
How To Grind Coffee Beans For Turkish Coffee
Turkish ground coffee is extremely fine and it is like a powder. It's even finer than espresso. Though most affordable electric coffee grinders don't work well to make super fine grounds, many manual grinders can do the job. You can check this article for manual coffee grinders.
How To Grind Beans For Turkish Coffee With A Manual Grinder
Due to the brewing process of Turkish coffee, it's recommended to use light to medium-roasted beans. The rising temperature of the liquid will make the beans more soluble. If you use a darker roast, it can be over-extracted and cause bitterness. Choose the finest grind setting on your manual grinder, then you are ready. Keep in mind that it will take longer than your regular coffee because of the fineness to achieve, so be prepared!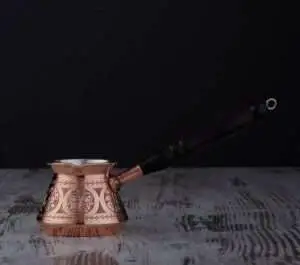 How To Make Turkish Coffee
Add approximately 50ml (1.7oz) of water to the cezve (ibrik)

 

per cup and then add the desired amount of sugar (if using).
Add one teaspoon of finely ground coffee per cup and stir to mix it.
Slowly bring it to a boil over medium heat.
When it comes to a boil, remove it from the heat, scoop some of the dark foam on top, and transfer it into a serving cup. Return it to the heat.
As it is close to a boil again, remove it from the heat and pour half of the coffee over the foam in the cup.
Return it to the heat and boil the remaining coffee for another 10-15 seconds.
Pour it into the cup to the rim.
Wait for the remaining powder to settle at the bottom before you serve.
You can add some spices like cardamom and cinnamon as long as the spices are finely ground.
Turkish Coffee FAQ
What are the best coffee beans for Turkish coffee?
When it comes to coffee beans for Turkish coffee, there are a few things to keep in mind. First, you'll want to find coffee beans that are light to medium roast. This will ensure the brewed coffee won't become bitter from over-extraction. Second, you'll want to make sure that the coffee beans are finely ground. This will help to ensure that your coffee is smooth and flavorful. Third, you'll want to look for coffee beans that are fresh. This will help to ensure that your coffee is as flavorful as possible. Keep these things in mind and you'll be sure to find the best coffee beans for Turkish coffee.
Why is Turkish coffee so strong? Is Turkish coffee stronger than espresso?
Contrary to popular belief, Turkish coffee is typically not stronger than espresso. However, it's a different flavour of the coffee. This type of coffee is made by a specific brewing method that uses different ratios of coffee grounds. This brewing process differs from how espresso is brewed. Turkish coffee has a more full-body taste, with an intense flavour that lingers. This could make us feel that Turkish coffee is stronger than espresso.
Can you make Turkish coffee with espresso?
Turkish coffee is boiled with ground coffee beans and then removed from the heat before being strained while espresso is brewed by forcing hot water up through ground coffee beans. Therefore, the result is different. 
Is Turkish coffee finer than espresso?
Turkish coffee is finer because they use a very fine grind. Turkish coffee has the highest density of grinds which means there is more surface area that brews faster and retains more flavour. Turkish coffee is also heated slowly so that the grinds don't expand quickly and destroy the flavour.
Do you put milk in Turkish coffee?
Turkish coffee is usually served without milk, while espresso can come with a bit of milk or cream.
Final Thoughts
If you would like to enjoy Turkish coffee at home, having a Turkish coffee pot is a good choice. It will achieve a perfectly intense flavour and aroma. Moreover, Turkish coffee pots are relatively small compared to automatic espresso machines, so you can save space in the kitchen. They can easily become portable and perfect for camping and travelling. The pot can also become a great aesthetic addition to the kitchen. Turkish coffee is perfect for any coffee lover who wants to experience something different. Let's discover a new coffee and share it with us 🙂