Last Updated on 05/03/2023 by Miki
Table of contents
Would you like to find out my review on 1ZPresso Q2 vs Timemore C2? I'm glad you are here! Choosing a manual grinder can be tricky, especially if you are new to the world of coffee making. If you are new to manual grinding, there are a few things you'll want to consider. It's best to go with a brand that has fewer plastic parts if you are wanting to grind your beans. A good example of this is the 1ZPresso Q2 manual coffee grinder. This grinder will not break easily, is beautiful to look at, and won't leave any plastic traces in your coffee. It's also easy to clean with its stainless steel burrs. 1ZPresso also has a wide variety of grind settings, so it's perfect for many coffee types. If you are wanting to try something different, try the hand-pulled Timemore Chestnut C2 manual coffee grinder. It has a unique grid pattern and can be easily gripped by hand. It also has a stainless steel blade, so it's easy to produce a uniform grind. The big question here is "Which manual coffee grinder to choose, 1ZPresso Q2 or Timemore Chestnut C2?" In this article, you'll see the comparison between those two grinders.
This post may contain affiliate links. If you use these links to purchase something, I may earn a commission without any extra cost to you. I would appreciate it if you do so to keep this blog going!
1ZPresso Q2 vs Timemore C2 – Design
It can be difficult to choose from different manual coffee grinders. The two popular models are the 1ZPresso Q2 and the Timemore C2. How can you tell which is right for you?
The 1ZPresso Q2 is a manual coffee grinder that has a new design that makes it easier to use. It has 38mm stainless steel conical burrs which make it a great choice for those who want a manual coffee grinder that is easy to use and grind quickly but still gives a consistent grind. It also has a one-year warranty for those who want some extra peace of mind. Due to its travel size, the Q2 has only a 20g capacity of coffee beans, so bear this in mind.
The Timemore Chestnut C2 is a manual coffee grinder that is very popular with those who want to experiment with manual coffee grinding due to its easy-grip handle. Although the metal aluminium body might look a bit cheaply made compared to the 1ZPresso Q2, the efficient grid pattern of the body is what makes the Timemore C2 quite unique. Just like the Q2, the Chestnut C2 also has stainless steel burrs, which can make you grind your beans fast and easily. Another similarity between the two is that the C2 also has a 20g capacity only. Neither coffee grinder is designed for grinding large amounts of coffee beans at once.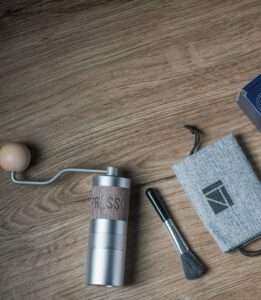 1ZPresso Q2 vs Timemore C2 – Features
The one thing that makes the 1ZPresso Q2 stand out is the ability to adjust the fineness of the grind. This can be done with a dial on the bottom of the mechanism over 60 clicks, giving complete control to the user. Fort his reason, the e1ZPresso Q2 is perfect for many coffee grinds. However, it may take some time until you get used to the grind setting. Another thing that makes the 1ZPresso Q2 stand out is that it's considerably quieter than comparable products on the market. If noise is an issue for you, it might be worth considering 'Q2. It also fits well in Aeropress, which makes this grinder perfectly portable.
On the other hand, the Timemore C2 is slightly heavier weighing 480g than the 1Zpresso Q2 weighing 425g  but it's still portable and actually, both of these grinders come with a travel case. Unfortunately, you may find that the Timemore C2 does not quite provide proper grinds for the espresso machine as it claims to due to a 36 grind setting dial. Having said that, it's great for Pour over and French press. Grinding coffee beans is also a task among many that may leave you with sore hands. Luckily, the Timemore C2 will certainly make the task easier for you with the sturdy grip handle.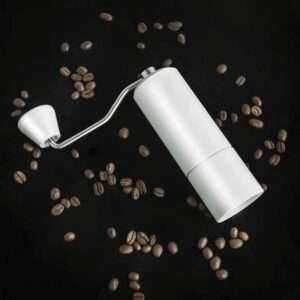 1ZPresso Q2 vs Timemore C2 – Pricing
The difference between a high-end grinder and a low-end grinder comes down to the quality of the metal, blade sharpness, and internal design. The lower-priced models have a blade that is not as sharp as those of the more expensive models. This means that those grinders have to spin faster, which can lead to a slower grind. Another issue is that those cheaper models have a smaller opening for beans. This can lead to a more uneven grind and a lower capacity, which means it will take a higher number of turns to grind enough beans for one shot.
The Timemore C2 beats the competition when it comes to price. It's just a bit over AU$100, which would make it great value for money. I have been researching manual coffee grinders lately and it seems there are a lot of opinions on which one is the best. I can honestly say that the Timemore C2 is the best value for money. On the other hand,  the 1ZPresso Q2 seems to be a bit expensive coffee grinder around AU$150 but produces a better-tasting coffee. There are cheaper manual coffee grinders out there but in my opinion, the 1ZPresso Q2 is worth the price for the quality.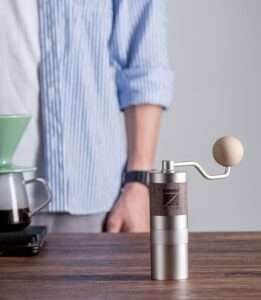 1ZPresso Q2 vs Timemore C2 – FAQ
How do I adjust 1ZPresso Q2 Manual Coffee Grinder?
Basically, the Q2 has an internal adjustment design and you can simply follow the steps for adjusting the coffee grinder below:
Start with the zero setting by turning the adjustment dial clockwise until you feel resistance.
Remember where you start.
For example, you will need 2 rotations by turning the dial counter-clockwise 2 rounds (60 clicks) for Pour over.
You can experiment by reducing 2 numbers (6 clicks) or increasing 4 numbers (12 clicks) to find your perfect grind.
Check out the 1ZPresso official website for the grind setting for all the coffee types.
Is Timemore C2 good for espresso?
As mentioned previously, the Timemore C2 has fewer grind adjustment clicks than the 1ZPresso Q2 and it would be much harder work to produce fine grinds for espresso. Even with the Q2, it wouldn't be easy to produce the espresso grind. With that said, coffee from freshly ground beans is much better than one from pre-ground. In fact, if you are an espresso drinker, then I recommend the 1ZPresso JX or JX-Pro over the Q2 or Timemore C2.
Is Timemore C2 good for Pour over?
Yes, the Timemore C2 does a good job for Pour over or Drip coffee makers as the grind isn't supposed to be fine like espresso. It's a great choice for a beginner or any coffee lover who wants to invest in an affordable manual coffee grinder.
Final Thoughts
The 1ZPresso Q2 is a coffee grinder designed to turn beans faster than any other manual coffee grinder. If you are looking for a coffee grinder that is better quality, has more features, and is easier to clean, then the 1ZPresso Q2 is the coffee grinder for you. This is a more expensive coffee grinder because it has more features. It has a wider choice of grind settings and it's easier to maintain. On the other hand, if you are looking for a coffee grinder that is more affordable, then the Timemore C2 is the coffee grinder for you. It's a simpler, less expensive option without the bells and whistles.
There is a fierce battle between the 1ZPresso Q2 and the Timemore C2 among coffee lovers. In my opinion, the 1ZPresso Q2 is a better choice because it's value for money considering the high quality of the manual coffee grinder. To make a decision, you need to know what matters to you. Is cleaning a priority? Do you want a coffee grinder that has a wider grinding setting to make your life easy? All of these considerations can help you make a decision. I recommend reading this article if you want to know about 1ZPresso JX and JX-Pro, especially if you are an espresso drinker like me 🙂