Last Updated on 16/01/2022 by Miki
Table of contents
Do you want to make really delicious coffee in your own home? Then you should invest in a coffee grinder. Why spend the money to go to Starbucks when you can make coffee at home that tastes just as good? If you're like me, you're looking for the perfect manual coffee grinder for your home that's easy to operate, affordable, and produces high-quality grind.
After researching several popular models, I found the 1ZPresso JX-Pro and Comandante equally impressive with their performance. For those who are looking for a manual coffee grinder, the 1ZPresso JX-Pro or the Comandante are excellent choices. They are both sleek, easy to use, and produce good quality grinds. In this article, you will find the ultimate comparison between 1ZPresso JX-Pro and Comandante.
This post may contain affiliate links. If you use these links to purchase something, I may earn a commission without any extra cost to you. I would appreciate it if you do so to keep this blog going!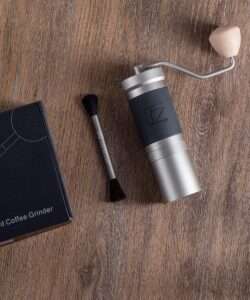 1ZPresso JX-Pro vs Comandante – Design
I'm going to start with 1ZPresso's design. The company's grinder is a lot smaller which for some may make it a better option, but I think the smaller size has a good cause. The grinder has a more compact size which a lot of people may appreciate. The design also means that it's easier to store in a cabinet. This is a big advantage for those who have a small home and have a lot of things in their kitchen. The look of the grinder is also a great aspect. The colour and sleek design fit into any kitchen. 1ZPresso JX-Pro is a true example of a successful modern design. In contrast, Comandante's grinder has more options to choose from in colours according to your preference. It has the component of wood and glass, which completely differs from 1ZPresso JX-Pro. You can choose which one is closer to your type.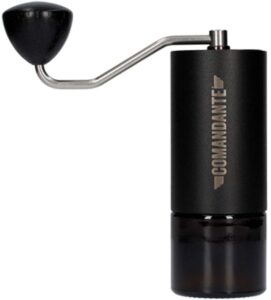 1ZPresso JX-Pro vs Comandante – Features
One of the most important features of a coffee grinder is the consistency of the grind. You want your coffee to be ground uniformly so that each cup tastes the same. One of my top picks is the Comandante. It is a manual grinder that has a stainless steel conical burr that is called Nitro Blade and is made in Germany. This burr is durable and it can be easily cleaned and it ensures that no coffee grounds will stick in the machine and cause it to seize. The 1ZPresso JX-Pro on the other hand is an affordable grinder that also has a stainless steel conical burr. What makes the 1ZPresso different is that it has an extensive adjustable grind setting that allows you to choose the coarseness of the coffee grounds.
Both models offer a clear and simple design and both grinders produce a uniform and fresh ground coffee. The function of 1ZPresso JX-Pro is a little more dynamic and complicated but in a good way. It has 10 numbers and 40 clicks to set the desired grind size. On the other hand, the Comandante doesn't have as many grind settings as the 1ZPresso JX-Pro. If you want to get more out of your coffee grinding process and more options for grind size, go for the 1ZPresso JX-Pro. If you want fewer adjustments in grinding and more straightforward functionality and want to spend some more time on the beans, go for the Comandante.


1ZPresso JX-Pro vs Comandante – Performance
One of the important things that people should consider before purchasing a manual coffee grinder is how well it performs.
For those that are not sure if they want to take the plunge into the manual world of coffee, the 1ZPRESSO JX-Pro is the perfect option. The high-quality grinder has a capacity of 30-35g, which is perfect for those who want to try manual coffee before committing to the larger, more expensive option of the Comandante. The larger capacity for the Comandante is perfect for those coffee lovers. It has a capacity of 40-45g. However, for those that are not sure what the best option for them is, the 1ZPRESSO JX-Pro is perfect. Another advantage of 1ZPresso JX-Pro is the fact that it is a lot quieter than the Comandante which a lot of people may appreciate.


Final Thoughts
For those people who enjoy grinding their own coffee beans both to save money and to have beans that are tailored to their taste, but are not looking for a commercial grinder, then the 1ZPRESO JX-Pro or the Comandante is the perfect options. It is important to clean the grinder after every use, to lessen the chance of mould or corrosion.
If you are on a budget or will not need to make coffee grinds on a daily basis, one of the manual grinders is a smart choice. If you will be making coffee for a large group of people, going with a commercial grinder is a good choice.
Now it's time to decide which company has made the best manual coffee grinder. In my opinion, 1ZPresso is the company that has put more thought into its product, specifically good value for money with its high quality. I highly recommend 1Zpresso JX-Pro over Comandante for this reason. You may want to read this article to check my comparison between 1ZPress JX vs JX-Pro.