Last Updated on 23/10/2022 by Miki
Table of contents
We've all had that moment when we're on the go and need a cup of coffee. The problem is that if you're anything like me, the only coffee makers on hand are either on top of your coffee pot or at home. What do you do then? Well, that's where the portable coffee makers come in. Portable coffee makers are designed to brew a single cup of delicious coffee without any of the hassles. They're easy to use, clean, and lightweight. Keep reading to see my list of the 7 best!
What is a Portable Coffee Maker?
Living a busy life doesn't mean that you have to sacrifice your caffeine intake. Thankfully, there are portable coffee makers available on the market. These handy devices make it possible to enjoy a good cup of joe anywhere. As a result, you can spend less time looking for a coffee shop and more time focusing on your tasks.
Portable coffee makers, like standard coffee makers, come in different shapes and sizes. Their main distinction is their size and portability. These small coffee makers make it possible to brew coffee anywhere, like at the office, at home, or on the go. So, if you're an avid coffee drinker who wants to make coffee wherever you go, you might want to consider a portable coffee maker.
As mentioned, there are many different types of portable coffee makers available to choose from, so it can be tough to decide which one is right for you. That's where I'm happy to come in. To simplify your search, I've made a list of the 7 best portable coffee makers on the market for you.
This post may contain affiliate links. If you use these links to purchase something, I may earn a commission without any extra cost to you. I would appreciate it if you do so to keep this blog going!
The 7 Best Portable Coffee Makers
Portable coffee makers are popular because people like to be able to enjoy their coffee anytime, anywhere. However, finding the best portable coffee maker isn't easy. The following 7 portable coffee makers are some of the best.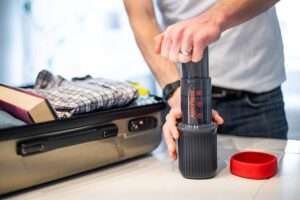 The Aeropress 10R11 Go Travel Coffee Maker is the best choice, because it's durable and reliable, and it brews a delicious, strong cup of coffee. It's an excellent choice for those who like to travel. It's one of my favourite travel coffee makers.
The Aeropress  Go is about the size of a coffee mug and comes with a scoop to measure your coffee before brewing. I also recommend the Aeropress for its versatility. It's an affordable, lightweight (318g), and simple coffee maker. Having said that, if I point out a disadvantage, it would be the fact that the filter holder isn't well designed and it's a bit fiddly to make it stay closed.

Pros:
Durable
Brews strong coffee
Affordable
Cons: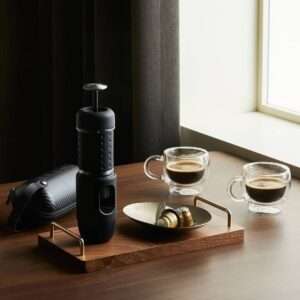 The STARESSO Portable Coffee Maker Mini is a lesser-known alternative to the other coffee makers on this list. It functions somewhat similarly, with its coffee filter pods, travel mug, and espresso quality. Where it differs from the others is in high-quality materials. It's made of food-grade stainless steel, which makes this coffee maker sturdy. Not only is it high-quality material, but it can also produce pressure up to 20 bar!
Moreover, you can use either ground coffee or Nespresso capsules depending on your preferences. All of these are included and it weighs only 300g. How good is it 🙂 The STARESSO Mini allows you to enjoy fresh, pure coffee in your home or on the go. I might be supposed to point out some cons, but honestly, I cannot think of any with this coffee maker.
Pros:
Made of high-quality materials
Can produce high pressure
Can be used for both ground coffee & capsules
Cons: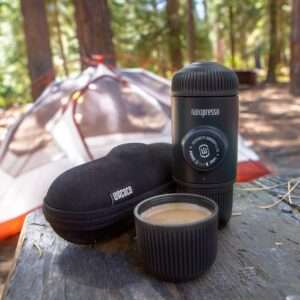 Wacano Nanopresso is another great portable coffee maker for an individual who loves travelling. Some of its best features are its quality pumping system, ease of use, and of course, its great coffee.
This newly upgraded model lets you use less force to pump so that you don't need to feel like a tough job to make a cup of coffee. With its pumping system, it can reach up to 18 bar pressure, which ensures good quality coffee. There is a con, however, that you will need some practice to get used to using and mastering this coffee maker.
Pros:
Easy to use
Compact
Can make good crema
Cons:
May need some practice to master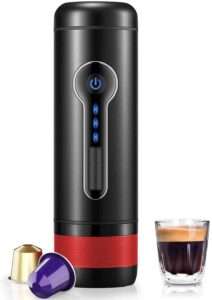 The CONQUECO portable espresso maker is one of the highest quality options when it comes to bringing espresso home to your kitchen when you are far from it. This espresso maker is different in that it's an electric one and can heat water up to 90 degrees Celcius.
What stands out in the CONQUECO espresso maker is its fully automatic function. All you need to do is set a Nespresso capsule, pour water and press the button! It conveniently comes with both home and car chargers. With that being said, the cons are that it's compatible with Original Line Nespresso and L'OR capsules only and you may find it a bit pricy.
Pros:
Electric & can heat water
Fully automatic
Can make good espresso
Cons:

The BODUM coffee maker makes a French press coffee, has a lid for a coffee mug, and an extra lid for the French press brewing. The insulated travel mugs of coffee makers also keep the coffee hot, but the lid isn't tight enough, which could cause leakage. For this reason, it might not be the best portable coffee maker for those who want to put their coffee maker in their bag. On the other hand, the BODUM Travel Mug can be perfect if you take your coffee maker with you and keep it upright in the car to travel.
Pros:
Keeps your coffee hot
Easy to clean
Budget-friendly
Cons:
Possible issue with a lid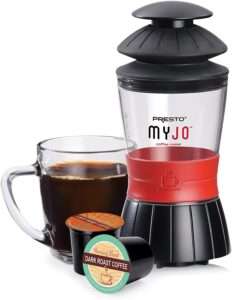 The Presto MyJo Single Cup Coffee Maker is a good choice for an on-the-go coffee maker. It's convenient for single servings, works with your favourite K-Cup pack, and can be budget-friendly, costing under $30. This coffee maker is suitable for Keurig lovers. It's simple to use, easy to clean and perfect for camping. However, it may not last as long as the other portable coffee makers recommended here in this article.
Pros:
Simple to use
Inexpensive
Perfect for Keurig lovers
Cons: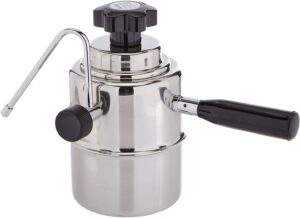 Is the Bellman CX-25S Stovetop Espresso Maker the right choice for you? It's ideal for coffee drinkers who want to enjoy milk-based coffee like a latte and a cappuccino.
This stovetop espresso maker uses pressure to force water up through the coffee grounds. It comes with a pressure gauge that helps you brew your perfect coffee. Actually, I had been using another model of Bellman for some time when I used to live in a unit as it didn't take much space in the kitchen compared to an espresso machine. I loved this little espresso maker 🙂 Mind you it would require some skills to get it right and it might not be the most affordable option. Moreover, you will need to use a stovetop and it may not be portable enough for its weight of over 900g. Well. let me share my little one with you here. Yes, I still keep it!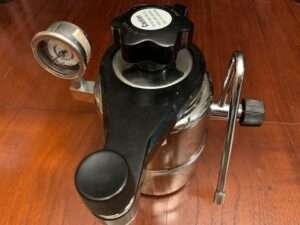 Pros:
Can froth milk
Perfect for making milk-based coffees
Durable
Cons:
Final Thoughts
Nothing is worse than a rousing cup of coffee at a time when you're away from home and need a caffeine fix. The convenience of a portable coffee maker is the perfect solution to the problem. A portable coffee maker is a device that can brew a cup of coffee from ground coffee beans without being plugged in. With a portable coffee maker, you can enjoy a cup of coffee at any time, anywhere. In other words, a portable coffee maker provides you with fresh, hot, and delicious coffee – no matter where you are. There's no need to worry about having an electric outlet or waiting for your coffee to brew in the morning when you're in the office, at the beach, in the car, or camping.
I hope you found the perfect option for your coffee needs. I recommend these 7 best portable coffee makers and hope that your next coffee session is flawless with your new travel coffee maker.