Last Updated on 22/07/2021 by Miki
Table of contents
You may have heard 'Bones Coffee' from your friends or somewhere online if you are a curious coffee lover. It is undoubtedly one of the most unique coffee companies in the world. Why? Well, Bones Coffee roasts its coffee beans in small batches for freshness. I know, this is not unique enough. What makes the company truly stand out is its coffee flavours. Butterscotch & Caramel, S'mores, Cinnamon Roll, Chocolate Orange, Macadamia Nut & Coconut, and more! Sound delicious, don't they? In this article, you will find what flavours are popular and worth trying among its unique flavours.
What Is Bones Coffee Company?
Before jumping into the coffee reviews, let me briefly introduce Bones Coffee Company.
It is located in Cape Coral, Florida, USA. The company treats coffee as an experience, not just a drink for waking you up in the morning. Although the main coffee category is its unique range of 12oz bags of flavoured coffee, it offers single-origin coffee, single-serve cups, decaf, and barrel-aged coffee. You can also purchase a sample pack, starter kit, and gift box. There is a subscription service, so you will receive its coffee conveniently without running out if you like Bones Coffee.
This post may contain affiliate links. If you use these links to purchase something, I may earn a commission without any extra cost to you. I would appreciate it if you do so to keep this blog going!
12oz Flavoured Coffee Bags
Let's start with what you would be most curious about Bones Coffee. New flavours are released regularly and the newest one is Cannoli, the Italian dessert, at the time of this writing. Honestly, I'm simply impressed by how creative Bones Coffee is! There are currently 28 flavours to choose from and I would like to recommend my top 10 among them. Please note all flavoured coffees are:
100% medium-roast Arabica coffee
No added sugars or sweeteners
Keto-friendly
Choices of whole or ground beans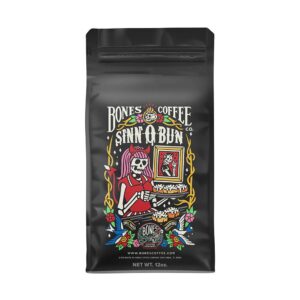 I love anything with cinnamon, so this may sound like a personal opinion. However, this flavour is pretty popular among Bones Coffee fans since 4.8/5 stars on its website. Not only the aroma of cinnamon is beautiful, but also it tastes delicious. Spices like cinnamon can be overpowering if the amount is too much, but it is well-balanced. There is no added sugar or sweeteners as mentioned previously, so you will enjoy the natural sweetness from cinnamon. Absolute cinnamon lovers dream 🙂
White Russian
The flavour of cream and coffee liqueur is a pure indulgence. This coffee could make it easier for you to get up in the morning because you would look forward to having one. Another solid 4.8/5 stars, it smells lovely and the taste won't disappoint you. The benefit is that you can still enjoy the coffee without the additional flavour overpowering it. Bones Coffee definitely knows how to balance right.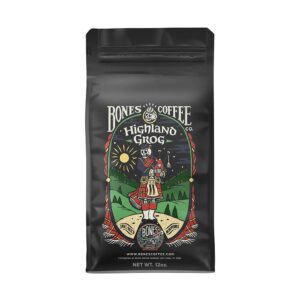 This is the most popular flavour and it is spiced rum with hints of butterscotch &caramel. It does sound rich and flavourful, doesn't it? With the impressive 4.9/5 stars, it promises what it says about its flavour. Even non-coffee drinkers enjoy it and non-black coffee drinkers find the flavour pleasant as it is. This tells a lot and you can possibly become addicted.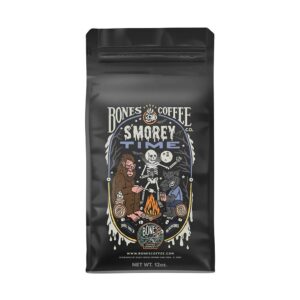 This could bring your happy memory back since it would remind you of a campfire snack. It is the chocolate & toasted marshmallow flavour with a note of sweet graham cracker. It smells heavenly while brewing and it tastes amazing with its richness. You may find some coffees smell better than they actually taste, but this tastes even better.
Chocolate Orange
Chocolate & orange are a perfect match. With its milk-chocolate & sweet, tangy orange flavour, this is surprisingly refreshing. Even if you are not a fan of flavoured coffee, it is most likely that you will enjoy this flavour combination. It is nicely intense and distinct, which makes it worth more than coffee from regular cafes.
Mustachio
Inspired by one of the most delicious nuts, pistachios, the Mustachio is delicately nutty with buttery smoothness. As a nut lover, I highly recommend this flavour since it reminds you of pistachio ice cream. Yum! It delivers perfection in that it smells and tastes like pistachio. You simply have to try it yourself.
Macamaniac
Another nuts-inspired flavour is Macamaniac. It is a buttery macadamia nut and sweet coconut flavour. This might take you to the dreamy tropical holiday. Even if it didn't, it would certainly make your mornings more enjoyable (I absolutely need it especially on Mondays!).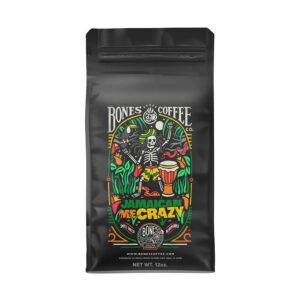 This is another high-rating flavour with 4.9/5 stars. Again, Bones Coffee has perfected its balance of vanilla, caramel, and coffee liqueur. It is totally addictive and an excellent gift to any coffee lovers. Even after you have tried other flavours, there is a high possibility that you will come back for this one.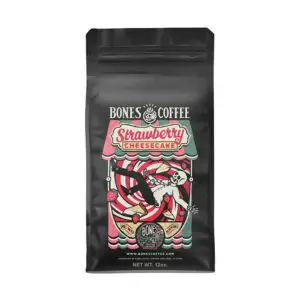 Cheesecake is one of my favourite desserts and I had never imagined cheesecake-flavour in coffee until I came across Bones Coffee. The strawberry cheesecake has deliciously sweet strawberry and savoury cheesecake flavour. It is also smooth and low acidic. It will live up to your high expectation.
Electric Unicorn
Although I'm not a fan of fruity flavour in coffee or cereal, I cannot deny its popularity. This is well-balanced and smooth with a fruity cereal touch. It is so flavourful that it can easily become the alternative to your daily guilt-free treat. Morning cereal is supposed to be healthy after all, isn't it?
Single-Origin
Unless you know exactly your favourite origin for coffee beans, you should try World Tour Single-Origin Sample Pack. The high-quality coffee beans come from Sumatra, Costa Rica, Colombia, Kenya, and Guatemala. The beans are carefully selected and roasted perfectly. The aroma and taste are surely amazing. Moreover, I love the packaging since it looks like a beautiful piece of art. This sample pack will be a perfect gift for coffee lovers too. Among the 5 origins, Sumatra is the most popular one. It is dark and rich with notes of dark chocolate, earthiness, and smokiness. It is strong without bitterness. Just how I like it.
Single-Serve Cups
If you prefer using coffee pods, Bones Cups are your perfect option. There are 12 pods in a box and they are compatible with Keurig 1.0&2.0. There are currently 27 different flavours available and here are some popular ones:
Chocolate Raspberry
With 4.5/5 stars, this is a combination of decadent chocolate and sweet, tangy raspberry flavour. It will be like you are having a delicious dessert with coffee. Even if you usually need milk and sugar in your coffee, you probably won't need to add anything else with this flavour.
Bluesberry
Here is another flavour inspired by fruit. Blueberries are one of my favourite berries and I want to recommend this. The Bluesberry is a fresh blueberry flavour with a note of cream. It smells amazing and to make it better, it tastes amazing too.
Bananas Foster
Banana Foster is quite unique in that it is inspired by a dessert created in New Orleans. The dessert is flambeed bananas topped with butter, brown sugar, cinnamon, and dark rum sauce finished with vanilla ice cream on top. Sounds delicious? Don't worry that the banana flavour is not overpowering, so you will still enjoy the coffee even if you are not a banana fan,
Salty Siren
This is a flavour combination of caramel, chocolate, and sea salt. It has a good balance of sweet and salty. What makes Salty Siren popular is that you can enjoy all the flavours that you expect without anything overpowering.
Peanut Butter & Jelly
We don't usually expect the flavour of the classic sandwiches of peanut butter & jelly with coffee. However, Bones Coffee seems to make anything possible. The sweet aroma of grape jelly is a bit stronger than creamy peanut butter, but you will definitely enjoy the aroma of PB&J as well as the taste.
Decaf
There are 6 decaf options for coffee lovers who do not want caffeine intake. They are Highland Grog, Rest In Peace, S'morey Time, Jamaican Me Crazy, Strawberry Cheesecake, and Maple Bacon.
Sample Packs
Getting sample packs will be a perfect choice if you are not sure which flavour you like or you want to explore new flavours. There are currently 4 sample packs available: 5 bag sample packs, Bones' favourite flavours sample packs, world tour single-origin sample packs, and Bones cup 20-count single-serve variety packs. If you can pick 5 flavours that you want to try, 5 bag sample packs are the best option. On the other hand, if you cannot decide which ones to pick, why not choosing Bones' favourite. If you prefer single-origin coffee, you will want to try single-origin sample packs for sure. Last but not least, you can try 5 different flavours for single-serve pods with Bones cup variety packs if these suit you best. Whichever ones you choose, sample packs are definitely great options to get started with Bones Coffee.
Final Thoughts
Bones Coffee is undoubtedly unique and popular for a reason. The freshness of coffee beans is guaranteed since they are roasted to order. I highly recommend ordering whole beans and grinding them at home even though you can choose to buy pre-ground coffee. The coffee smells delicious and tastes even better. You will enjoy discovering your favourites and will be pleasantly surprised by their innovative flavours 🙂 You can check this article for exploring more coffee.