Last Updated on 21/11/2023 by Miki
Table of contents
Australia is a coffee-loving nation, and we're always on the lookout for the best coffees. But sometimes, we don't have time to brew a pot of coffee or wait in line for our favourite barista-made drink. That's where instant coffee comes in! Instant coffee is a great option for those times when you need a quick caffeine fix. And while instant coffee has got a bad rap in the past, there are now many brands that offer high-quality, delicious instant coffee products. If you're looking for the best instant coffee in Australia, look no further! I've rounded up 9 of the best options, so you can choose the one that's right for you.
This post may contain affiliate links. If you use these links to purchase something, I may earn a commission without any extra cost to you. I would appreciate it if you do so to keep this blog going!
The 9 Best Instant Coffee Australia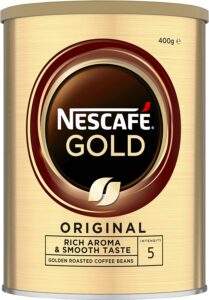 NESCAFÉ is one of the world's most popular coffee brands. It's known for its high quality and rich flavour. NESCAFÉ Gold is the company's premium life of coffee. It's made with a blend of Arabica and Robusta beans and is designed to be enjoyed black or with milk. If you couldn't choose the one for you, you would want to try the Gold.
Pros:
Rich flavour
Perfectly soluble
Made from premium coffee beans
Cons: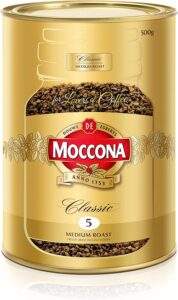 Moccona is a brand of coffee that is widely available in Australia and New Zealand. The coffee is available in various roast levels, from light to dark. The Classic is an excellent choice because it's aromatic and balanced. It would be perfect for your daily coffee or for your visitors.
​Pros:
Aromatic
Well-balanced

Lighter than a jar
Cons:
It can be a bit pricier than a jar.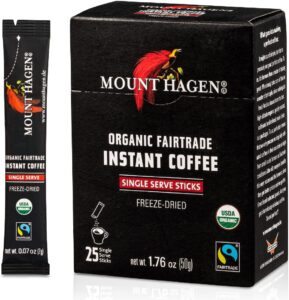 Made from 100% Arabica beans, Mount Hagen organic instant coffee is smooth and full-flavoured without bitterness. Plus, it's USDA-certified organic, so you can be sure you're getting the highest quality coffee possible. It also comes with single-serve sticks, which is perfect for work or travel. If you're looking for an instant coffee that is both healthy and delicious, check out Mount Hagen.
Pros:
100% Arabica beans
Certified organic
Single-serve sticks
Cons: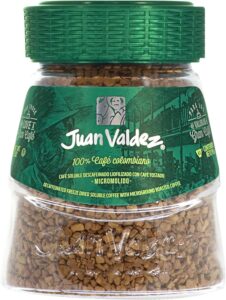 Juan Valdez decaffeinated instant Colombian coffee is a surprisingly great cup of coffee considering it is decaffeinated. It's flavourful and delicious. I also appreciate that the coffee beans are 100% handpicked Arabica. The aroma is amazing and you could smell the freshness of the beans even before opening the package.  Overall, it's an enjoyable cup of coffee and I would definitely recommend it to anyone looking for a delicious decaf option.
Pros:
100% Arabica beans
The excellent flavour just like regular coffee
Rich aroma
Cons:
The glass bottle can be fragile.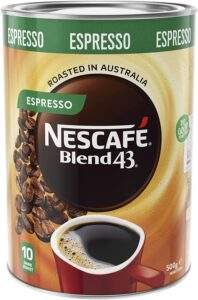 NESCAFÉ Blend 43 is made from 100% sustainable coffee beans with a blend of Arabica and Robusta that are perfectly roasted to the dark in QLD, Australia. The flavour is rich and intense, so it's perfect for those who enjoy a strong cup of coffee. Furthermore, the Blend 43 is the best budget-friendly option on my top 9 list and I highly recommend it if you would like your daily coffee affordable and enjoyable.
Pros:
Rich & intense
Roasted in QLD, Australia
Great value for money
Cons:
Not for those who prefer mild coffee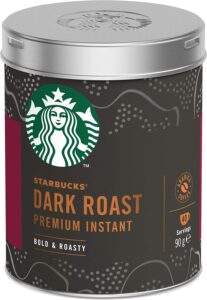 Looking for a premium instant coffee that delivers on taste and quality? Starbucks Dark Roast Premium Instant Coffee is a great option. Made with 100% Arabica beans, this instant coffee has a strong, full-bodied flavour that coffee lovers will appreciate. And because it's instant, you can enjoy a cup of Starbucks-quality coffee anytime, anywhere! Moreover, the tin is made from high-quality aluminium and is airtight, so it can keep the coffee fresh for longer.
Pros:
Strong & full-bodied
100% Arabica beans
High-quality tin to keep the coffee fresh
Cons:
Kopiko 3 In 1 Coffee 
– The Best Instant Coffee Mix for Travelling
​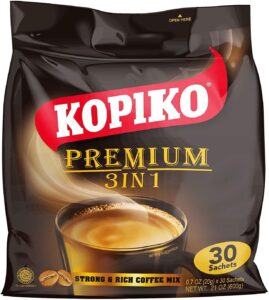 Kopiko is one of the largest coffee candy manufacturer and has made a name for itself globally. The company offers a wider range of coffee products, including this 3-in-1 instant coffee. As the name suggests, 3-in-1 is a mix of coffee, creamer, and sugar. It's designed to be a quick and easy way to make a sweet but strong cup of coffee with no fuss or mess. If you're looking for a hassle-free way to enjoy a great cup of coffee, Kopiko 3-in-1 is definitely worth trying out.
Pros:
Convenient
Suitable for those who prefer their coffee with milk & sugar
Perfect for travelling
Cons:
Not for black coffee lovers
​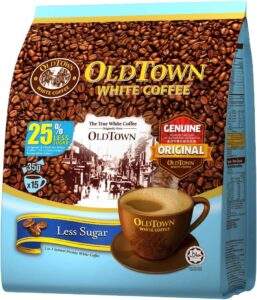 If you're a fan of Oldtown White Coffee, you would be glad to know that there is a 3-in-1 coffee mix that contains 25% less sugar. This is good news for those who are heath-conscious or are watching their sugar intake. Oldtown 3-in-1 25% less sugar is made with a blend of Arabica, Robusta & Liberica beans, creamer, and sugar. It's rich, creamy and smooth without too much sweetness. It also comes in sachets, so you can take it anywhere.
Pros:
Healthier option
Creamy & smooth
Perfect for travelling
Cons: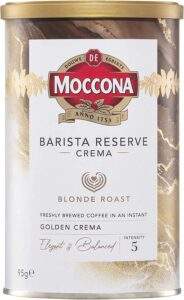 Moccona Barista Reserve Crema Blonde Roast is an instant coffee that delivers a smooth and creamy cup of coffee with every brew. Made with a blend of Arabica and Robusta beans, this coffee has a light, delicate body with a beautiful crema on top. Thanks to its specialty, the Barista Reserve Crema Blonde Roast delivers a smooth and well-rounded cup of coffee that is perfect for any coffee lover.
Pros:
Beautiful crema
Well-rounded
Smooth & creamy
Cons:
How To Choose The Best Instant Coffee
When it comes to coffee, there are two main groups: those who prefer instant coffee and those who don't. While there are some instant coffee sceptics out there, the truth is that instant coffee has come a long way in recent years. In fact, there are now some instant coffees that are just as good as their freshly brewed counterparts. But with so many brands and types of instant coffee on the market, how do you choose the best one? Here are a few tips to help you choose the best instant coffee for your needs.
1. Types of Coffee
First of all, you need to decide what type of coffee you like. Do you like strong or weak coffee? Do you like your coffee with or without milk? These are all important factors to consider when choosing an instant coffee.
2. Budget
Second, once you've narrowed down your choices, you'll need to compare the prices. In general, Arabica beans are considered to be of higher quality, and therefore they can be more expensive. On the other hand, Robusta beans are less expensive and also have a more bitter flavour.
3. Size
Lastly, you need to decide how much coffee you would like to make. If you're only making one cup, you can get away with using less coffee. If you're making a pot of coffee, you'll need to use more.
Keep these factors in mind when choosing the best instant coffee for you, and you'll be sure to find one that suits your taste.
How To Make The Best Instant Coffee
There are a lot of ways to make coffee, but sometimes you just need something quick and easy. That's where instant coffee comes in. While it's not going to give you the same flavour as a freshly brewed cup of coffee, it can still be pretty decent if you know how to make it right. Here are a few tips on how to make the best instant coffee possible.
1. Start with fresh, cold water
This can help ensure that your coffee is nice and fresh. Use filtered water, if possible. This will help remove any impurities that might affect the taste of your coffee.
2. Watch out for water temperature
The optimal water temperature for instant coffee is 90-95 degrees Celsius, so you shouldn't use boiling water straight away.
3. Only use as much water as you need
If you use too much, your coffee will be diluted and won't taste as strong.
4. Follow the directions on the instant coffee package
It may be obvious, but this will help you make sure that you're using the right amount of coffee. Add milk and sugar, if desired. Some people like to add a little bit of milk and sugar to their coffee.
With these tips, you'll be able to make the best instant coffee possible.
Final Thoughts
There you have it – the 9 best instant coffees in Australia! I hope this list has helped you narrow down your choices and find the perfect instant coffee for your needs. Remember, there is no one-size-fits-all solution when it comes to coffee – what matters most is finding a type that you enjoy drinking. So, experiment with different brands and styles until you you find your favourite. Please also share your favourite in the comment box below 🙂
If you want to learn the differences between instant coffee and ground coffee, you may find my article "Instant Coffee vs Ground Coffee" helpful.