Last Updated on 20/11/2023 by Miki
Table of contents
Looking for the best coffee scales to make sure your coffee brewing process is precise? Coffee scales come in a variety of shapes and sizes, with features to fit any coffee lover's needs. So, it can be tough to figure out which one is right for you. But no worries, I'm here to help. Whether you're looking for a basic scale to measure your coffee and water ratios, or a more advanced scale with temperature and time features, I've got the perfect scale for you.
In this blog post, we're going to take a look at the 5 best coffee scales on the market. We'll compare and contrast different models and help you figure out the best one for you.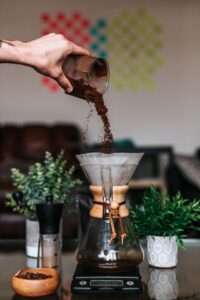 Why You Should Use Coffee Scales
If you are a coffee lover, you know that making the perfect cup of coffee is an art form. And, like with any art form, you need the right tools to create a masterpiece. That's why coffee scales are so important. Coffee scales allow you to measure the precise amount of coffee you need to make the perfect cup. This is important because too much or too little can drastically affect the taste of your coffee. A coffee scale can help you make sure you're using the perfect amount every time, so you can enjoy the perfect cup of coffee every time.
Coffee Scales vs Kitchen Scales
There are many different types of scales that can be used in the kitchen, but which one is the best for weighing coffee? A coffee scale is designed to weigh coffee beans and grounds, while a kitchen scale can be used to weigh a variety of items, such as food, liquids, and ingredients.  
Coffee scales are typically smaller than kitchen scales and can measure in increments of 0.1 gram. This makes them ideal for measuring the precise amount of coffee that is needed for a recipe. On the other hand, kitchen scales have a larger weighing platform and can measure a greater range of weights. They are generally more versatile and more affordable than coffee scales.
How to Choose the Best Coffee Scales
As you may already know, there are many different coffee scales on the market, so how do you choose the best coffee scales for yourself? Here are a few things to consider:
Accuracy
Look for a scale that has high accuracy and can measure in small increments. This is important for ensuring that your coffee is brewed to your exact specifications. The most accurate scales have a resolution of 0.1 gram or less. This means that the scale can measure weight to the nearest 0.1 grams. Do you see a difference between 4.6 grams and 5.4 grams? The scale could show both as 5.0 grams if it wasn't that accurate.
Size & Portability
Some coffee scales are small and lightweight, while others are larger and heavier. If you need a scale that you can take with you on the go, look for one that is portable. Make sure the scale is the right size for your needs.
Digital vs Manual
Both digital coffee scales and manual coffee scales have their own benefits and drawbacks. Firstly, digital coffee scales are powered by batteries or a USB cable. This type of scale is very accurate and perfect for weighing coffee beans. However, digital scales can be a bit expensive, and they can be prone to breaking if they are not properly taken care of. Manual coffee, on the other hand, is typically less expensive than digital scales, and they are also more durable.
Special Features
Does the scale have any special functions that you might find useful, such as a timer or automatic shut-off? They may not be essential, but it would be nice to have them according to your needs. My top 5 picks here all have a built-in timer and can display the time and weight simultaneously. I believe this is a great feature to have for your easy and efficient brewing process.
This post may contain affiliate links. If you use these links to purchase something, I may earn a commission without any extra cost to you. I would appreciate it if you do so to keep this blog going!
​​
The 5 Best Coffee Scales
Timemore is a relatively new company but has already gained popularity among coffee enthusiasts. Their manual coffee grinders are superb! In regard to their coffee scales, I would say that they are accurate and efficient. The resolution is 0.1 gram, which indicates its accuracy. The Timemore Coffee Scale Black Mirror Basic Plus is an upgraded version of the Basic. It has a physical on/off switch and indented touch-sensitive time and tare buttons that the previous model doesn't have. I love the simple and modern design, which would fit in any kitchen. Furthermore, it's not only visually appealing but also practical.
What I mean is that it's responsive and it operates on a USB-C rechargeable battery. You won't need to keep buying batteries anymore. In addition, there's an auto shut-off function for energy efficiency. Also, it can measure from 0.5 grams up to 2000 grams. To make it even better, it comes with a silicone heat pad to protect the scale and prevent sliding.
However, even the Timemore cannot be perfect. Although it would be perfect for pour-over, it could be slightly too big for some espresso machines. It should fit in most drip trays, but you may want to check the width of your drip tray before purchasing a coffee scale just in case.
Pros:
USB-C rechargeable battery

Auto shut-off function
Touch-sensitive buttons
Cons:

Potentially too large for some espresso machines
Can measure in grams only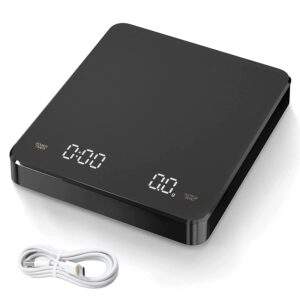 Ataller may not be as well-known as Timemore, but it's definitely worth the best 5 coffee scales on the market. The increment is 0.1 gram which is the same as Timemore, so I would say it's accurate. It also comes with a high-precision sensor and a non-slip rubber platform pad. In fact, there are a lot more advantages that I love about the Ataller coffee scale.
First, there is a count-down function available, so it's easy to know when to stop pouring hot water over ground coffee. Moreover, the invisible LED display allows you to read the time and weight easily and clearly.
Secondly, the Ataller has a built-in lithium battery and it's rechargeable through USB. This enables you to stop buying new batteries over and over again.  Other points to mention are that it can measure from 0.1 gram up to 3000 grams and also 3 unit conversions are available: oz, g, and ml.
Last but not least, it's made of heat-resistant material up to 135 degrees Celsius and the surface is waterproof, which makes this coffee scale easy to clean as well.
Pros:
Accurate measurement with 3 unit conversions
Count-down function
USB-C rechargeable battery​
Cons:
Possible inconsistency in measurement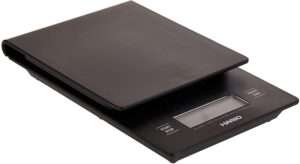 The world-famous Hario V60 has been the best friend of a lot of pour-over lovers. The Hario V60 Drip Coffee Scale is absolutely perfect for those who prefer pour-over brewing. Just like other coffee scales here, it measures 0.1 gram in increments which is essential to your successful cups. It's surprisingly lightweight fewer than 300 grams. Furthermore, it has auto shut-off functions as well as an integrated timer. It can measure up to 2000 grams.
The Hario V60 Drip Coffee Scale looks simple and basic. However, you may have to get used to its touch buttons as they can be less responsive than they were supposed to be. You may also find the display of weight a bit slow when you put your coffee or pour some water on the scale too quickly. My tip here is to do it a little more slowly, then you'll have no issue.
Another point to mention is that the Hario operates on 2 AAA batteries. There's no USB option and unfortunately, the scale doesn't indicate anything when the power gets low. There's definitely room for improvement.
Pros:
Lightweight for your portability
Auto shut-off function
Simple and basic
Cons:
Operates on 2 AAA batteries only
 Possible slow responsiveness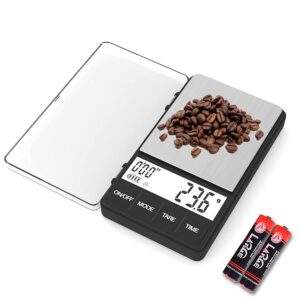 The Weightman Espresso Scale is an incredibly useful tool for any espresso-maker. It has a large, easy-to-read digital display that measures the weight of the grinds for a more precise espresso shot. The timer allows you to accurately time the extraction of your shot, so you always get the ideal espresso. Moreover, I've found the biggest advantage is the size. The scale is lightweight and can easily be transported from place to place. In addition, it's small and thin enough to fit on espresso machines. It's also simple to use and there are 4 click buttons for different functions: power on/off, tare, unit conversion and timer. These buttons certainly make your brewing much simpler and easier. However, there are only 2 unit conversions to choose from: oz and g. Also, it can measure up to 1000 grams only.
The good news is that there is more about the Weightman Espresso Scale to share with you! The scale comes with a flip plastic cover to protect itself as well as work as a tray for weighing coffee beans.
Now that you learn the benefits, let's find out some drawbacks next. The first thing I noticed is that the scale is 2 AAA battery-operated and there's no USB option. With that said, the first 2 batteries are included in your purchase. Another drawback can be a slow response. This issue would make the Weightman Espresso Scale unable to satisfy professional baristas. However, it's still a great coffee scale for a lot of home baristas.
Pros:
Perfect size for portability & weighing espresso shots
A bright and large LCD display
A removable plastic tray and 2 AAA batteries included
Cons:
Operates on 2 AAA batteries only

Can be slow in response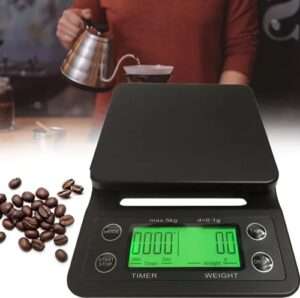 To be honest, I've never heard of VKONERL before, but I found this hidden gem while searching for the best coffee scales on the market. The VKONERL Coffee Scale has essential functions that we need regardless of our brewing methods. It can measure 0.1 grams in increments and can weigh up to 5000 grams. This maximum weight is impressive! In addition, it has an auto shut-off for energy saving and a low-power alarm so that it won't annoy you halfway through your brewing. There are also 5 unit conversions for you to choose from: oz, lb, g, g/ml and ml. Furthermore, it comes with a removable silicone heat pad. 
Well, the downside of the VKONERL is that it operates on 2 AAA batteries and you don't have a choice of using USB. Having said that, the 2 batteries are included and the best thing is that it costs less than AU$30! It's definitely great value for money. To make it even better, you can hang this scale on the wall to save some space on the kitchen benchtop.
Pros:
Accurate measurement with 5 unit conversions
Can measure up to 5000 grams
Low-power alarm
Budget-friendly
Cons:

Operates on 2 AAA batteries only
Final Thoughts
No matter how much coffee you make at home, it always seems like you're never quite satisfied with the results. You can't quite seem to get that perfect cup of coffee that you're always promised. But what if I told you that using a coffee scale could help you make the perfect cup of coffee every time? Believe it or not, a coffee scale can be the answer to all of your coffee woes. By using a scale to measure your coffee grounds, you can make sure that you're using the perfect amount every time. This will help you ensure that your coffee is flavourful and balanced, without being too bitter or too sweet.
The best coffee scales are those that are accurate, durable, and easy to use. The scale should have a tare function, which allows you to zero out the weight of the container, and a timer to help you keep track of the brewing time. I hope this article has helped you find the best coffee scales for you. Please feel free to leave a comment if you have any questions or want to share your experiences.