Last Updated on 15/05/2022 by Miki
Table of contents
We all know someone who is absolutely obsessed with coffee. They are the ones who can't start their day without a cup of joe, and they are always on the lookout for the best coffee mugs. If you are looking for a gift for the coffee lover in your life, I have compiled a list of the best coffee mugs for fun lovers. From mugs with hilarious sayings to mugs with unique designs, we have something for everyone including yourself! Whether you're looking for something whimsical or just want to show off your personality, there's bound to be a mug that's perfect for you. Here are my favourites.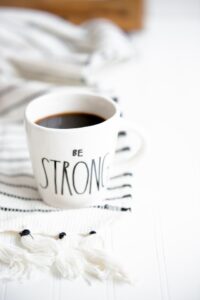 This post may contain affiliate links. If you use these links to purchase something, I may earn a commission without any extra cost to you. I would appreciate it if you do so to keep this blog going!
Best Coffee Mugs for Fun Lovers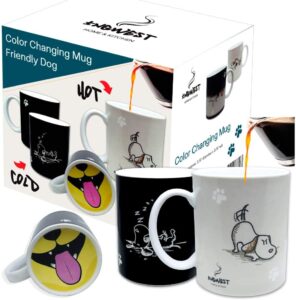 InGwest. produces great funny coffee mugs and this one is perfect for any dog lovers. What's unique about the mug is its heat reactive, which means it changes colour according to the coffee temperature inside the mug. It's black when your coffee is hot whereas it's white when it's cold. It means that you wouldn't get that unwelcoming surprise when you accidentally sip your cold coffee! The mug is made of ceramic and its capacity is 11oz. Most importantly, the funny part is the dog tongue print on the bottom of the mug. So, when you are finishing your coffee, people can see the bottom and it'll be fun as it should look like you have that dog tongue 🙂 It doesn't give you only fun but also gives you peace of mind as it comes with a 100% money-back guarantee. Lastly, please keep in mind that it's recommended for hand wash only.
MiaMio Coffee Mugs – Best Coffee Mugs for Wedding Gifts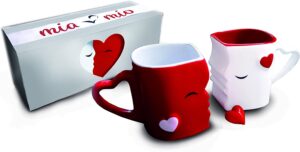 MiaMio coffee mugs are made of quality ceramic and are quite sturdy. These two mugs are perfect wedding gifts as these they match perfectly. Moreover, they come with a pretty gift box with a heart window. In addition, there are two options of colours between grey and red. I personally recommend choosing the red one simply because it looks prettier! They can be filled in up to 300ml each mug. The advantage of the MiaMio coffee mugs is that they are both microwave and dishwasher safe. It's certainly convenient for busy couples and it proves how durable these mugs are. The downside can be the odd shape and you may find it a bit awkward to drink. Having said that, you can contact their customer service team if there's an issue.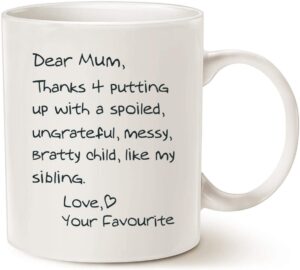 There are a lot of funny coffee mugs to choose from This Might Be Wine. I especially like these ones for your mum's birthday or a mother's day gift. The reason? Well, they are simple yet clever and funny. The mugs will give your mum a big smile on her face. They are ceramic mugs and can hold a maximum of 11oz. Furthermore, they are microwave and dishwasher safe, so there's no hassle to keep them clean.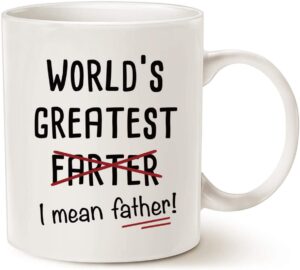 Just like the mum's version, I like these funny coffee mugs for dads from This Might Be Wine. It's super simple yet hilarious. These mugs are perfect gifts for your fun-loving dad! Actually, they can make everyone laugh. What makes them even better is the easy-grip handle. I've found it quite annoying when a mug handle is too small and my fingers cannot really fit it comfortably when I try to drink from the mug. I hope you know what I mean. Fortunately, you wouldn't have that issue with these coffee mugs.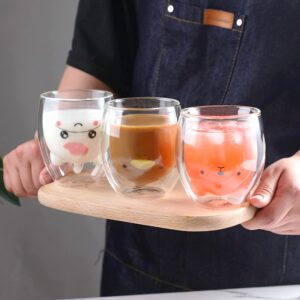 If you are after something cute and funny, then  Binoster double wall glass mugs are great options. There are 7 cute animal prints available: bear, cat, dog, duck, panda, rabbit and unicorn. One of the benefits of these mugs is the fact that they are borosilicate glasses. What this means is that they are more resistant to thermal shock and can be suitable from -20 degrees to 140 degrees Celsius. Another benefit is the double-wall glass that enables you to keep your coffee hot while protecting your hands from burning. The mugs can hold from 230ml up to 250ml and they are not microwave or dishwasher safe.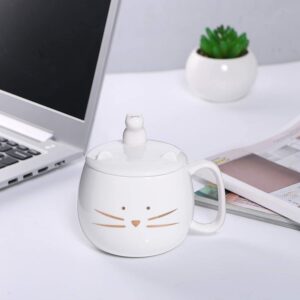 The Koolkatkoo coffee mug looks sort of funny since the lid has the cat's ears as well as another cat on top. It's made of high-quality ceramic, so you'll be assured of its durability. In addition, it can hold up to 450ml. Furthermore, what makes the Koolkatkoo mug unique is the lid. Did you think it would help your coffee keep warm longer? Well, what it actually does is hold your mobile phone. You'll enjoy watching videos easily while drinking your coffee. The mug is not only cute but also practical. Personally, I've found it really clever!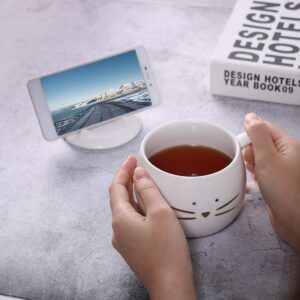 Here's another funny coffee mug from This Might Be Wine. The ceramic mug is high quality and it's both microwave and dishwasher safe with the capacity of 12oz. It's got a simple message "Have a Great Day" on the side of the mug and that middle-finger print on the bottom, which makes it seriously funny. Just imagine the moment when you are finishing your coffee and people around you see the bottom of the mug 🙂 How funny it would be! However, you may not want to use the mug if the TPO (Time, Place, and Occasion) is not appropriate. Just in case, you know.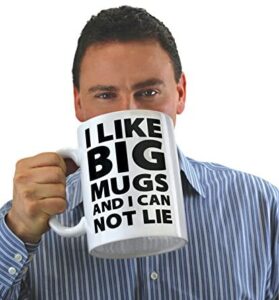 These BigMouth Inc. mugs are possibly not for everyone because they are literally HUGE! Can you believe that they hold up to 64oz? Isn't it incredible? Well, it'll be a perfect gift if you want to surprise someone or to make them laugh. Or it can be actually practical if you are a huge coffee drinker and a regular-sized mug is never big enough for you. Moreover, the ceramic mug is of good quality and it's easy to clean as well. Having said that, it might not be that easy to drink from the mug due to the size and the weight. So, I recommend selecting a person to give it carefully.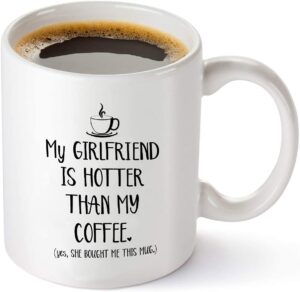 I love this funny coffee mug from Gelid. The print on the mug is really funny and it surely makes your boyfriend smile 🙂 What's even better is the quality. It's printed in the US with durable ink and a non-fade glow finish. In addition, it's dishwasher and microwave safe due to the high-quality ceramic material. It can hold up to 11oz. Moreover, it's printed on both sides, so he'll think about you whichever side the mug is facing him! Lastly, what makes it a perfect gift is individually packed in a sturdy gift box. Even if you've found any issues, you can simply contact their customer service team. There's a 100% satisfaction guarantee for your peace of mind.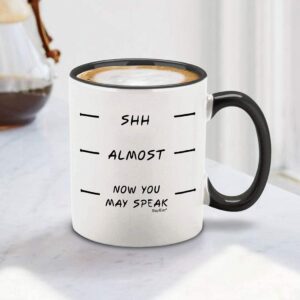 At first glance, I didn't really get it funny, but it's quite funny after reading through all the print. It's a perfect gift for your girlfriend who needs a cup of coffee first in the morning! ​The capacity is 11oz with an easy, comfortable handle grip. You can choose the colour of the handle from either black or white. The mug is made of premium ceramic and it's dishwasher and microwave safe. What stands out is the attention Shop4Ever pays to the mugs. Each mug should be met with its high standards, packed by hand and bubble wrapped. Feel love?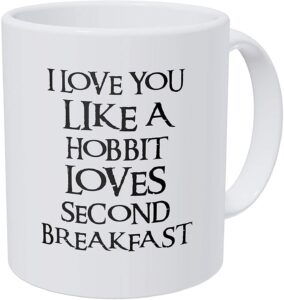 If your best friend is a fan of Lord of the Rings, then this coffee mug is a perfect choice. It holds up to 11oz and is made of high-quality ceramic. This means you can use the microwave to heat up your coffee with the mug and wash it in your dishwasher. It's funny and sturdy, so it'll last long just like your friendship.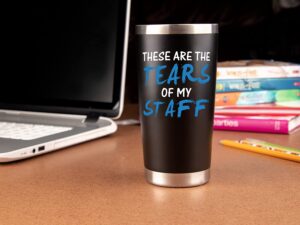 If your boss loves joking and having a good laugh, then the KLUBI funny travel coffee mug is a perfect gift. It comes with a 20oz stainless steel tumbler, a clear BPA-free lid,  one straight & one bent straw, and a straw cleaner, all packed in a gift box. The tumbler is made of 18/8 food-grade stainless steel and it doesn't transfer that undesirable flavour. In addition, it has double-wall vacuum insulation that allows you to keep your drinks hot for 3 hours and cold for 9 hours. A great feature for your busy boss! Another advantage is the clear lid is spill-resistant, so it's perfectly portable. In addition, it's dishwasher safe but not microwave safe.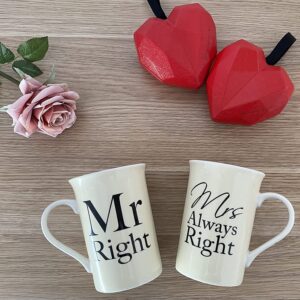 The Lesser & Pavey coffee mugs are simple yet hilarious! You may want to have a set of these mugs for yourselves. They are great for everyday use: lightweight due to the solid fine china material, and dishwasher & microwave safe. It holds 300ml and can be sent directly to your recipient from the seller, wrapped as a gift. In addition, you can add a personal message, which makes your life easier without a hassle. Furthermore, there's a money-back warranty, so why not choose these coffee mugs as your next gift?
Where to Buy Best Coffee Mugs
There are many coffee mugs on the market and it can be hard to decide which one to buy. You can go to your local supermarket or department store and look for coffee mugs in their kitchenware section. You can also look for coffee mugs online. Actually, there are many online retailers that sell coffee mugs. Here are a few things to consider when purchasing a coffee mug:
Material
Consider the material the mug is made out of. You want a mug that will retain heat and not break easily. High-quality ceramic is usually durable and affordable. If you prefer glasses, then I highly recommend getting double-wall insulated glasses. Another option would be stainless steel, which is extremely sturdy and unbreakable. You may also want to consider if a mug is both dishwasher and microwave safe.
Capacity
Think about the size of the mug. You don't want a mug that is too small or too large. If you are an espresso lover like me, there's no point in having a huge mug for yourself. On the other hand, if your friends drink a lot of coffee, then it totally makes sense to give them a large mug.
Design
Consider the design of the mug. You want a mug that makes you smile and enjoy your coffee even more. You may want a mug that is stylish and will look good on your kitchen benchtop. You can also decide if you want a handle on the mug or not. The handle should be easy-grip to avoid dropping the mug on the table or the floor.
Keep these things in mind when shopping for a coffee mug for yourself or someone else. They'll help you get the best coffee mugs on the market.
Final Thoughts
Here you got the 13 best coffee mugs for fun lovers. These mugs are sure to bring a smile to your face, whether you're enjoying your morning coffee or winding down with an after-dinner coffee. With a wide variety of designs and prints to choose from, there's a mug for every coffee lover. And because most of them are made from high-quality ceramic, they're sure to last for years to come. So whether you're looking for a unique gift for someone you love, or you just want to treat yourself, be sure to check out my selection of the best coffee mugs for fun lovers!