Last Updated on 25/11/2023 by Miki
| | | | |
| --- | --- | --- | --- |
| | | | |
| | | | |
| | | | |
| | | | |
Table of contents
Australia is known for its great coffee, and the quality of the beans used can make a big difference in taste. Whether you're looking for a smooth blend or something with a bit more kick, there's something for everyone. I've rounded up the 11 best coffee beans Australia has to offer, so you can find the perfect one for your morning cup. From mild to intense flavour, you'll surely find the ideal bean to start your day. Let's have a look at what's available.
This post may contain affiliate links. If you use these links to purchase something, I may earn a commission without any extra cost to you. I would appreciate it if you do so to keep this blog going!
The 11 Best Coffee Beans Australia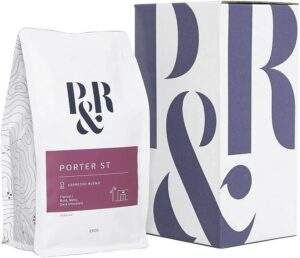 Pablo & Rusty's Coffee Roasters is B-Corp certified and offers specialty-grade coffee that has been ethically and sustainably sourced and roasted in Sydney, Australia. The Porter St Blend offers a smooth, full-bodied flavour with notes of dark chocolate and caramel that is sure to delight the senses. Moreover, the coffee beans are freshly roasted and packed in bags that are nitrogen flushed for keeping the beans fresh longer. In addition, the beans will be dispatched within days of roasting, so you'll be assured of freshness. They are also suitable for espresso machines, stovetops or French presses and can be enjoyed with milk. You'll taste rich, strong coffee without bitterness. Whether you're a home barista or a professional, Pablo & Rusty's Porter St Blend offers an exceptional cup every time.
Pros:
Ethically & sustainably sourced
Nitrogen flushed for freshness
Smooth & rich without bitterness
Cons:
Everyone loves a good cup of coffee, and Agro Beans Mocha Coffee Beans are a great option for those who want to enjoy an amazing cup of java. The Agro Beans Mocha is made with 100% Arabica beans that have been blended from six origins: Colombia, Nicaragua, Costa Rica, Indonesia, India, and Ethiopia. The beans are organic and rainforest alliance certified. Also, they are hand-picked and then carefully roasted in Gladesville, NSW in small batches to bring out the best in each bean. With a rich, sweet, nutty flavour and a hint of chocolate, the Agro Beans Mocha will easily become your daily cup. Furthermore, the beans are packed and shipped within 24 hours of roasting! In addition, there are varieties of options available for ground coffee according to your brewing method. No wonder Agro Beans is a multi-award-winning brand.
Pros:
Organic, rainforest alliance certified, 100% Arabica beans
Small batch roasting & fast shipping
Varieties of options for ground coffee
Cons:
Can be pricy though it's totally worth the money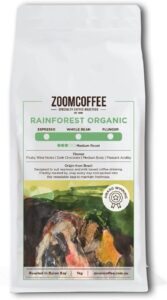 If you're looking for high-quality, flavourful, and sustainable coffee, then Zoom Coffee Brazil Rainforest Organic is a perfect choice. The premium-grade coffee beans are sourced from rainforest alliance certified farms and processed to ensure the highest quality. You'll experience a smooth, delicate flavour with hits of spice and nuts. Sounds delicious, doesn't it? Moreover, what stands out is the resealable package that can help your beans stay fresh longer. I wish all the bean bags on the market were resealable!
Pros:
Rainforest alliance certified 
Small batch roasted
Resealable bags for freshness
Cons:
Not for bold flavour lovers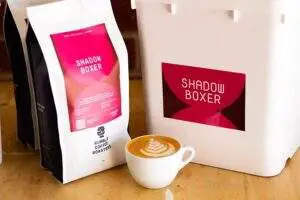 If you're looking for a coffee with a bold, intense flavour, then you should definitely check out Rumble Coffee Roasters Shadow Boxer Espresso Blend. Rumble Coffee Roasters is a specialty coffee roaster in Melbourne, Australia. The Shadow Boxer Espresso Blend is a combination of two distinct origins: Brazil and Papua New Guinea. Each of them brings its own unique flavour profile to the blend and is designed to provide a bold, complex flavour with a sweet chocolate finish. Furthermore, the beans can create beautiful crema and be suitable for espresso machines, stovetops, French presses and Aeropress. The Shadow Boxer will become the go-to for those who love espresso or milk-based coffees alike.
Pros:
Ethically sourced, premium beans
Well-balanced, all-rounder
Beautiful crema
Cons:

Grinders Coffee Crema Roasted Beans are one of the most popular coffee beans on the market. But what makes them so special? Well, these beans are carefully roasted by experts in Melbourne, Australia to bring out their natural sweetness and rich flavour. After opening the bag, you can instantly smell the rich, intense aroma that will make your mouth water. In addition, the beans are rainforest alliance certified and 100% Arabica, so you know that you're getting quality coffee. Also, you'll enjoy a smooth, creamy finish each time. To make it even better, it's absolutely fantastic value for money. Why not try one?
Pros:
Rich flavour & aroma
Rainforest alliance certified & 100% Arabica
Excellent value for money
Cons:
Possibly less fresh than other brands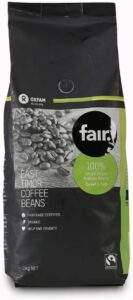 If you're looking for a delicious and ethically-sourced cup of coffee, then look no further than Oxfam fair Coffee Beans Fairtrade Organic East Timor. This coffee is sourced at a high altitude from the tropical island of East Timor and is harvested by local farmers who are committed to sustainable farming practices. It's also certified organic and fairtrade, so you can be sure that the money you spend on this coffee goes back to the farmers and their families. Furthermore, roasted in Melbourne, Australia, it has a distinct flavour that sets them apart from other coffees. It's rich and sweet with low acidity and a creamy finish. It can easily be seen why the Oxfam fair East Timor is their customer favourite.
Pros:
Certified organic & fairtrade
The distinct flavour of single-origin beans
100% Arabica beans
Cons:
No options for ground beans by brewing methods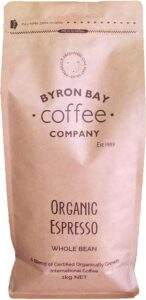 Byron Bay Coffee Company has produced high-quality coffee beans for over 30 years. Their Organic Espresso is made from 100% Arabica beans, sourced from sustainable farms worldwide. Roasted, blended and packed in Byron Bay, NSW, this coffee is smooth and full-bodied without bitterness. It's also smooth in texture which many coffee lovers will appreciate. Moreover, I truly love their packaging as it's natural-looking and resealable! No matter you're a coffee enthusiast or just looking for a delicious cup of coffee, Byron Bay Coffee Company Organic Espresso is worth trying.
Pros:
100% Arabica beans from sustainable farms
Smooth in both flavour and texture
Resealable bags with natural-looking
Cons: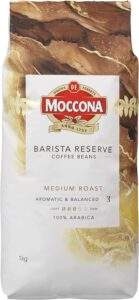 Moccona Brarista Reserve Medium Beans is a popular choice among budget-conscious coffee lovers. It's a medium roast coffee that has been carefully crafted to produce a smooth and balanced cup of coffee. The beans are sourced from the best coffee-growing regions in the world, ensuring that the coffee you drink is of the highest quality. Moreover, it's balanced and full-bodied with hints of caramel, nuts and dark chocolates. In addition, it has low acidity and can be more enjoyed with milk. Also, the packaging is 100% recyclable, so it's a perfectly environmentally-friendly option.
Pros:
Amazing value for money
Smooth and well-balanced
100% Arabica beans & 100% recyclable bags
Cons: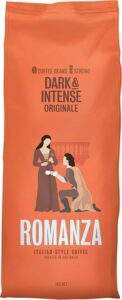 Are you looking for an easy daily coffee at a reasonable price? Then, the Romanza Original coffee beans are an excellent choice. This full-bodied coffee is sure to delight your senses and even make your coffee break more enjoyable. It's smooth and fruity and also ideal for milk-based coffees. If you tend to drink a latte, cappuccino or flat white throughout the day, then the Romanza Original beans are perfect for you as it's easily drinkable and reasonably priced.
Pros:
Reasonably priced
Smooth & fruity
Perfect for milk-based coffees
Cons:
Not as dark & intense as it claims to be
Jamaica Blue Signature Blend

– Best Smooth & Full-Bodied Coffee Beans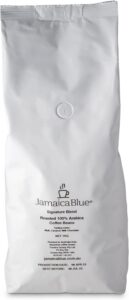 Jamaica Blue Signature Blend provides a unique and delicious cup of coffee that you won't find anywhere else. You'll love the smooth and chocolaty finish when you drink with milk. This signature blend coffee beans have been carefully selected from some of the best coffee-producing regions in the world including Jamaica Blue Mountains. They are 100% Arabica beans as well. The beans are also locally roasted to perfection in Melbourne, Australia so that you can enjoy the full flavour and aroma of each cup. 
Pros:
100% Arabica beans
Smooth & chocolaty finish with milk
Resealable bag
Cons:
No option for ground coffee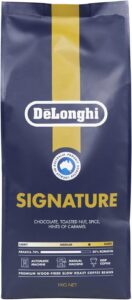 Coffee lovers everywhere will be delighted to hear about DeLonghi Signature Blend Coffee Beans, an exquisite Italian blend that is sure to tantalise your taste buds. This blend of premium 70% Arabica and 30% Robusta beans is slow roasted to perfection, producing a smooth, full-bodied cup of coffee with notes of chocolate and toasted nut. If you're looking for authentic Italian-style coffee, then the DeLonghi Signature Blend should be your go-to choice. You'll get consistently great cups of coffee from this blend.
Pros:
Authentic Italian-style beans 
A perfect blend of Arabica & Robusta beans
Smooth, full-bodied
Cons:
Not so unique or distinct flavour
How To Choose The Best Coffee Beans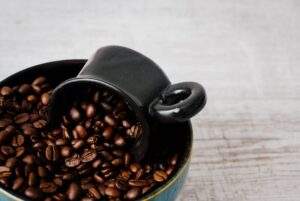 The quality of the coffee you drink depends largely on the quality of the coffee beans you use. With so many varieties of coffee beans available, it can be difficult to know which beans are the best for your taste preferences and brewing methods. Fortunately, there are a few key factors to consider when choosing the best coffee beans. 
1. Flavour profile
The flavour profile of a coffee bean is one of the most important aspects to consider when selecting the best coffee beans for your daily cup. But what exactly is a flavour profile? In simple terms, a flavour profile is the unique combination of taste sensations that each coffee bean produces. It can be a complex mix of sweet, sour and bitter notes that can be further broken down into more specific flavour characteristics. The best coffee bean should be the one that is enjoyable for your palate.
2. Whole vs Ground
When it comes to choosing the best coffee beans, another important factor that you should keep in mind is whether to buy whole or ground coffee beans. While it may seem like a minor decision, the difference between the two can make a huge impact on the flavour of your coffee. Whole beans are generally considered to be the superior choice, as they remain fresher for longer and retain more of their flavour. However, you may find it more convenient to buy ground beans if you don't have a coffee grinder or enough time in the morning.
3. Sustainability
Although finding your favourite flavour is definitely important, there's more to consider than just flavour. Sustainability is another important factor to consider when purchasing coffee beans, as it can have a huge impact on the environment and the people who produce the beans. As a consumer, choosing the right coffee beans can help to ensure that the coffee industry is producing beans responsibly and sustainably, 
Final Thoughts
Australia is home to some of the world's best coffee beans, which are individually sourced and roasted to perfection. Whether you're a passionate espresso connoisseur or an adventurous filter coffee drinker, Australia's best coffee beans will tantalise and invigorate your taste buds. With the 11 best coffee beans in Australia to try, there's something for everyone. Now it's time to discover your favourite roast and brew yourself a cup that starts every day off on the right foot. If you are an espresso lover like me, I recommend reading the 9 best espresso beans as well.