Last Updated on 01/05/2022 by Miki
Table of contents
This blog post will explore the topic of the strongest Starbucks coffee so that you will know which coffee you should get from Starbucks for your caffeine kick. Starbucks is one of the most popular coffee chains in the world, offering coffee lovers a variety of coffee options, and many people go to Starbucks for coffee because of the quality of its coffee. You may be so used to your morning coffee that when you are looking for a drink that will really get you up and going, you head to your local Starbucks.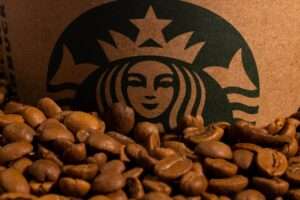 What is the strongest Starbucks coffee?
The strongest coffee at Starbucks is Clover® Brewed Coffees. The caffeine content depends on the size of your cup of course. For instance, Espresso Roast Clover® has 190mg of caffeine for Short, 280mg for Tall, 380mg for Grande, and 470mg for Venti.
So, what is Clover Brewing System? Clover is basically a machine that uses a vacuum press for the perfect extraction of every single cup. The coffee brewed by the machine is similar to the French press, but it is done automatically. Due to its rarity, Clover® Brewed Coffees are not available at every local Starbucks.
Before sharing the list of the strongest Starbucks coffee with you, let me tell you a couple of things to note:
I have compared the caffeine content by the Tall size (12 oz/354ml) to make it simple.
The list is a ranking by the caffeine content.
The drinks here include both hot and cold.
Now, we are going to see the list of the strongest Starbucks coffees.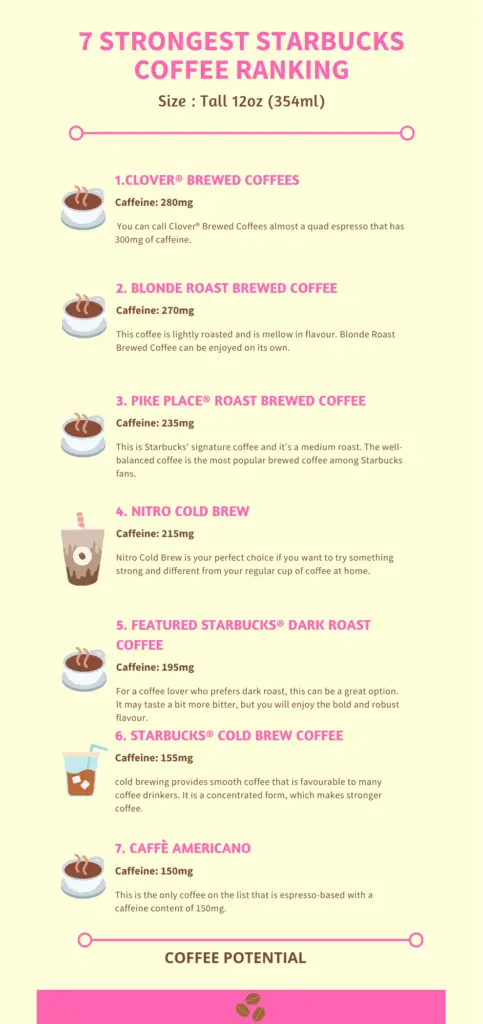 1. Clover® Brewed Coffees
As I have already mentioned at the beginning, Clover® Brewed Coffees are the strongest Starbucks coffee. These drinks contain 280mg of caffeine for Tall. This is much higher caffeine than an espresso and a lot more than brewed light roast coffee. You can call Clover® Brewed Coffees almost a quad espresso that has 300mg of caffeine. If you tend to have more than 1 cup of coffee daily as most coffee lovers do, then you may want to order Short which contains 190mg of caffeine. This way you can reduce the caffeine intake by 90mg.
There are various kinds of Clover® Brewed Coffees available, but some of them contain higher caffeine than others. The followings contain the same caffeine content as Espresso Roast Clover® which is the strongest:
Clover Brewed® Pike Place® Roast
Clover Brewed® Gold Coast Blend®
French Roast Clover®
Italian Roast Clover®
Komodo Dragon Clover®
Sumatra Clover®
These coffees brewed by Clover® are mainly darker roast and have intensity without being acidic. You will fully enjoy the high quality of the coffees, so I recommend drinking them on their own – no milk or sugar. What makes it even better is the low calories.
2. Blonde Roast Brewed Coffee
​You might think the second strongest Starbucks coffee could be espresso-based coffee, but it's actually Blonde Roast Brewed Coffe. It's quite interesting, isn't it? It contains just a bit less caffeine than Clover​® Brewed Coffee with 270mg. As you can guess from its name, this coffee is lightly roasted and is mellow in flavour. Blonde Roast Brewed Coffee can be enjoyed on its own, but if you like a touch of sweetness, why don't you add some vanilla? Vanilla may not be commonly associated with coffee, but it goes pretty well with both hot and iced coffee.
​3. Pike Place® Roast Brewed Coffee
This is another brewed coffee with a caffeine content of 235mg. Its name comes from a coffeehouse in Seattle, Washington, located on Pike Place. Pike Place® Roast is their signature coffee and it's a medium roast. This well-balanced coffee is the most popular brewed coffee among Starbucks fans. You wouldn't think it's the 3rd strongest Starbucks coffee at all. In addition, it's widely available at your local Starbucks and you can even purchase a bag of this blend online for your convenience.
4. Nitro Cold Brew
As you may already know, cold brew is brewed at a low temperature over a long time, making the coffee taste smooth and less acidic. Starbucks steeps ground coffee in cool water for 20 hours in a small batch without any heating process and infuses it with nitrogen. Why? Well, it creates natural sweetness and velvety texture in the cold brew. With a caffeine content of 215mg, Nitro Cold Brew is your perfect choice if you want to try something strong and different from your regular cup of coffee at home.
There are some other varieties of Nitro Cold Brew, but only Starbucks Reserve® Nitro Cold Brew contains the same amount of caffeine as the original. All the others are sweetened with honey or caramel and topped with cold foam or sweet cream, so the amount of coffee in a cup is less than the original. Naturally, this leads to lower caffeine content. Having said that, the sweeter Nitro Cold Brew coffees have still 200mg of caffeine.
5. Featured Starbucks® Dark Roast Coffee
For a coffee lover who prefers dark roast, this Starbucks dark roast coffee can be a great option. It may taste a bit more bitter, but you will enjoy the bold and robust flavour. You might've guessed the dark roast coffee would be one of the strongest Starbucks coffee.  Actually, the caffeine content is 195mg, which is similar to the one for the Short size of Clover® Brewed Coffees. This shows how strong Clover® Brewed Coffees are!
6. Starbucks® Cold Brew Coffee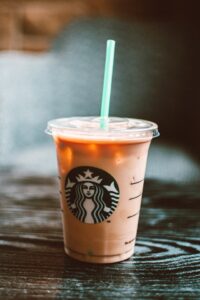 As mentioned in Nitro Cold Brew, cold brewing provides smooth coffee that is favourable to many coffee drinkers. It's a concentrated form, which makes stronger coffee, With the caffeine content of 155mg, it will be a great choice to start your morning when a caffeine kick is needed. Of course, you can customise your coffee by adding a shot of espresso or some milk depending on your preference.
​7. Caffè Americano
This is the only coffee on the list that is espresso-based with a caffeine content of 150mg. It's sort of a surprising discovery since espresso is commonly regarded as strong coffee. Surely, we need to consider the serving size of espresso, but still, it's like having 2 cups of a single shot of espresso equals 1 cup of Caffè Americano. I wouldn't expect their americano to be on the strongest Starbucks coffee list and find it quite interesting.
Starbucks Coffee Caffeine FAQ
Which Starbucks Frappuccino has the most caffeine?
You might be able to guess the answer easily, but it's Espresso Frappuccino® with 125mg of caffeine in the Tall size. I would definitely choose this drink among the other frappuccino drinks, not because of the caffeine content but the stronger coffee taste and less sweetness.
Do the bottled Starbucks Frappuccinos have caffeine?
Actually, they do! For instance, Bottled Mocha Frappuccino® has 50mg of caffeine in the 9.5 oz bottle so does Bottled Vanilla Frappuccino®. With my calculation, the bottled version is slightly lower in caffeine by approximately 7mg. According to Starbucks' official website, Mocha Frappuccino® Blended Beverage contains 70mg of caffeine for a Tall (12oz). If we calculate the caffeine content of the bottled equivalent size, it would be about 63mg.
Do the Starbucks Refreshers have caffeine?
The answer is yes and all the Starbucks Refreshers contain 35mg of caffeine for Tall except Starbucks Refreshers™ Blueberry Acai which comes in a can of 12oz (exactly the same size as Tall) containing 50mg.
Final Thoughts
It is obvious that people are getting addicted to Starbucks coffee for their morning routine. But the main factor for a coffee drinker to be addicted may be caffeine in coffee. Any coffee lovers would like to know the strongest Starbucks coffee to get the caffeine kick! I got quite surprised to find out that espresso-based drinks are not necessarily the strongest coffee at Starbucks.
I hope this post could help you find your favourite option among the most caffeinated drinks at Starbucks. Remember that you can always ask for an extra shot of espresso if needed.