Last Updated on 18/11/2023 by Miki
| | | |
| --- | --- | --- |
| | | |
| | | |
| | | |
| | | |
Table of contents
If you're the type who likes good coffee in the morning, then read on for my recommendations for the best coffee makers with grinders! It's important to note that not all grinders are created equal. Depending on your budget and personal preferences, you'll want to consider a number of different factors before choosing the best coffee maker with a grinder for you. The most important factors include:
The type of coffee do you prefer
How much noise you're willing to tolerate
How much space do you have on your kitchen counter
How economical do you want the coffee maker to be
If you're a fan of dark roast, then you'll want a coffee maker with a conical burr grinder! Have you got a question about what a conical burr grinder is? Let me explain:
Why Is A Burr Grinder Better Than A Blade Grinder For Coffee?
Firstly, let me explain what a burr grinder is. It consists of two revolving burrs in which coffee is ground. There are two types of burr grinders: flat burrs and conical burrs. Although flat burr grinders can typically produce more precise grinds, conical burrs are more common since they are heat-resistant and energy-efficient. On the other hand, a blade grinder is like a blender blade in the middle of the grinder. The problem with the blade grinder is the lack of capability of producing uniform grounds. Even grounds are necessary to make consistently delicious coffee. Burr grinders are more expensive than blade grinders due to their superior ability.
This post may contain affiliate links. If you use these links to purchase something, I may earn a commission without any extra cost to you. I would appreciate it if you do so to keep this blog going!
The 7 Best Coffee Makers With Grinders
Before jumping into my reviews, you may want to check my Cuisinart Coffee Makers With A Grinder article. In fact, Cuisinart offers great coffee makers with grinders. Because of my detailed review of the article, let me exclude Cuisinart here. Please note that I have selected the best coffee makers with grinders that come with integrated grinders only and excluded ones with separate grinders.  Here are my 7 top picks: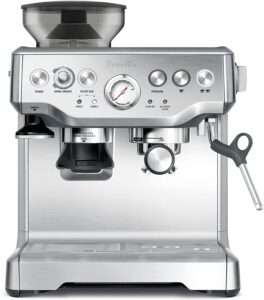 Breville BES870BSS is a great espresso machine for a home barista. The simple, yet sophisticated design stands out from all the other machines. It's not just pretty, but practical too. It has got everything you need including a tamper and a steam wand for texturing milk. Moreover, you have good control of this machine: the amount of coffee to be ground, the grind size, and milk texturing. On the other hand, the drawback to this coffee maker with a grinder is the pressure can be too low and unfortunately, the customer service may not be the best. With that being said, it's handy that ground coffee can go straight into the portafilter. The technology of digital temperature control ensures optimal coffee extraction so that you can enjoy your rich and full-bodied cups every time. 
Pros:
Burr grinder for the uniform coffee grind.
Digital temperature control for optimal espresso extraction.
All-in-one including a tamper and a steam wand.
Cons:
Weak pressure.
A potential issue with customer service.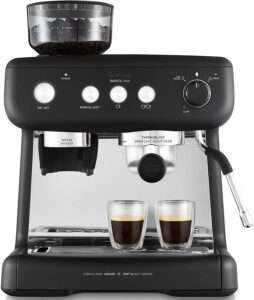 Sunbeam EM5300K Barista Max Coffee Machine is perfect even if you are a beginner home barista. You will have a perfect brew every time with the TEMP IQ shot control, which regulates and stabilise water flow and temperature. In addition, there are 30 adjustable settings for the integrated one-touch grinder. Furthermore, the auto-shot volumetric control can let you measure the right amount of water for a shot of espresso or two. In case you want to control your shot, there's a manual shot button for you. The downside can be some cases when your machine won't last as long as it's supposed to.
Pros:
Burr grinder for the uniform coffee grind.
TEMP IQ shot control for perfect water flow & temperature.
30 grind settings to choose from.
Cons:
The steam wand can be noisy at the beginning.
Cannot froth milk and brew coffee simultaneously.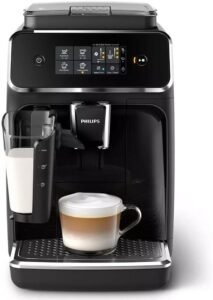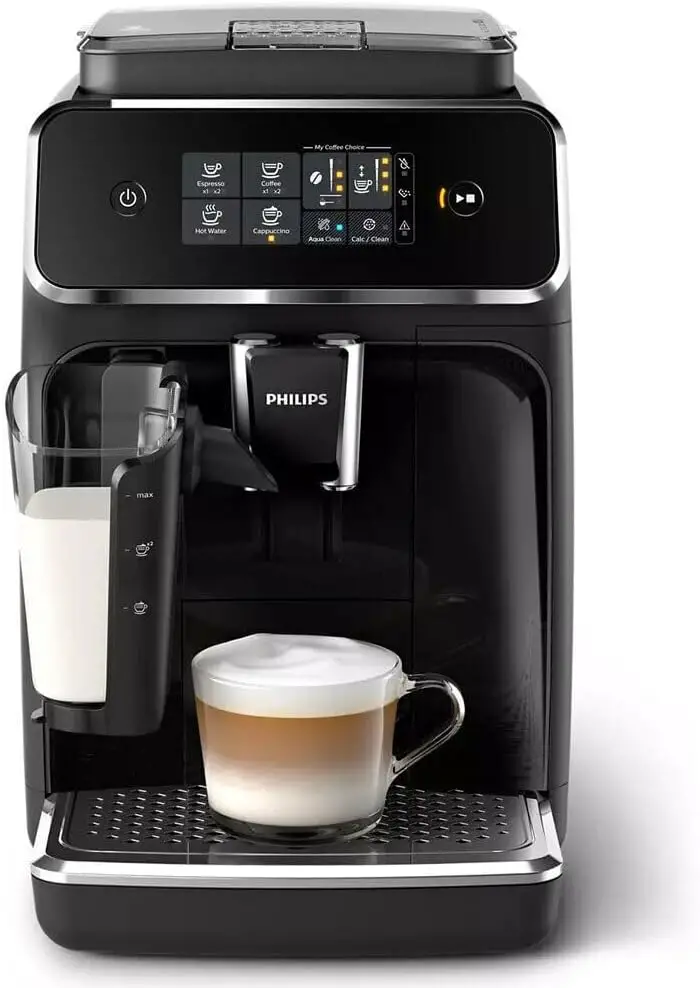 PHILIPS 2200 Series LatteGo Fully Automatic Espresso Coffee Machine can be good for any coffee lover who prefers easy maintenance.  Why? Well, the Aquaclean filter allows you to have purified water without descaling for a maximum of 5000 cups! It's amazing, isn't it? Moreover, it includes preferable features such as a burr grinder and customisation. On top of that, you can make beautifully smooth foam with ease every time. In addition,  it's extremely easy to use and clean. The only downside can be the fact that the grinder doesn't have as many adjustable settings as other models. Having said that, it's definitely good enough and can produce delicious coffee like one from your favourite cafe. It wouldn't be easier than this!
Pros:
The filter can reduce your descaling job.
Easy to use and clean.
Burr grinder for the uniform coffee grind.
Cons:
The grinder may not have enough adjustable settings.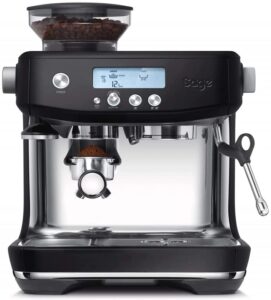 Sage Barista Pro Espresso Machine may not be the most budget-friendly option, but it'll certainly make your life easier. It's got all you need; a quality conical burr grinder, digital temperature control, 9 bar pressure and 15 bar Italian pump. One of the advantages of the Sage Barista Pro is the Thermo-jet heating system. What it does is provide the optimum temperature of 93 degrees for coffee extraction in just 3 seconds! This means that you won't have to wait too long to have your morning cup of coffee. Furthermore, you can customise your coffee to brew in whatever way you like. You can also easily check the grinding and brewing process with the LCD display. Some drawbacks are it's not fully automatic and there's no auto shut-off feature. With that said, it's programmable for your convenience and it'd be perfect for coffee lovers who still want some control.
Pros:
Thermo-jet heating system.
Burr grinder for the uniform coffee grind.
LCD display.
Cons:
Can be pricy.
Not fully automatic.
No auto shut-off.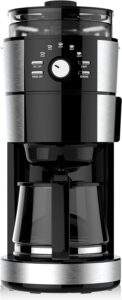 TODO Grind and Brew Coffee Machine is a hidden gem. It's definitely the most budget-friendly option on my list. It's quite amazing that you'll get a coffee machine with an integrated grinder at this price. It also has a stepless conical grinder for the uniform grind. However, if you are an espresso drinker like me, then the TODO Grind and Brew coffee machine may not be the best option for you. It's not an espresso machine, so it won't produce your favourite shot with the beautiful crema. Having said that, it'll be perfect if you would like to make a large amount of coffee at once as it has a 10-cup capacity. Like other coffee machines, there are some downsides: you might find a bit difficult to pour from the carafe without spilling and cannot control the water amount dispensed. With that being said, this bean-to-cup coffee machine is excellent value for money considering the functions and the price.
Pros:
Budget-friendly.
Stepless conical grinder.
10-cup capacity.
Cons:
Spills easily.
No control over the amount of water dispensed.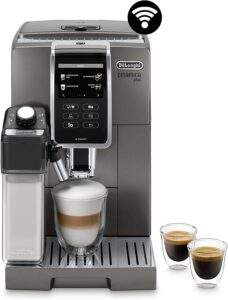 With De'Longhi Dinamica Plus coffee machine, you can easily have barista-quality coffee at home. It's fully automatic, so there'll be no mess or hassles! Also, you can personalise your favourite coffee as well as choose 12 pre-set recipes. What's more, the built-in grinder has 13 adjustable grind settings so that you can make your preferred coffee perfectly. In addition, it's important to point out the steam wand. It's designed well and powerful enough to make the barista-level micro-foam that we love. Furthermore, the dual-boiler allows you to brew coffee and froth milk simultaneously. Another bonus is the ease of cleaning as you can remove and wash the milk carafe and drip tray in the dishwasher. Furthermore, the Dinamica Plus is connectable to your smartphone for programming. Although it might be out of your budget, it would be worth investing in in the long run.
Pros: 
Fully automatic.
Can customise your coffee. 
Easy cleaning.
Cons: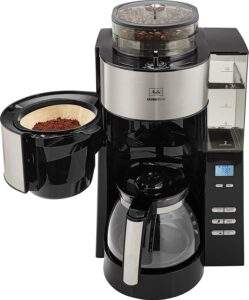 It may not come up first when you think of a coffee machine brand, but the Melitta AromaFresh Grind and Brew include the main features that we would like to have: a burr grinder, programmable settings and affordability. You also have a choice of 3 grind sizes and 3 cup sizes according to your need. Furthermore, you can program warm-up time for optimal temperature before brewing. In addition, there's a descaling indicator and the coffee machine comes with a cleaning brush and a 3-year warranty. On the other hand, the drawbacks are the water reservoir is not removable and the LCD display can be too bright. You'll also need paper filters. With that being said, all the great features of the Melitta AromaFresh will surely help you make delicious coffee at home and a lot of coffee lovers including beginners are loving this machine. You can also save money because you won't need to go to cafes for good coffee. 
Pros:
Burr grinder for the uniform coffee grind.
Programmable.
3-year warranty.
Cons:
Unremovable water tank.
Needs paper filters.
Should I Buy A Coffee Maker With A Grinder?
Do you have the time to make coffee each morning? Do you even have time to grind your coffee beans? If not, then investing in a coffee maker with a grinder might be the answer to your coffee problems. If you're looking for a quick and easy way to brew your coffee, a coffee maker with a grinder is one of the best ways to go. Grind your coffee beans before you brew them. This will result in the perfect, aromatic coffee you deserve.
How Important Is The Coffee Grinder?
Obviously, selecting high-quality coffee beans is extremely important. Then, how about the coffee grinder? 
In fact, it's just as important as coffee beans. Why? The reason is that you won't be able to make delicious coffee if your beans aren't perfectly ground in both uniformity and desirable size for your chosen brewing method. With this in mind, it's most likely a clever idea to choose a coffee maker with a grinder that is high quality even if it means you may need to pay a bit extra. It will pay off eventually. 
Final Thoughts
It's pretty amazing when considering how much a single coffee maker can do! With the all-in-one feature, it's not only convenient but also can make us save time and money. Think about it. If you can make good coffee like a barista at home, then why would you buy coffee from cafes? It will be fun to experiment and make every cup perfect. Choosing the best coffee maker with a grinder is the first step to becoming a great home barista!
Waking up to the smell of freshly brewed coffee ready to be savoured is one of the best feelings in the world. Making your own fresh coffee sounds like a luxurious and time-consuming task. However, the task can be broken down into three simple steps: Roast, Grind, and Brew. The automatic coffee maker with a grinder is a reliable option for people who are always on the go but still want to enjoy a fresh cup of coffee at home. It sounds too good to be true but this miraculous machine does all the work for you. Let me know in your comment how it's going if you have chosen to use one of the best coffee makers with grinders that I recommended in this article. I do hope you are loving it 🙂