Last Updated on 19/10/2023 by Miki
| | | |
| --- | --- | --- |
| | | |
| | | |
| | | |
| | | |
Table of contents
Every day, coffee has become a quintessential part of our culture. Coffee brings people together. There is a drink for every mood and every time. That being said, it's always a good idea to have a coffee maker on hand. After all, there is no better way to complete a morning routine than with a delicious cup of coffee. Luckily for all coffee fanatics, there are many different varieties of coffee makers to choose from. In this article, I will explore the 5 best 4-cup coffee makers on the market so that you can decide which one to choose. A 4-cup coffee maker can be perfect if you are the only one who drinks coffee or there are only two of you, drinking coffee at home. It's easy to use and compact enough to save space in your kitchen. My review is dedicated to 4-cup coffee makers and you'll find a complete buying guide as well 🙂
This post may contain affiliate links. If you use these links to purchase something, I may earn a commission without any extra cost to you. I would appreciate it if you do so to keep this blog going!
The 5 Best 4 Cup Coffee Makers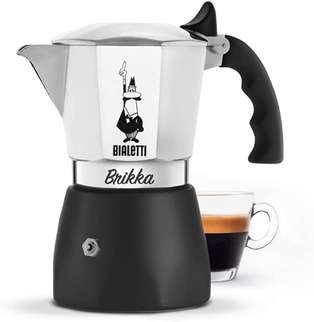 Bialetti is the most well-known brand for Moka pot globally since they are the inventor of the original Moka pot. The simple and classic coffee maker is popular among coffee lovers. What stands out is a layer of crema that the Bialetti Brikka creates. In general, we don't really see a beautiful crema with a Moka pot. For this reason, this 4-cup coffee maker is a great choice. Moreover, you don't need to use any paper filters to brew or any detergents to clean. All you'll need is simply ground coffee and water. Well, you may want to be aware that you'd need the Bialetti adaptor plate if your stovetop is induction.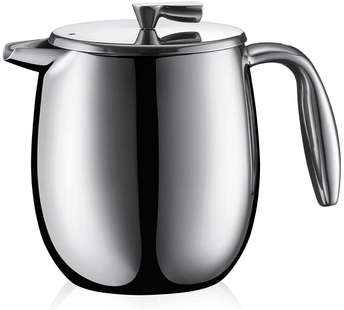 What I love about the Bodum COLUMBIA coffee maker is its design. It's unique and beautiful. You don't expect this appearance from a French press. In addition, it's not only visually appealing, but also it's practical due to the thermal double wall. It can keep your coffee hot for up to 2 hours. With that said, I don't really recommend keeping the brewed coffee for so long. The reason is the Bodum COLUMBIA is a French press and the coffee would be over-extracted if left that long. Another point to note is it's dishwasher safe, so there would be no hassle for cleaning.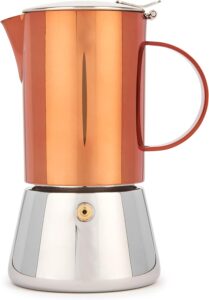 Coffee lovers rave about this coffee maker because of its unique colour and stylish design. You can easily place it on your desk and enjoy hot fresh coffee. Moreover, it comes with a gift box, which makes this coffee maker ideal for a gift. In addition, it's induction-safe, so you don't need to worry about the heat source on the stovetop even when you buy it as a gift. It's also made of stainless steel and is sturdy. Overall, this 4-cup coffee maker certainly has both practical and aesthetical advantages.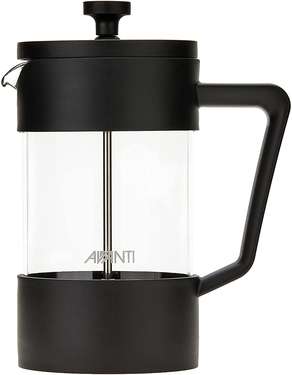 You don't need a big coffee machine to make a delicious cup of coffee at home. Avanti Sorrento Coffee Plunger will be your perfect choice if you are after budget-friendly options. It's under AU$30 and it comes with a Borosilicate glass carafe. In addition, the fine-mesh filter helps natural oil from coffee deliver the flavour into a cup. Furthermore, you can also use the Avanti Sorrento for frothing milk. It's undeniably versatile. With all the benefits in mind, this 4-cup coffee maker is incredibly good value for money.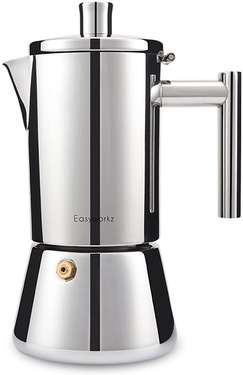 Easyworkz Diego Stovetop Espresso Maker is compatible with all stovetops, so there'd be no issues even if you have an induction stovetop. Moreover, it's made of stainless steel, which makes this 4-cup coffee maker durable. It's also simple to use and easy to clean because it's dishwasher safe. In addition, it can make hot and strong coffee, so all you'll need to do is get freshly & finely ground coffee and use the recommended amount of 16g. Last but not least, what stands out in the Easyworkz Diego is the fact that it comes with 24-month quality guaranteed for your peace of mind.
Things to Consider for 4 Cup Coffee Makers
Obviously, not all 4 cup coffee makers are created equal. For instance, they have different features and materials. It's important to consider what you want in your coffee maker before buying one. Here are some things to consider:
Capacity
You must be reading this article because you are after a small coffee maker. What's worth remembering is that a standard cup is considered to be 5 oz (148 ml) and the capacity of a 4-cup coffee maker is typically 20 oz (591 ml). If your usual quantity was more like a mug than a cup, then you would enjoy at most 2 mugs of coffee at a time.
Carafe Material
In general, there are three materials used for carafes: stainless steel, glass, and plastic.
Stainless steel is great because it's durable and it can keep your coffee warm longer although it can be more expensive.
Glass is an old and popular coffee carafe material, but the issue with glass is that it can break if dropped, which is a risk we want to avoid. Also, glass carafes help keep the temperature of the coffee hotter which is a benefit if you drink your coffee right after it has been brewed, but it does lose its heat faster than other materials.
Plastic may be a good option for some because it's lightweight, which is good for those who need to do a lot of lifting. Plastic carafes are also dishwasher safe. However, plastic often has a chemical odour that may leak into the coffee beans.
Coffee Filter
If you care about the environment, you will want to have a coffee maker with a reusable coffee filter instead of using paper filters. There is a good range of 4-cup coffee makers that make eco-conscious coffee lovers happy.
4 Cup Coffee Makers FAQs
How Much Coffee Do I Put In A 4 Cup Coffee Maker
It totally depends on your preference for your coffee strength. In general, it's recommended that 2 tablespoons of ground coffee per cup of water. You should experiment with the quantity and find the most suitable one for you. Remember to use freshly roasted and ground coffee beans along with using filtered water. Quality does matter.
What Is The Ratio Of 4 Cup Coffee To Water?
It's important to make coffee with the right ratio of water to coffee. The ratio for a 4-cup coffee is 16 ounces of water to 4 tablespoons of ground coffee. This will brew a coffee with the perfect amount of strength. Too much water will produce a weak coffee that is not very tasty. Too little water will produce a strong coffee that is extremely bitter. You should keep in mind that it's a ratio and not an exact measurement. If you know that you like a lot of coffee in your cup of coffee, you might want to add more coffee grounds to the equation.
How To Clean A 4 Cup Coffee Maker
If you would like to enjoy your daily morning coffee, it's extremely important to clean your coffee maker regularly. The first thing you will need to do is to read the instruction manual from the coffee maker's manufacturer. It's helpful to know which parts are dishwasher-safe so that you can save time cleaning. Use the upper rack of the dishwasher. Here is a manual cleaning guide:
Daily Cleaning
You will need to wash all the removable parts every time you use the coffee maker to make sure it will keep producing delicious cups of coffee. You can wash the parts with warm soapy water by hand.
Deep Cleaning
It's necessary to decalcify your coffee machine to stop hard water minerals from building up. What will you need? White vinegar!
First, fill the water reservoir with half water and half vinegar. Place a paper coffee filter unless the coffee filter is reusable.
Make sure the coffee pot is in place and starts to brew, then stop when the process has been done halfway. Turn the coffee maker off and allow it to sit for 30 minutes.
Turn it back on and let it finish brewing. Discard the water and vinegar mixture in the pot. Wash everything with warm soapy water.
Place a new paper filter if using it and brew another two cycles with clean water.
A Tip For Cleaning Your Carafe
You may notice your carafe is getting stained over time even if you clean it daily. In that case, rice can help you make the carafe shiny again. All you need to do is to add warm soapy water and a little bit of rice into the carafe, swirl the mixture, scrub the inside with a sponge, and rinse thoroughly. Simple, yet effective.
Final Thoughts
As you know, 4-cup coffee makers are simple to use and easy to clean. The coffee maker is the perfect size for someone who needs to make a small serving. It can be difficult to choose the best one for you due to the similarity of the wide range of coffee makers available on the market. However, you will find the one if you have read through my buying guide and reviews here in this article. If you have any questions, you are more than welcome to leave a comment below. Happy shopping 🙂