Last Updated on 18/11/2023 by Miki
| | | |
| --- | --- | --- |
| | | |
| | | |
| | | |
| | | |
Table of contents
Do you use a pour-over coffee maker to enjoy your cup at home? What do you use for pouring hot water over your coffee beans? Do you have a gooseneck kettle? Well, I remember my mum used to make pour-over coffee with a Japanese tea kettle. I enjoyed watching her control the flow of hot water as the beautiful aroma was developing. The coffees she made were always delicious. It is essential to extract coffee beans evenly if you want to make delightful coffee. A gooseneck kettle will definitely help you achieve it efficiently. Since you can control the flow of hot water over the beans with the gooseneck kettle, you can get the optimal result. You may be thinking that a standard kettle would do, but it is worth having a gooseneck kettle if you use a pour-over brewing method for making your daily cups of coffee. In this article, you will find my top 9 picks of the best gooseneck kettles according to your needs.
This post may contain affiliate links. If you use these links to purchase something, I may earn a commission without any extra cost to you. I would appreciate it if you do so to keep this blog going!
The 9 Best Gooseneck Kettles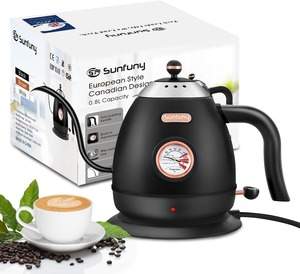 Although you mightn't have heard of the brand, the Sunfuny Electric Gooseneck Kettle surely live up to your expectation. You can control the water's slow and steady flow with the anti-scalding handle to achieve even saturation. Another important factor is the water temperature and the built-in thermometer can make it easy for you to optimise the temperature for your preferred drink. Furthermore, it's made of food-grade stainless steel for optimal taste and durability. In addition, there are other features like auto shut-off, boil-dry protection and a one-year warranty. Highly recommended.
Pros:
Built-in thermometer
Anti-scalding handle
Food-grade stainless steel
Cons: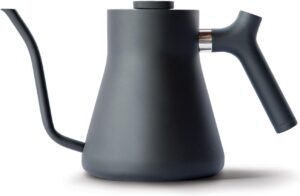 What makes the Fellow Stagg Stovetop Pour-Over Gooseneck Kettle stand out is the focus on design: It's chic, modern and complements any types of kitchen. Moreover, it does not only look stylish but also functions very well. The spout is made for precise pouring and the handle is perfect for both precise and intuitive pouring. In addition, the Fellow Stagg gooseneck kettle has a built-in thermometer, which enables you to achieve the optimal temperature for brewing coffee. Can you imagine how much this little thing will make your life easier?
Pros:
Modern design
Built-in thermometer
Quality stainless steel
Cons: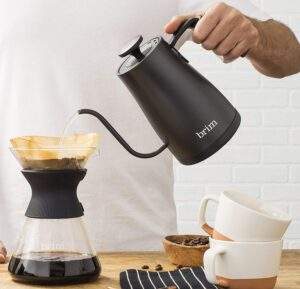 The Brim Gooseneck Kettle has a 100% stainless steel interior, lid and spout for the perfect taste. What stands out is the elegant design with the natural look of the wooden handle. Conveniently equipped with 6 precise temperature pre-sets, there is no need to worry about burnt coffee. Another point worth mentioning is that the spout has an optimal pouring design so that you can control the pour to the perfect extraction. In addition, the Brim has a keep-warm function to keep the same water temperature for 60 minutes as well as auto shut-off and boil-dry safety features. It's lightweight yet sturdy and can also boil your water in just 3 minutes. I love the fact that it's a cordless base.
Pros:
6 precise temperature pre-sets
Auto shut-off & boil-dry safety features
Lightweight
Cons: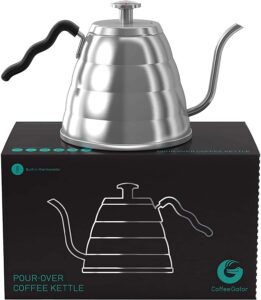 Launched in 2015, the Coffee Gator Pour Over Kettle has a classic look made of premium stainless steel. Due to the built-in thermometer, you can get the perfect water temperature according to your drinks every time.  Furthermore, it works on all stovetops including induction cookers with its impressive three-layered base. Another advantage is the value of what you pay. Even if there is something you are not satisfied with this kettle, their customer service is outstanding and you will get a refund or a replacement. 
Pros:
Suitable for all stovetops
Good value for money
Great customer service
Cons:
No whistle to warn you for reaching the boiling point
What I love about the Harriet Gooseneck Kettle is the colour variations. You can choose from seven different colours: green, beige white, black, cobalt blue, Persian red, yellow and stainless steel. It's most likely that you'll find the best match for your kitchen 🙂 In addition, it has the durable 3-layer bottom, which means it's perfectly rust-free and leak-free. Also, it can boil water uniformly and rapidly. Another important feature is the the built-in thermometer that can make your coffee brewing temperature optimal. Furthermore, it comes with a 12-month warranty, so it's definitely worth trying!
Pros:
7 colour variations
3-layer bottom for durability & rapid-boiling
12-month warranty
Cons:
Difficulty in checking  water fill line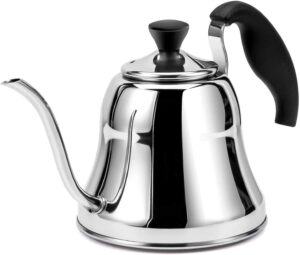 The MROCO Gooseneck Kettle is one of the most budget-friendly options without sacrificing quality. What stands out in this kettle is the ease of use with the smaller size. It may not be perfect if you expect to make a large amount of coffee but you definitely can  control the pour more easily with this size. Another advantage of this kettle is the ergonomically designed handle which enables you to lift and pour comfortably. Although it works on all stovetops, it does not come with a built-in thermometer, which you may find inconvenient. With that said, this gooseneck kettle has great features for you to make a delicious cup of coffee with ease.
Pros:
Easy to control & clean
Ergonomically designed handle
Works on all types of stovetops
Cons:
 Not including built-in thermometer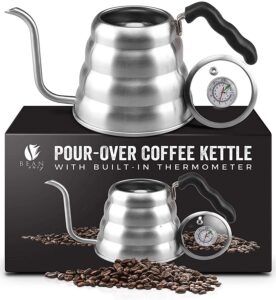 If you want to make pour-over coffee like a professional, you should consider the Bean Envy Gooseneck Kettle. Why? Well, with the Borosilicate glass top, built-in thermometer and gooseneck spout, you'll be guaranteed to make a perfect cup every time. It's all about precision. Moreover, the Bean Envy kettle is made of medical-grade stainless steel, which can increase corrosion resistance. Are you still concerned about the quality of this kettle? No worries! The Bean Envy provides a LIFETIME warranty. Their customer service is incredible as well as their product. You won't be disappointed.
Pros:
High-quality materials
Ergonomic handle
Lifetime warranty
Cons:
Possible moisture issue with the thermometer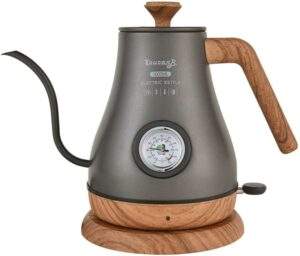 There is nothing overcomplicated about ToucanB Electric Gooseneck Kettle. I love the simplicity and the retro look! It's not only beautifully designed but also practically designed. This gooseneck kettle has auto shut-off, overheating and boil-dry protection features. In addition, the ToucanB quickly reaches the boiling point within 4-6 minutes. It's definitely more time-efficient than using a regular stovetop. Needless to say, more cost-efficient as well. Moreover, it comes with 20 biodegradable coffee filters to prevent undesired grounds into your cup. How awesome!
Pros:
Food-grade stainless steel
Auto shut-off & boil-dry protection
Complementary coffee filters
Cons: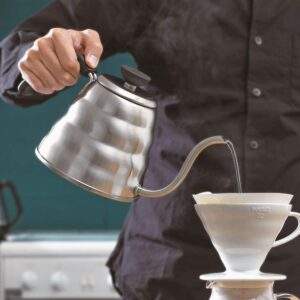 The Hario V60 Buono Gooseneck kettle is best known for its quality craftsmanship and pour-over brewing method. It's a perfect accompaniment for the Hario V60 dripper. The long, thin spout gives you greater control over the pour, so you can extract maximum flavour from your coffee grounds. The Hario gooseneck kettle is made of high-quality stainless steel and there are 3 different capacities you can choose from 700ml, 1.0L & 1.2L. Although it may not take long to pour the water over the coffee grounds, it'll make your job easier when the gooseneck kettle is lightweight. The Hario certainly helps!
Pros:
Solid built
Easy & precise control
Lightweight
Cons:
How To Clean A Gooseneck Kettle
You can use this method for both electric and non-electric gooseneck kettles.
Fill your kettle with an equal part of water and vinegar. Let it sit for at least 1 hour.
Bring the kettle to a boil and let the liquid mixture sit for another 20 minutes.
Remove all the mixture from the kettle and rinse inside. 
Fill the kettle with clean water and bring it to a boil again so that any remaining vinegar smell and taste will disappear.
What Is A Good Alternative For A Gooseneck Kettle?
If you don't think it's worth investing in a gooseneck kettle, a good alternative would be a teapot. As I mentioned at the beginning of this article, my mum used to make pour-over coffee with a Japanese teapot. It tasted perfectly delicious to me back then. I'm pretty curious if it would taste the same now after I have tried a lot of different types of brewing methods and coffee tasting. I'm sure it will be delicious, mum 🙂
I highly recommend owning a gooseneck kettle since you can make a perfect cup every time. The features that I would look for are the built-in thermometer, premium material (food-grade stainless steel), well-designed spout and ergonomic handle.
Final Thoughts
There you have the 9 best gooseneck kettles for your pour-over coffee. You may still wonder if it's really worth buying a gooseneck kettle. Well, all I can say is that you will ultimately save time and money as a gooseneck kettle is designed for efficiently achieving consistent water flow with the perfect temperature for coffee extraction. What's the point if the coffee you make doesn't live up to your expectation? I really hope you will find your favourite gooseneck kettle with a little help from this article.