Last Updated on 12/11/2023 by Miki
Table of contents
I have two words for you, cold brew. Those of you who live in the Outback may be familiar with the luxury of this beverage during the summer months. The heat waves that invade our region make morning coffee a challenge. That's why cold brew is perfect for us! The thing about iced coffee is it doesn't have to be watered down by adding ice cubes. This isn't the case with cold brew. It is brewed at a much lower temperature, which in turn, preserves the natural flavours of the coffee. The process of brewing the coffee takes about a day. This could be the perfect way to take a break from a day of work.
Brewing cold brew is a longer and slower process and the end result will be beautiful with a smooth and less acidic flavour. It has become popular in recent years for this reason along with its innovative brewing process. This article will be dedicated to finding the best coffee for a cold brew with extra tips. You can read another article if you would like to know more about this unique coffee.
Do You Need Special Coffee For Cold Brew?
Before diving into the reviews, let me answer this simple question: Do you need special coffee for it?
Well, you don't really need special coffee as in rare or expensive coffee on the market. However, there are some great coffee beans crafted for a cold brew and here are the tips for choosing the best coffee for a cold brew.
What Type of Coffee is Best for Cold Brew?
Grind Size
You will want to grind your whole coffee beans to a coarse grind. It will quickly start dripping. On the other hand, if you use a fine grind, the water isn't going to flow smoothly, the coffee will be over-extracted and then it will taste bitter. Since pre-ground coffee is generally ground for drip coffee machines, it is not recommended for cold brew unless the beans are ground particularly for it.
Best Roast
Here is an interesting fact about cold brew coffee. The choice of roast in your regular hot coffee doesn't necessarily apply to cold brew. What I mean is if you like dark roast for your espresso and use it for cold brew, you might not get the coffee that you expected. This is because of the different brewing methods and you need to experiment and explore your best one.
Personally, I like a dark roast that gives a rich and nutty flavour. However, if you decide to choose a light roast, keep in mind that it will take even longer to extract that floral flavour from the beans.
Single Origin vs Blends
You may wonder which would be better for cold brew, single-origin or blends. The answer is quite agreeable that it would be a single origin. The process of cold brew enhances the delicate flavour of single-origin beans. Therefore, you will enjoy your coffee more if single-origin is used.
Having said that, it will come down to your preferences since every one of us has a different taste in coffee. You may find the blends taste better in the cold brew for their complexity. Let's have a look at the best coffee for cold brew next.
This post may contain affiliate links. If you use these links to purchase something, I may earn a commission without any extra cost to you. I would appreciate it if you do so to keep this blog going!
The 9 Best Coffee For Cold Brew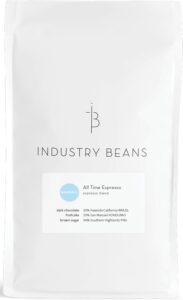 INDUSTRY BEANS was founded in Melbourne and I got excited when their roastery opened in Brisbane as well! For cold brew, I would recommend All Time Espresso Coffee Blend, which is a medium-dark roast and offers a rich and strong coffee. What I love about the All Time Espresso is the flavour profile with its delightful notes of dark chocolate, fruit cake and brown sugar. How sweet it sounds 🙂 It also delivers a rich and bold flavour profile, perfect for those who prefer a stronger and full-bodied coffee like myself. The beans are freshly roasted, ensuring a consistent grind and imparting a pleasant aroma to the cold brew. Overall, INDUSTRY BEANS All Time Espresso Coffee Blend is an excellent choice for cold brewing, providing a refreshing and satisfying coffee experience.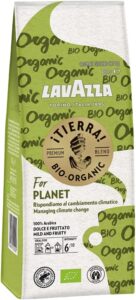 For a daily morning routine, you can't go wrong with Lavazza Tierra For Planet. It's a great way to start your day. Not only can you brew the perfect cup of coffee, but you'll be able to serve it to your family and friends without any hassles. This 180g bag of Lavazza Tierra is ground coffee so that you can conveniently prepare a cold brew. With the coffee's mild and fruity taste and aroma, it's no wonder that this is one of the most popular options for many coffee lovers. The Tierra 100% arabica beans are great for a cold brew with a light roast and a well-balanced taste. You will enjoy consistently delicious cups of coffee with these beans even if you are not a big fan of a light roast. However, you may find the coffee a bit too mild or lack that kick you would need in the morning.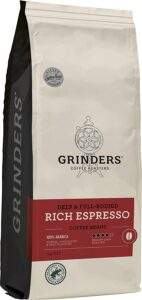 The most important part of the espresso is the taste, and this is where the Grinders Coffee Rich Espresso totally shines. The coffee is so rich and full of flavour, you can detect how carefully Grinders Coffee longs for the best of the best. And they are very smart in the way they go about it- they never blindly settle on flavour alone. The texture of this coffee is not too dense and leaves you feeling like you have been thoroughly satisfied. The Grinders Coffee Rich Espresso has a flavour profile of chocolaty and earthy, which sounds pretty delicious. You will want to appreciate the maximum flavour of the coffee beans with the cold brewing process. Having said that, some people may find the coffee not flavourful enough.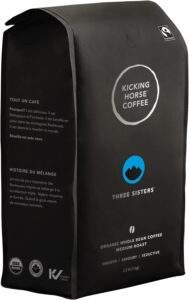 Kicking Horse Coffee Organic Medium Roast is smooth and well-rounded. It has notes of stone fruit and cocoa, and you'll notice complexity in the coffee. Many people will enjoy this type of coffee due to its less acidity. If that is the type of roast that you particularly enjoy, then this is a great option for you. Furthermore, the packaging is nondescript which is a good thing for those who want to stay out of sight when they are drinking their coffee. It's quite easy to see why the Kicking Horse Coffee organic medium roast will become your favourite. Having said that, there is a drawback to this coffee just like others and it may not produce the strong flavour that you expect.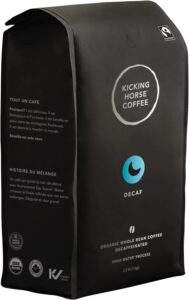 Here's another organic coffee from Kicking Horse. This decaf concentrate coffee is perfect for anyone who is concerned with caffeine intake. If you are after decaf coffee for cold brew, this can be the best choice for you. It has roasted hazelnuts and chocolaty-tasting notes. A benefit of Kicking Horse coffee is it's 100% certified organic and fair trade. To make it even better, Arabica coffee beans are grown in a sustainable way. Although it's not the cheapest bag of coffee beans, you'll enjoy a smooth and well-balanced cold brew.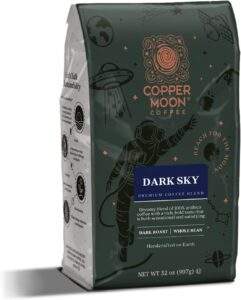 Copper Moon is a family coffee roastery and this dark roast has a strong and bold taste. The beans are 100% Arabica and freshly roasted in a small batch. This coffee has a perfect fusion of the signature taste of the coffee with the boldness and bitterness of a cold brew. The taste is unique as it has everything you want in a coffee but also an extra component that is the hallmark of a cold brew. The coffee beans are from small family-owned farms and are evenly roasted to smoky and herbal notes. Another benefit of Copper Moon would be a choice of fun flavours: Tropical Coconut, Hawaiian Hazelnut, Southern Pecan, etc.  Mind you that unfortunately, it can taste bitter or burnt depending on the batch you receive.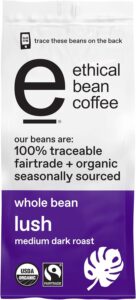 Ethical Bean Fairtrade Organic Coffee is certainly one of the highest-grade coffee beans. The beans are 100% Arabica, USDA organic, and 100% fairtrade certified. The coffee is flavoursome with notes of fruity and earthy at the same time. It's also well-balanced as it's a medium-dark roast. With the Ethical Bean Fairtrade Organic coffee,  you can create a sweeter-flavoured coffee that is perfect for the slower pace of a hot summer day. This beverage will make you feel refreshed and rejuvenated. To make it even better, it comes with a resealable package for maximising freshness. The only downside can be the price, which you may find too dear.
RED PARROT DECAF – MEDIUM ROAST coffee beans are a perfect option for those who enjoy cold brew but want to skip the caffeine kick. This decaffeinated blend stands out with its smooth and mellow flavour profile, making it ideal for a refreshing cold brew. The medium roast enhances the natural flavours of the beans without overpowering them, resulting in a well-balanced and enjoyable cup of coffee. In addition, the aroma is inviting, with hints of dark chocolates that add depth to the overall experience. The beans are of high quality, using the Mexican mountain water process to decaffeinate beans naturally without chemicals. The resulting cold brew is incredibly smooth, with a rich body and a slightly sweet finish. Sounds delicious, doesn't it? I would highly recommend RED PARROT DECAF for those who prefer less intense coffee.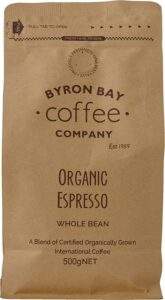 Byron Bay Coffee is a local, family-owned company. Their beans are sourced from small farmers who produce the highest quality beans in the world.  The beans are freshly roasted, blended and packed every week. Byron Bay Coffee has been focusing on the roasting process. They do experiments and then adjust roasting temperature and air flows to bring the optimal flavours and characteristics from the coffee beans. In addition, the blending process is another focus. They select a variety of single-origin coffee beans that complement each other perfectly. This results in rich, yet well-balanced flavours. I love the simple packaging and resealable design as well.
Cold Brew Coffee FAQ
In case you have more questions besides the best coffee for cold brew, here are the FAQ and answers.
Is Cold Brew Coffee Healthier?
There is an excellent article to answer this question. Cold brew coffee is low in acid which makes it easier for your stomach to handle, unlike espresso because of the higher acidity. In terms of health benefits, cold brew coffee has the same health benefits as other coffee and more people can enjoy it due to its low acidity and less bitterness.
Can You Brew Cold Brew Coffee Too Long?
In general, it is not recommended to brew coffee for longer than 24 hours since it will get bitter and become muddy. If you need 24 hours for steeping, then you will need to place your cold brew in the fridge so that the process to extract the beans will slow down.
Should I Dilute My Cold Brew Coffee?
The standard recipe of cold brew coffee results in a concentrated form. It is intense and not suitable to drink straight. You will want to dilute it with water or add some milk or cream. The ratio of coffee concentrate and water can be 1:1, but it totally depends on your tastes.
Why Does My Cold Brew Taste Weak?
You may want to try a finer grind if your coffee tastes too weak. However, do not use finer than drip coffee as it will cause a lot of undesired coffee grounds on the bottom. You can also change your coffee-to-water ratio. My recommendation is 1:4, so if your ratio of coffee is less than mine, try to increase the coffee amount. Last but not least, double-check the beans you are using for cold brew. It might not be able to give the flavour you expect it to. There are coffee beans for a cold brew on the market for a reason. That's why I have decided to write this post regarding the best coffee for cold brew.
Can You Use Cold Brew Grounds Twice?
As you could easily imagine, the first batch would be much stronger and full of flavour. The second batch, on the other hand, could still satisfy your coffee cravings. This is particularly true when you drink your coffee with milk or sweetener.
Final Thoughts
The more you learn about cold brew coffee, the more you will be fascinated. It is one of the best coffee types in both taste and versatility. Freshly roasted and coarsely ground high-quality coffee should deliver the best possible result in cold brew. However, it is necessary to experiment for yourself so that you can find your best. It could be a bit finer grind, lighter roast, longer steeping time, or a blend instead of a single origin.
It would be a fun discovery and your choice of coffee beans and the brewing method could change over time just as your taste might do. I do hope that you have found the best coffee for a cold brew with the help of this article and you will come back here whenever you feel like discovering something different 🙂