Last Updated on 13/06/2021 by Miki
As an Australian resident, I don't think Starbucks is the first choice when I want to get some coffee or to catch up with my friends. Why so? Why did Starbucks fail in Australia?
Well, I used to visit Starbucks while living in Japan… Only when I wanted to drink some frappuccino! If I wanted a good cup of hot coffee, then I had chosen somewhere else. After immigrating to Australia, I haven't visited Starbuck. I love local cafes where we can have beautifully brewed strong cups of coffee 🙂
This has made me think about why Starbucks failed in Australia. So, I have searched the reasons and would like to share them with you here in this article.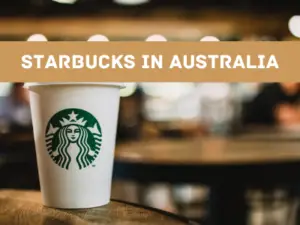 ​
Why Did Starbucks Fail In Australia?
Starbucks is the dominant coffee chain in the United States. It is ​also one of the largest coffee chains in the world and sells coffee at retail locations, grocery stores, and mail-order catalogue.
However, Starbucks is not as dominant in other countries due to differing preferences for coffee. In Australia, customers prefer a strong coffee that is not too sweet, while Starbucks offers a sweeter, less strong coffee. This ultimately led to Starbucks closing a lot of doors in Australia.
Starbucks ventured to Australia in 2000 and within 7 years failed to understand what the Australian market wanted. Starbucks focused on the high-end coffee market while Australians preferred either instant or "real" coffee.
Many people were unhappy with the quality of the coffee Starbucks was offering and felt that it was overpriced for the quality. Additionally, Australia has a thriving cafe culture and, while Starbucks still sold coffee by the cup, they weren't really able to compete on an espresso level.
What Did Starbucks Do In Australia?
Starbucks is a popular coffee chain that has become known for its high-quality coffee and customer service. However, according to Australian officials, when not operating in the United States, the coffee company in Australia has not demonstrated this same level of quality and service.
Customers in Australia have complained of long wait times and sub-par-quality coffee. Officials have suggested that these problems stem from a lack of knowledge of Australian culture by the company's Australian employees. There was an occasion that Starbucks made headlines when the Australian Competition and Consumer Commission (ACCC) filed charges against the coffee company for breaching Australian consumer law. The ACCC found that the company had misled and deceived customers by advertising prices that we not in fact available. The ACCC took action, issuing a compliance notice with a $2000 fine for each store location found to be in violation.
Despite their struggling reputation abroad, Starbucks is still valued at over $60 billion and its stock continues to rise.
​
Does Starbucks Australia Have A Secret Menu?
The Australian Starbucks cafe has an awesome secret menu that includes drink selections that are a little different from what you see in the United States. Some of the more popular items on the Australian Starbucks secret menu include Salted Caramel Cloud Macchiato, Caramel Mocha, and Butterscotch Latte.
What's more, is that any barista in Australia can whip up a delightful drink for you at any time,  so long as it is not on the list of leaked US liquid adventures. The sheer number of incredibly delicious options on the Australian Starbucks secret menu means that there's a drink out there to suit everyone's tastes.
​​
Final Thoughts
Starbucks is a global company with locations all over the world. That being said, Starbucks It's not enough to know what your customers want, you also need to listen to them. Starbucks' American-centered approach to their coffee chain did not work for the Australians.
Starbucks understands the importance of understanding the market and catering to your customer. One thing they had to learn the hard way though was that the Australian taste for coffee is different from the North American taste for coffee. Starbucks was ultimately unsuccessful in Australia because they were not able to understand the market and provide a product that was the desired taste.
What do you think about Starbucks? Do you like their coffee? Please share your thoughts and experiences in a comment below.