Last Updated on 12/03/2023 by Miki
Table of contents
If you're looking for the best coffee grinder, you've probably already heard of the Timemore brand. Timemore grinders are some of the most popular on the market and they offer a wide range of different models. But which Timemore grinder is the best? In this article, we'll explore the features of each Timemore grinder, as well as their pros and cons, to help you decide which one is the best for your needs.
This post may contain affiliate links. If you use these links to purchase something, I may earn a commission without any extra cost to you. I would appreciate it if you do so to keep this blog going!
TIMEMORE Grinder Comparison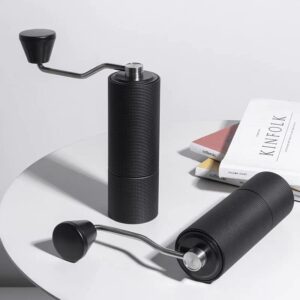 TIMEMORE Chestnut C3 is an upgrade of Chestnut X. The stainless steel conical burr is even more durable, thus being a reliable and sturdy hand grinder. In addition, it wouldn't take long to produce consistently uniform grinds, even for espresso. Moreover, the crank handle is easy to turn, making the grinding process hassle-free. Additionally, it comes with a carry bag and a cleaning brush for easy travel. Highly recommended especially if you are an espresso drinker like me 🙂
Pros:
more durable stainless steel conical burr
easy & quick grinding
lightweight & portable
Cons:
not perfectly fine for espresso but good enough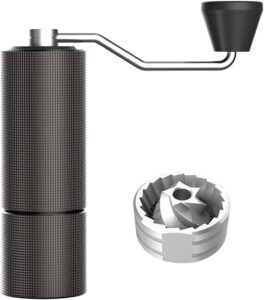 TIMEMORE Chestnut C2 is among the most popular manual grinders among the TIMEMORE brands. Are you wondering why? Well, it's excellent value for money considering its stainless steel conical burr and efficient handle for easy grinding. In addition, what I love about the Chestnut C2 is the fact of how quickly we can grind coffee beans. Although there are  36 steps to the adjustable function, it may not be perfect for fine or coarse grinds.
Pros:
excellent value for money
easy & quick grinding
high-quality stainless steel conical burr
Cons:
not probably perfect for fine & coarse grinds
possible jamming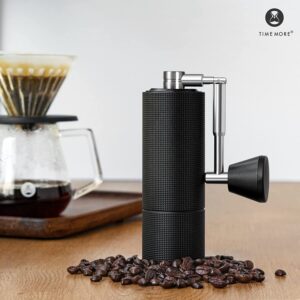 TIMEMORE Chestnut C3 PRO is a new model and upgrade of the C3. What stands out in C3 PRO is a foldable handle that makes this coffee grinder perfectly portable and easy to store anywhere. How clever it is! Furthermore, the larger capacity of 25g of coffee beans allows you to make two cups of coffee, so it's practical for daily use. You can even grind beans fine enough for espresso. With that said, you might find the handle a bit too short to grind comfortably. Also, it could take time to get used to adjusting 'your preferred grind size. Other than those, it's pretty perfect.
Pros:
a foldable handle for portability and ease of storage
larger capacity for practicality
high-quality stainless steel conical burr
Cons:
the handle may not be long enough for your comfort
a bit of effort can be required to adjust grind sizes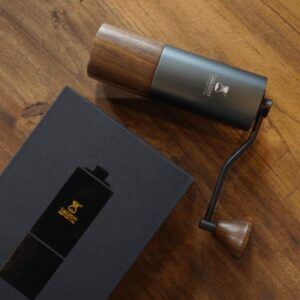 The Chestnut G1 Plus's grind consistency is attributed to its 38mm stainless steel burrs, which are shaped to create even and uniform coffee particles. This feature is essential to achieve a balanced, flavourful coffee. Moreover, the titanium coating can make it even more efficient in grinding with less fine powder produced. In addition, I love both the handle knob and coffee container on the bottom made of walnut wood. They are not only comfortable to grip but also look beautifully natural.
Pros:
even, uniform & efficient grinding
aesthetically appealing walnut wood
durable & sturdy
Cons:
less adjustable grind settings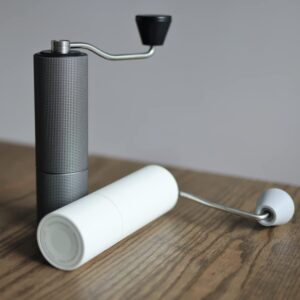 As the name suggests, Chesnut C2 MAX has a capacity of 30g, which is even larger than C3 PRO. The grinder also comes with a travel bag, making it easy to carry around while you travel. Additionally, a cleaning brush is included so you can start to use the grinder and clean it easily after use. It could be a bit harder to grip if you have small hands, but it shouldn't take long to grind beans and it will produce the uniform grinds that you expect.
Pros:
the larger capacity of coffee beans
includes a travel bag and a cleaning brush
consistent & uniform grinds
Cons:
a bit bigger and heavier than other models, but it's still under 700g
​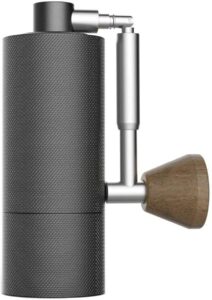 If you are after a manual coffee grinder that is lightweight and portable, I highly recommend TIMEMORE NANO. The NANO is the smallest and lightest among the models compared here, weighing 360g only. Moreover, the handle is foldable, making it perfectly portable. Also, it can fit in an AeroPress, so you can easily make fresh coffee wherever you are! Even though it's small, it doesn't compromise its functions and can produce fine grinds for espresso as well. I love this well-designed grinder 🙂
Pros:
lightweight & perfectly portable
foldable handle for easy storage
consistent & uniform grinds
Cons:
can be a bit pricier but it's definitely worth it!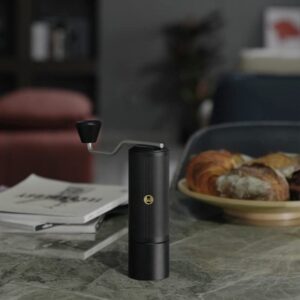 The Chestnut X Lite can hold up to 40g of beans even though it weighs less than 450g. Furthermore, the handle is redesigned and made for the grinding process easy and smooth. Also, the adjustment dial is newly designed and you can precisely set your desired grind without counting clicks! Sounds awesome, doesn't it? In addition, the grinder can produce even and uniform grinds from French press to espresso.
Pros:
large capacity for its size
easy & smooth grinding
easy grind adjustment
Cons:
not the most affordable option
the plastic lid can be fragile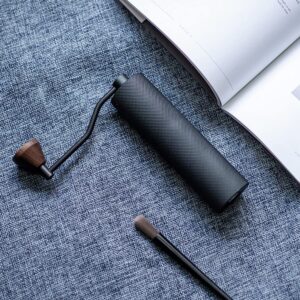 As you may have guessed, the Chestnut Slim Plus has a slim body and weighs 440g only. But what about "Plus?" Well, it's the newly developed stainless steel burrs that can grind more efficiently and uniformly. You can even produce Turkish grind if you want to! Moreover, the handle is detachable and the grinder comes with a carry bag and a cleaning brush for portability. Also, it would make a perfect gift for coffee lovers as it comes with a beautiful gift box.
Pros:
improved burrs for efficiency & uniformity
detachable handle for portability
perfect for a gift
Cons:
not the easiest to adjust grinds
Which Timemore Grinder is The Best
So, the ultimate question is, "Which Timemore grinder is the best?"
In my opinion, the Chestnut C3 is the best all-rounder coffee grinder. What I especially love about the C3 is the improved burrs for durability. Who wants a grinder that wouldn't last for even a year? This grinder is long-lasting and a perfect option for daily use and also for any home barista beginners. In addition, it's incredible value for money.
On the other hand, if you travel a lot or need a grinder at work, then I would recommend the NANO. It's an excellent choice for portability and I love the foldable handle. Simply genius! Considering all the features it has to offer, it's definitely worth your investment.
Final Thoughts
TIMEMORE manual coffee grinders have high-quality stainless steel burrs to produce uniform grinds effortlessly at affordable prices. Each grinder has great features on its own, so the best Timemore grinder will depend on your specific needs and preferences. You should consider factors such as grind consistency, portability, durability, and ergonomic design when making your decision, and choose the grinder that best meets your needs.
I hope this article has helped you decide which Timemore grinder is the best. Also, you may want to read my article on comparing Timemore C2 vs 1Zpresso JX.