Last Updated on 29/08/2022 by Miki
Table of contents
| | | | |
| --- | --- | --- | --- |
| | | | |
| | | | |
| | | | |
| | | | |
If you love your coffee and want to make sure you can enjoy a cappuccino, latte, or other milk-based coffee drinks at home, then you need a milk frother. These devices quickly and easily turn milk into the perfect consistency for frothing, so you can make your favourite drinks right in your kitchen. From handheld frothers to electric ones, there's a milk frother out there to suit everyone's needs. So whether you're looking for something quick and easy to use, or something that will give you a bit more control over your coffee-making, I've compiled a list of the 11 best milk frothers on the market, so you can find the perfect one for your needs.
What Is A Milk Frother?
A milk frother is a coffee accessory used to create foam from milk. The foam is used to create various types of drinks such as cappuccinos and lattes. There are two types of milk frothers: manually operated frothers and electric frothers. Manually operated milk frothers are less expensive but require more effort to use. On the other hand, electric milk frothers are more expensive but are easier to use. They both work by using a spinning action to create tiny bubbles in the milk. The bubbles create a thick, creamy foam that can be used to top off espresso drinks. Frothing milk creates a rich, creamy texture and brings out the natural sweetness of the milk. If you enjoy milk-based coffees, then it's definitely worth having a milk frother.
This post may contain affiliate links. If you use these links to purchase something, I may earn a commission without any extra cost to you. I would appreciate it if you do so to keep this blog going!
The 11 Best Milk Frothers Australia
There are many milk frothers on the market, but which ones are the best? A good milk frother can help you create foamy milk that can make your coffee taste even better. That's why I've put together a list of the 11 best milk frothers Australia has to offer. Whether you're looking for a frother that's easy to use or one that produces the perfect foam, I've got you covered. So, what are you waiting for? Check out my list of the best milk frothers here 🙂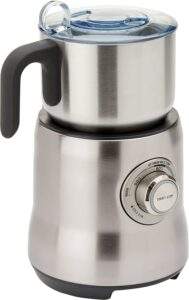 Breville Milk Frother is a handy little appliance that has quickly become one of my favourite kitchen gadgets. Not only does it make frothing milk a breeze, but it also heats up the milk to the perfect temperature for making lattes and cappuccinos. If you're in the market for a milk frother, I highly recommend the Breville. It's well worth the price and will make your coffee-making experience that much better.
Optimum milk temperature
Heating, frothing & cold stirring functions
Easy to clean
Cons:
Smeg Milk Frother – The Best Milk Frother for Design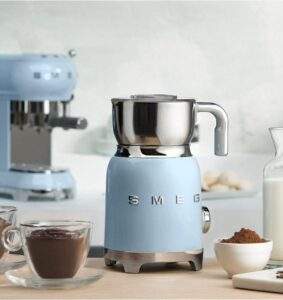 If you're looking for a quality milk frother that will give you consistently great results, Smeg Milk Frother is a great option to consider. It's one of the best on the market, and I've put it to the test. This sleek and stylish milk frother is easy to use and produces perfect results every time. The Smeg Milk Frother is not only beautifully designed but also very easy to clean, which is a huge plus. You can simply clean the jug in your dishwasher. Although it's a bit pricy, it's definitely worth the investment if you love coffee. I'm very impressed with the performance of the Smeg.
Pros:
Beautiful design
Heating & Frothing functions
Easy to clean
Cons: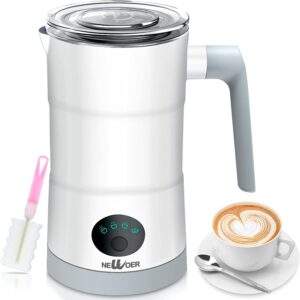 You probably haven't heard of newoer before, but their milk frother is actually worth considering. The newoer Electric Milk Frother is certainly one of the best value for money as it's not easy to find a decent milk frother under AU$70! It can froth both hot and cold milk as well as simple heating. Also, the foam it makes will be beautifully thick and creamy. In addition, it comes with a complimentary foam cleaning brush. Moreover, what I love about the newoer is how quietly it operates. It's perfect for the peaceful morning that you deserve.
Pros:
Quiet
Great value for money
Hot & cold milk frothing function
Cons:
Smaller capacity than others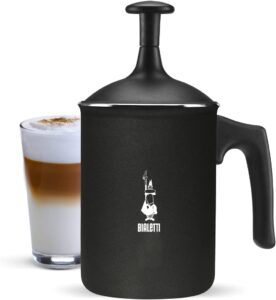 Bialetti is a well-known name in the coffee world, and their Tutto Crema Milk Frother is a great addition to any coffee lover's kitchen. Made in Italy, it has a non-stick coating inside and the handle won't get hot to protect your hand from burning. The Bialetti Milk Frother is also suitable for various stovetops including gas, electric and ceramic. It may not be able to produce foam as fine as electric milk frothers, but it still does its job quite well.
Pros:
Suitable for various stovetops
A well-known brand for quality
non-stick coating for easy cleaning
Cons:
Takes a bit of time to heat up milk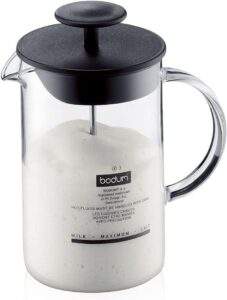 Bodum Milk Frother Latteo is a great little appliance that makes it quick and easy to froth milk for lattes and cappuccinos. It has a sleek, compact design that takes up very little benchtop space. What stands out is the quality. It's made of borosilicate glass, so it's safe to heat up in the microwave. In addition, it's also dishwasher safe. It'll surely help you in the busy morning.
Pros:
High-quality material
Quick & easy
Rich & creamy foam
Cons: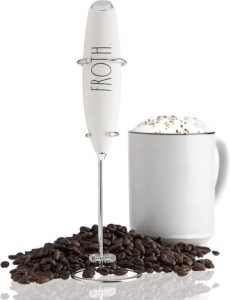 Who'd expect that rich and creamy foam from a milk frother for under AU$20? Even though this handled foam maker doesn't come from a well-known brand, it performs really well to my surprise. Actually, it can perform better than other bigger brands. The milk frother is simple and basic with an on/off button. Having said that, it can produce cafe-quality foam for your perfect coffee. Also, it comes with a one-year warranty, which shows how good it is! I would highly recommend it. Just give it a go.
Pros:
Budget-friendly
Cafe-quality foam
Super easy to clean
Cons:
Requires batteries (not included)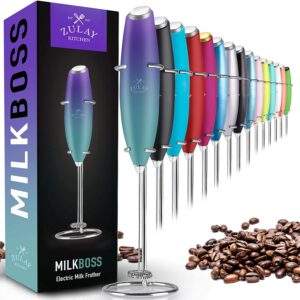 When it comes to finding the perfect milk frother, there is no shortage of options on the market. But if you're looking for something that is both stylish and functional, the Zulay Original Milk Frother is the way to go. This handheld frother is battery-operated and available in a variety of colours to match any kitchen decor. It's quite impressive how many colour variations they have! In addition, it makes a perfect gift for your family and friends. Best of all, it comes with a lifetime warranty, so no hassle here.
Pros:
A variety of colours available
Powerful
Lifetime warranty
Cons:
Requires batteries (not included)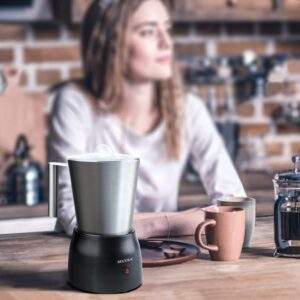 The Secura 4 in 1 Electric Automatic Milk Frother is a great choice for those who want an easy-to-clean, versatile milk frother. This frother is able to make both hot and cold froth, and can also be used to make hot chocolate. With four different settings, you can customise your drink just the way you like it. Furthermore, the automatic shut-off feature ensures your safety, and the milk jug can be easily removed and cleaned in the dishwasher.
Pros:
Heating, hot & cold frothing functions
Auto shut-off
Dishwasher safe
Cons:
Can be less durable than others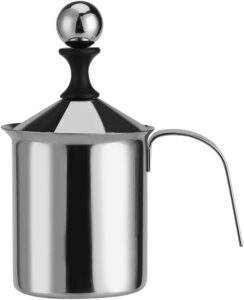 If you're in the market for a speedy milk frother, one option you may want to consider is the Yosoo Milk Frother. It's easy to use and clean, and it froths the milk quickly and evenly. With the double mesh, it can make thick and creamy froth within 30 seconds! It's also very affordable, considering the stainless steel material. Moreover, the polished look would be a great addition to your kitchen.
Pros:
Quick & even frothing
Thick & creamy foam
2 capacity options (400 or 800ml)
Cons: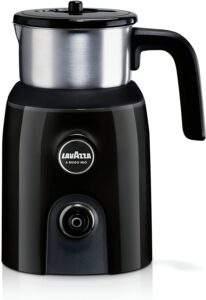 If you love your coffee, but can't quite get that foamy, creamy top that you see in all the coffee shops,  then the Lavazza MilkUp Milk Frother can be for you. This nifty little gadget will make it quick and easy to get the perfect frothy milk for your coffee every time. Plus, it's very easy to use and clean, so you'll always be able to enjoy a great cup of coffee without any hassle. The Lavazza MilkUp will become your new best friend, as it quickly and easily transforms your morning cup of coffee into a work of art.
Pros:
Consistently makes creamy froth
Even heating
Easy to use & clean
Cons:
Only 120ml frothing capacity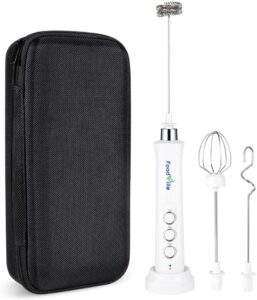 If you are looking for an easy-to-use and rechargeable milk frother, the Foodville Rechargeable Milk Frother is a perfect choice. This milk frother comes with a USB charging cable and a stand for easy storage. It also comes with 2 different attachments: a milk frother, balloon whisk & dough hook. How versatile! To make it even better, a travel case is included, so it's ready to go wherever you want.
Final Thoughts
Pros:
Rechargeable
3 different attachments

A travel case included
Cons:
Can be less durable than others
What To Look For In The Best Milk Frothers
If you're like most people, you probably enjoy a nice cup of coffee with milk froth on top. But what do you really need to look for when choosing a milk frother? Here are the 3 main things to keep in mind:
The type of milk frother – There are two main types of milk frothers: manual and electric. Manual frothers require you to pump a handle to create the froth, while electric frothers do all the work for you.
The size of the milk frother

– If you only ever make one cup of coffee at a time, then a small milk frother will suffice. But if you frequently froth large quantities of milk, you'll need a frother that can handle that volume.

The value of the milk frother

– The best milk frothers are a great value for the price, offering excellent performance and durability. They can vary in price, so you'll want to choose a frother that fits your budget.
With those in mind, you'll be able to find the one that best suits your needs.
The best milk frothers Australia has to offer will make your mornings that much better. They are easy to use, and they make a great addition to any kitchen. With so many options on the market, it can be hard to choose the right one for you. I hope that my list of the 11 best milk frothers Australia has helped you narrow down your choices and find the perfect one for your needs. You may want to read my article on how to froth almond milk next.